The Truth About Kathy Hilton's Relationship With Michael Jackson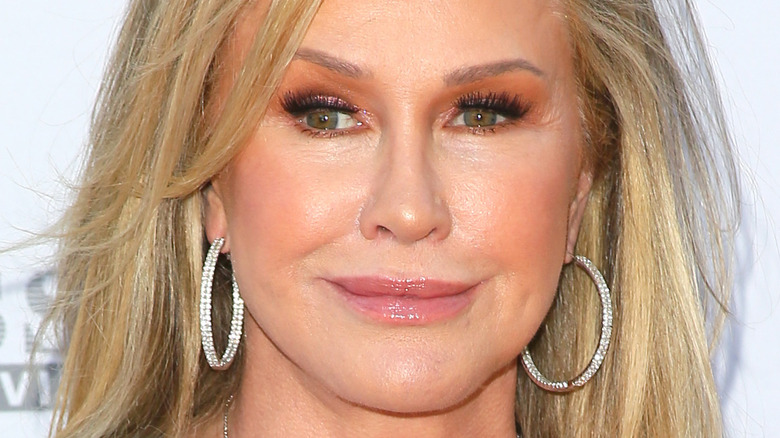 Jean Baptiste Lacroix/Getty Images
Kathy Hilton may be most commonly known as Paris Hilton's mom, but the Hilton matriarch has long rubbed shoulders with Hollywood's elite. The businesswoman turned "Real Housewives of Beverly Hills" star is not only showing off her famous connections, but also her "funny side" as the show's latest member. But it's only natural that Kathy would make the transition to reality TV given her daughter basically invented the genre during the more "simple" days of the early '00s.
Despite having enough star power to land her own show, the long-time Beverly Hills resident perhaps joined "RHOBH" Season 11 given her two half-sisters, Kyle and Kim, are OG cast members. And it seems as if she's already making an impact, with USA Today calling Kathy "a fan favorite" who has "captivated television viewers with her moments of naïveté." The apple doesn't fall far from the tree, it seems. From drinking Red Bull energy drinks after midnight because she "thought it was, like, just a soft drink," to pretending to chug martinis (they were actually water and olive-filled glasses), Kathy has certainly shown off her fun-loving and silly side. But apparently, it's not all for show as a self-confessed goofball. Kathy recently told Bustle she has "always" been a prankster, having even gotten up to some mischief with Michael Jackson back in the day. 
Kathy Hilton used to prank-call people with Michael Jackson
Kathy Hilton was certainly a "Smooth Criminal" with the late Michael Jackson during his heyday. The native New Yorker moved to Beverly Hills with her family as a young teenager and attended Montclair College Preparatory School, where she met and befriended the King of Pop. "We met when I was 13 and he was 14, and developed a friendship and a bond throughout the years. And we always kept in touch." Kathy told Piers Morgan back in 2011 that, even after marrying into the Hilton Dynasty and becoming a mom, Jackson still came around to reignite a little adolescent fun. "And then when I moved to New York and he would come, and we'd always go to his concerts. And, you know, we started with — we used to make prank phone calls together. And we were little kids. We had a really great time."
Jackson was even there when Kathy's first child Paris was born and apparently spent a lot of time with them all. The "Simple Life" star revealed to Morgan he even invited her and sister Nicky to the set of his "Thriller" music video. "And we have the pictures still. I just always loved him. I used to go to his concerts and he'd bring my sister and I on stage, and we'd sing up there." Despite Jackson's tragic death in June 2009, it seems as if both Paris and Kathy will never forget him ... perhaps due to a lasting childhood pact.
Kathy Hilton and Michael Jackson promised to name their first daughter Paris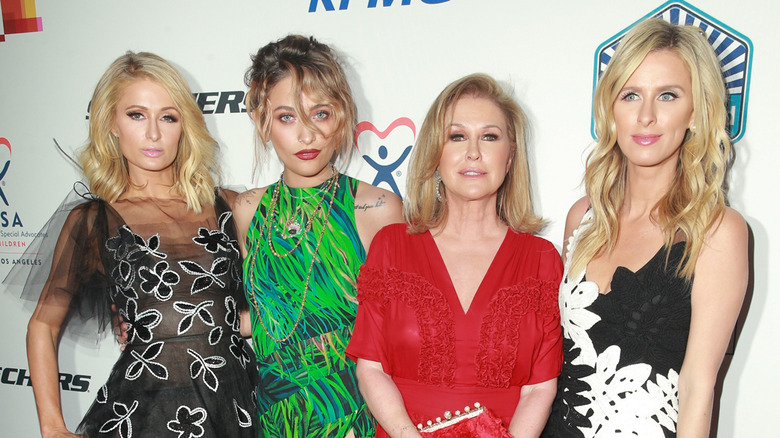 Rich Fury/Getty Images
It's no coincidence that Kathy Hilton and Michael Jackson's daughters are both named Paris. Jackson's sister La Toya told Yahoo! back in 2012 that, as children they all made a vow to name their future daughter Paris. "It's so funny because when we were growing up, we all said that we were going to [one day] have children. And I told them, 'Well, I'm going to name my first son Prince and my first daughter Paris.' We all said it. Then Kathy had kids, she did it. Michael had kids, he did it. And me, well, I only had dogs!" (Side note: La Toya actually called every single dog she's had Prince and Paris.) 
While Kathy was devastated to learn of Jackson's death — she was one of the first people to know — the 62-year-old promised to always be there for his "three beautiful children." When Kathy celebrated her birthday back in 2018, Paris Jackson had the honor of being seated right next to her. Both Parises have also attended each other's birthdays in the past and even supported one another during times of need. When Paris Hilton alleged in her documentary, "This is Paris," that she was abused at boarding school, Paris Jackson posted an Instagram Story in solidarity, per TODAY. 
But despite Jackson's kids being all grown up now, Kathy is still honoring her late "great" friend. She reportedly has a picture of him hung in her home office. True friendship never fades, it seems.