Love Actually Reunion Teaser Brings Back Famous Cue Cards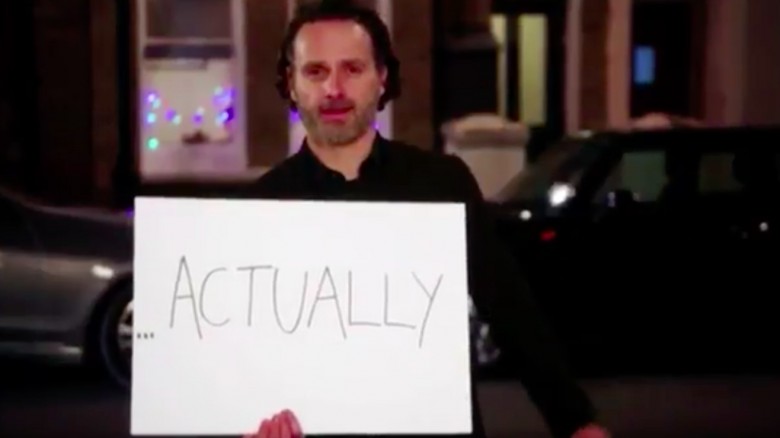 While 2017 so far seems to be just like 2016 except more real, one thing rom-com nerds everywhere can hold onto is the long-awaited Love Actually mini-sequel. On February 15th, it was announced that most of the 2003 holiday classic film's cast – including Colin Firth, Bill Nighy, Andrew Lincoln, Liam Neeson, Keira Knightley, and Hugh Grant – would reunite after 14 years for a 10-minute short titled Red Nose Day Actually (via Us Weekly).
Red Nose Day is an annual charity campaign organized by Comic Relief in the UK. It aims to raise both money and awareness for children who are living in poverty.
As writer Richard Curtis expressed in a statement, "I would never have dreamt of writing a sequel to Love Actually, but I thought it might be fun to do 10 minutes to see what everyone is now up to." He continued, "we hope to make something that'll be fun – very much in the spirit of the original film and of Red Nose Day."
With the mini-sequel currently filming and set to premiere later this month, the trailer was finally released this morning, as the Independent revealed. Spoiler: the teaser features a special message from The Walking Dead's Andrew Lincoln (or, for our purposes, Mark), with the return of his infamous handwritten poster cards and cheeky grin.
"Without hope or agenda", Red Nose Day Actually is set to be broadcast on BBC One in the UK on March 24th and later in the US on May 25th on NBC. Check out the teaser trailer via the BBC here.