The Truth About Willie Geist's Wife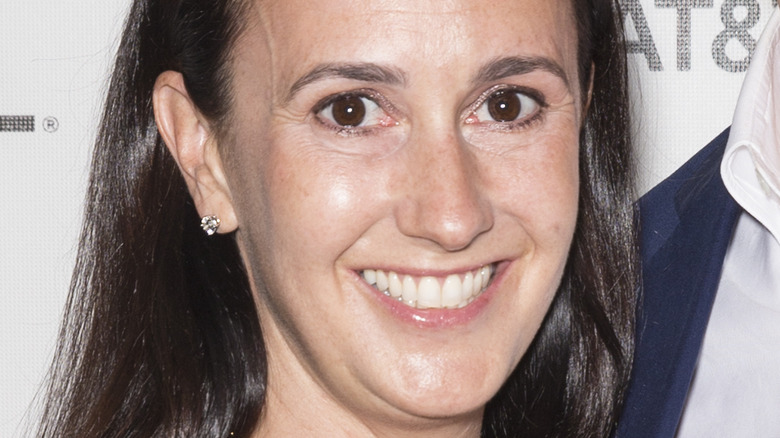 Ovidiu Hrubaru/Shutterstock
"Sunday Today" host Willie Geist and his wife Christina Geist have a busy life juggling two careers while raising their family just outside New York City. Good Housekeeping reports that Willie and Christina married on May 24, 2003, and that they share son George and daughter Lucie. Willie has built a successful career at NBC News as a network TV morning show host, requiring him to get up in the middle of the night to travel to work. Willie is the co-anchor of MSNBC's "Morning Joe" and he's been the host of "Sunday Today" since 2016. He also frequently fills in during the weekday "Today" show.
During a 2019 Glamour interview with Willie and Christina, Willie said, "I started doing 'Morning Joe' in April 2007, and our daughter was born in June of 2007. So I've been getting up in the middle of the night ever since we had kids." In a 2016 interview with "Today," Christina explained how they juggle her husband's unorthodox schedule.  "We've had an unspoken pact: I'm responsible for anything related to kids in the night," she shared. She explained that Willie's part of the deal is getting himself to the studio while most people are still asleep. That is love, y'all.
Christina's anchor husband is beloved by peers and celebrities for his affable personality. In fact, actor Ryan Reynolds told Variety that Willie "makes his guests feel incredibly safe." But Christina has a very successful career, too. Keep reading to find out more about Willie Geist's wife.
Christina Geist is a brand strategist, entrepreneur, and author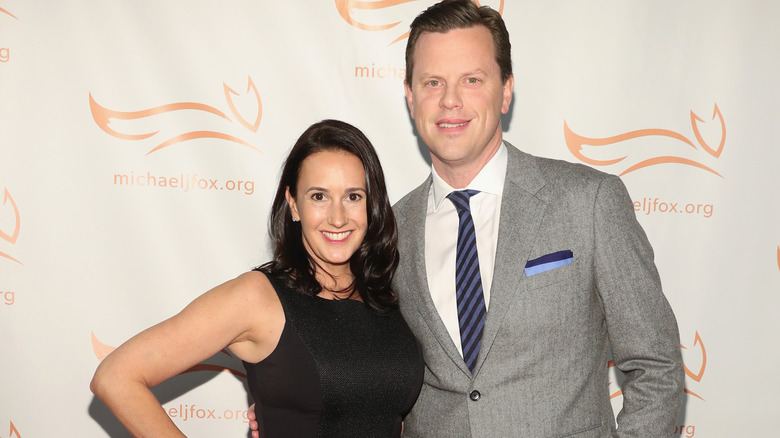 Cindy Ord/Getty Images
Christina Geist is a native of Ridgewood, New Jersey, and she wears many hats. According to her professional website, Christina is a brand strategist for True Geist, she's the founder of Boom Box Gifts, and is a New York Times Best-Selling children's book author. We're not sure when Christina sleeps, but in addition to having two jobs while being a wife and mother, she found time to write "Buddy's Bedtime Battery" and "Sorry, Grown-Ups, You Can't Go to School!" She's clearly built an outstanding career.
Christina and Todd True co-founded True Geist, a boutique brand strategy firm that works with global clients. True Geist works with Johnson & Johnson, VISA, AT&T, and NASA, to name a few of the company's many clients. Christina's second company, Boombox, is an online boutique for gift memory boxes. Per her professional website, Boombox is a "deeply personal experience that connects the recipient to his or her people and her life story." Her website reports that Christina's first children's book "eclipsed Harry Potter as the #1 children's book on Amazon," and her second book was a New York Times Best Seller.
Despite her ability to juggle seemingly, well, everything, Christina doesn't try to appear perfect. On her website, Christina says she comes from a "loud, loving family and makes a mean chicken parm." Christina works hard, and it seems she has the same passion for Willie. Keep scrolling to learn more about their love story. 
Willie and Christina Geist fell for each other in sixth grade
Willie and Christina Geist fell for each other while in sixth grade at George Washington Middle School in Ridgewood, New Jersey. During their 2019 Glamour interview, Willie and Christina shared their first impressions of each other. Willie said, "I really remember thinking in my little 11-year-old brain, 'Oh, she seems cute and cool.'" Christina told Glamour, "I feel like Willie always stood out."
According to Good Housekeeping, Willie and Christina dated for two years in high school, but broke up when they went to college in different cities. However, they kept coming back to each other. Christina told Good Housekeeping, "We tried breaking up in college a few times, but we just really loved each other and had so much fun with our friends." The outlet reported the couple split for three years after college because they landed jobs in different locations. In 2000, they decided to try things again. Finally, in 2002, Willie proposed to Christina at the middle school in Ridgewood, where they met. After many years together, the couple is still in love.
Then, in January, the television host took to Twitter to share how much he admires Christina. "At the end of another long day, I hear young children laughing in the other room. Younger than ours. I walk in to see @ChristinaGeist giggling and reading her books over Zoom to pediatric cancer patients with the Children's Cancer Center in Tampa. She is a light," he wrote. How sweet!