What Is Joel Osteen's Strict Rule For Women?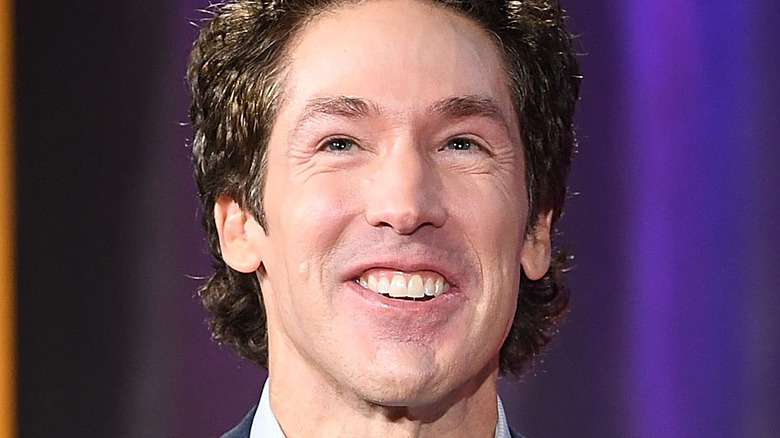 Paras Griffin/Getty Images
Joel Osteen is a pastor and televangelist, best known as one of the United States' richest pastors. According to Celebrity Net Worth, the senior pastor of Lakewood Church in Houston, Texas, is worth a whopping $100 million. The 58-year-old has been in the family business since 1999, taking over for his Southern Baptist pastor father after he tragically died of a heart attack. Osteen's church isn't your typical modest church with a small, intimate congregation — it's known as a mega-church, occupying a 600-square-foot space that was previously a sports stadium, and invites 50,000 people through its doors every week. An additional seven million people witness Osteen's inspirational sermons on a weekly basis via streaming. 
While Osteen first shot to fame for his positive Christian messages that appeal to millions, he claims that his wealth does not come from the church, according to Distractify. Osteen makes his fortune through robust book-writing and guest speaking engagements. He has written a current total of 14 books, all of which fly off the shelves. When it comes to his wealth, the pastor rejects the criticism. In an interview with The Christian Post, Osteen declared, "I think prosperity ... it's being healthy, it's having great children, it's having peace of mind. Money is part of it; and yes, I believe God wants us to excel."
As someone who lives in the public eye, Osteen works hard to avoid scandals. Keep scrolling to find out the strict rule he lives by regarding women.
The moral code that helps Joel Osteen avoid scandals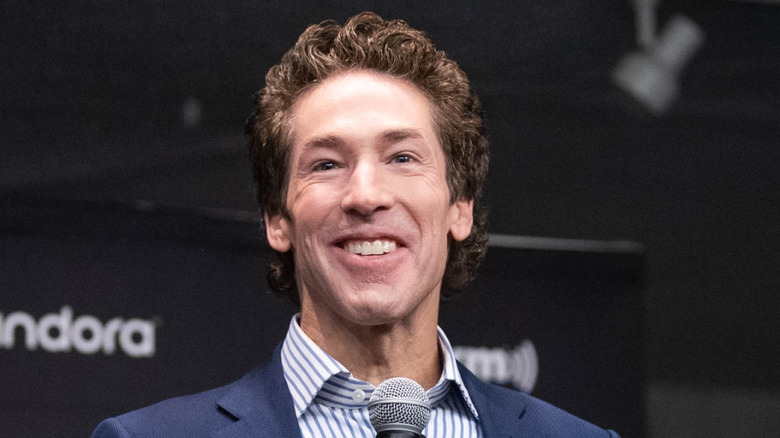 Emma Mcintyre/Getty Images
Joel Osteen lives by many moral codes, but one in particular is designed to help him avoid potential scandals regarding women. HuffPost reported that the world-famous pastor follows the "Billy Graham Rule," which was invented by none other than fellow televangelist Billy Graham. The rule requires all men to ensure that they never find themselves alone in a room with a woman other than their wife to avoid temptation, the appearance of being unfaithful to their wives, and/or a scandal emerging from sexual misconduct allegations.
Osteen told The Christian Post that he makes sure to always follow this rule. "I think the key for me on that is to start every day — I take the first half hour of every day to search my own heart to ask God, 'Am I on track and doing this for the right reasons? Am I following what you want me to do?'" Osteen explained. "To me, you can have a lot of accountability and that is important. But I think you can hide things too." Osteen continued to point out that he feels it's important to be honest before God and always examine the reason why he does anything he is doing. "To me, when I stand before God having a pure heart, I can go out and be my best."
Other rules that Joel Osteen lives by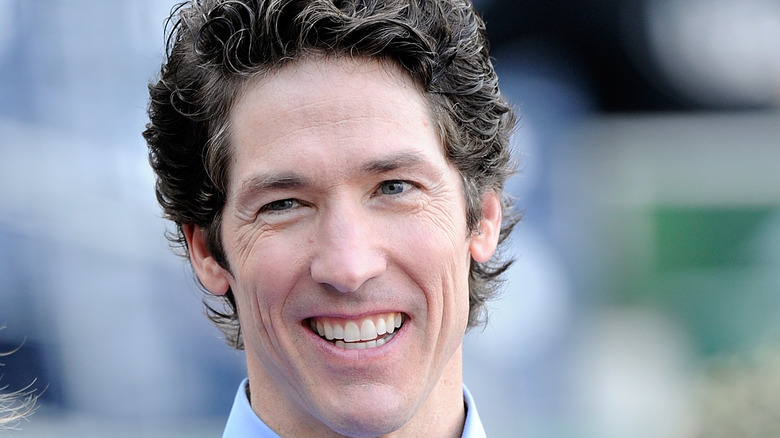 G Fiume/Getty Images
The Billy Graham Rule isn't the only rule that Joel Osteen follows in life. As a religious man, Osteen makes sure that every decision he makes in life is aligned with his beliefs and love for God and Jesus. In an interview with CNN's Larry King, the pastor stated his number one rule in life. "...The main rule to me is to honor God with your life," Osteen said. "To live a life of integrity. Not be selfish. You know, help others. But that's really the essence of the Christian faith."
Osteen also follows some other seemingly unconventional rules, such as never condemning anyone whose lifestyle or beliefs may not align with the Christian faith and never using the word "sinner" to describe a person. When King asked why Osteen doesn't refer to anyone as a sinner, he explained, "I don't use it... But most people already know what they're doing wrong. When I get them to church I want to tell them that you can change. There can be a difference in your life. So I don't go down the road of condemning."
Another more uplifting rule that Osteen lives by is to always choose to be happy. He told King that the key to happiness is waking up in the morning and making the decision to focus on what he has instead of what he doesn't have. Osteen believes that a person has to make the most of whatever situation they find themselves in.