Inside Eric Stonestreet's Love Life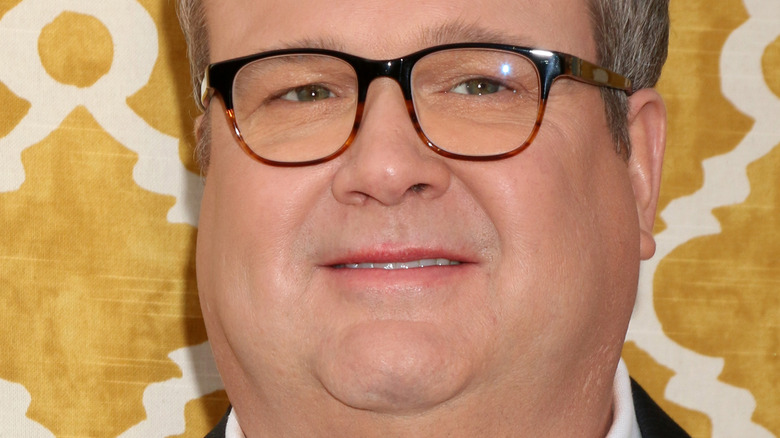 Kathy Hutchins/Shutterstock
Eric Stonestreet has kept his love life somewhat out of the spotlight over the years, so much so he's admitted fans are actually often surprised to learn that he's been in a long-term relationship with a woman for years.
The actor was so convincing playing Cameron "Cam" Tucker in the popular ABC sitcom "Modern Family," husband to Jesse Tyler Ferguson's Mitchell Pritchett, that he's admitted his sexuality has been questioned more than once. "I'm a type... Jesse [Tyler Ferguson] and I call Cam a 'bossy, fussy bottom.' Now, what I get is a lot of guys who come up and want to challenge my sexuality," he told "HuffPost Live" in 2014.
Stonestreet also joked about all the questions he gets asked about his dating life during a "Modern Family" cast interview on "The Oprah Winfrey Show" in 2010, where he light-heartedly referred to himself as being "openly straight." He added, "I never thought this would be the character that people would know me for, but it's just an honor to play him."
But what's really going on with Stonestreet's love life? Read on for all the details.
Eric Stonestreet is engaged to Lindsay Schweitzer
Eric Stonestreet is happily engaged and confirmed the big news with fans in a sweet post shared to his Instagram account on August 22. The "Modern Family" actor posted three photos with his love, the first showing him holding up Lindsay Schweitzer's left hand as she proudly showed off a stunning sparkler on her ring finger. Schweitzer flashed a big smile while he looked a little more shocked.
In the second shot, Stonestreet smiled as he looked lovingly at his wife-to-be, while he playfully pointed at the huge ring on her finger in the third photo. The star joked in the caption, "She said, 'She'd have her people call my people.'"
According to People, Stonestreet met Schweitzer at a charity event in 2016 and they began dating the following year. "The Secret Life of Pets" voice actor sweetly opened up about their relationship during a September 2017 appearance on "The Ellen DeGeneres Show," when he told the daytime talk show host that Schweitzer, who is a nurse, "calms" him after DeGeneres described her as "lovely."
Who else has Eric Stonestreet dated?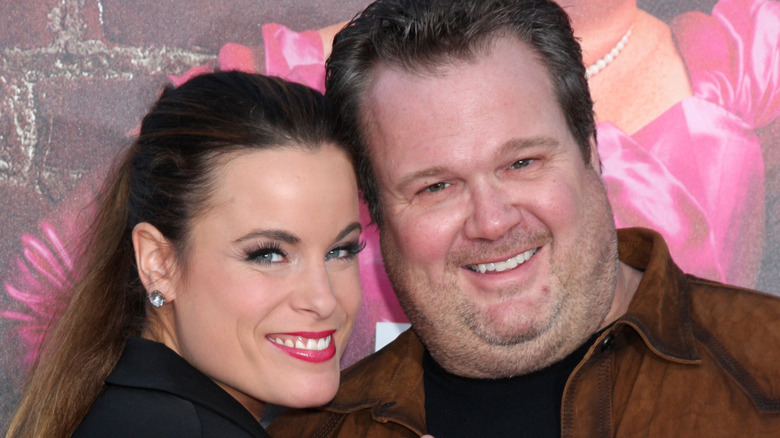 Kathy Hutchins/Shutterstock
Before finding love with Lindsay Schweitzer, Eric Stonestreet was romantically linked to a few famous ladies, namely Charlize Theron. Daily Mail linked the two in September 2012, claiming they got closer after being introduced by mutual friends. A source said at the time that the rumored couple "started off as friends," but claimed "things are blossoming between them." The insider added, "Eric is down to earth and funny and Charlize thinks the world of him. It's early days but they're very fond of each other."
However, Stonestreet — who's admitted to using dating apps — poked fun at the speculation on Twitter, appearing to hint the rumors were nothing more than just that. He joked, "I wish people would stop spreading rumors that Charlize Theron and I are dating. [It's] starting to make Halle Berry jealous."
Before that, Stonestreet dated actor Katherine Tokarz for three years, but they went their separate ways in early 2012, according to E!. In July 2015, E! reported that Stonestreet was dating "The Real Housewives of New York City" star Bethenny Frankel, though the two played coy about what really happened between them two years later during an appearance on "Watch What Happens Live With Andy Cohen."
Well, it seems like Eric Stonestreet has now found his happily ever after. Congrats to the happy couple!