How Did Prince's Addiction To Prescription Pills Really Begin?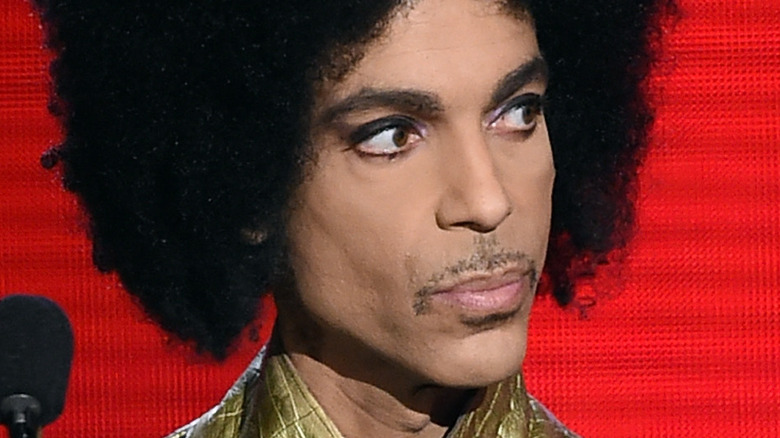 Kevin Winter/Getty Images
Musician and music icon Prince died on April 21, 2016, at the age of 57, according to the New York Post. Named Prince Rogers Nelson at birth, the musician was born in Minneapolis, Minn., and thanks to his musical parents, he grew up surrounded by instruments. It was this childhood environment that shaped Prince's musical inclinations, according to his official website.
Prince's career took off, and what made him so impressive was that he did ... everything. Owen Husney, a concert promoter and musician himself, was the first musical presence who took Prince seriously and a friend told Husney about the young artist, "It's not a studio band. It's one kid. He's just turned 18, and he's singing everything and playing all the instruments," according to his website.
Prince went on to become a superstar and was famously against drug use, according to the New York Post, so when news broke that he died of an accidental overdose of fentanyl, people were surprised. But subsequent news broke that Prince had an addiction to prescription pills for many years. Here's how that started.
Prince fell while practicing for the 'Purple Rain' tour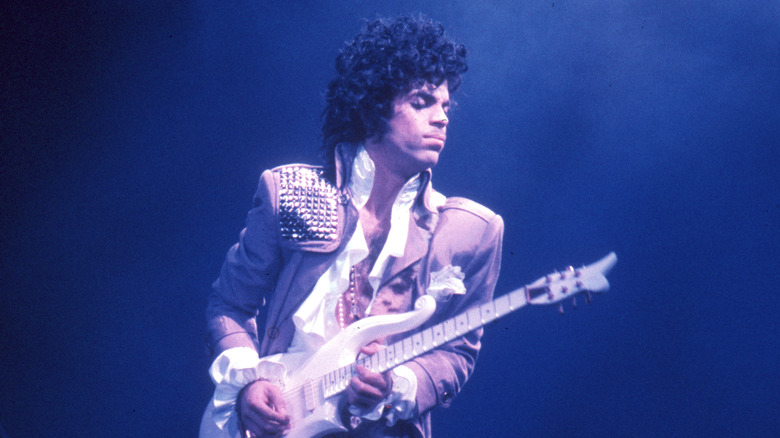 Michael Ochs Archives/Getty Images
In "Nothing Compares 2 U: An Oral History of Prince," the biography written by Touré which comes out on August 24, new details about the accident leading to Prince's prescription pill addiction are revealed. Quoting Prince's tour manager at the time, Alan Leeds, author Touré explains that Prince was preparing for his "Purple Rain" tour when something unfortunate happened.
At a rehearsal in Minneapolis, Prince was practicing a routine where he set was to sing from a bathtub that was 10 feet off the ground, via the book and the New York Post. The bathtub broke though, and Prince fell. "It fell 10 or 12 feet with him in it. I never moved so fast in my life," Leeds told Touré. "After that, his back hurt day after day. Then in LA, he slipped and hurt his knee. He got some meds and finished the tour, but I don't think his hip and his leg were ever completely normal after that."
This is what marked the beginning of Prince's addiction, which grew in his effort to medicate his pain. But many friends also told Touré what they knew about Prince. Here's what they had to say.
Prince was famously against drugs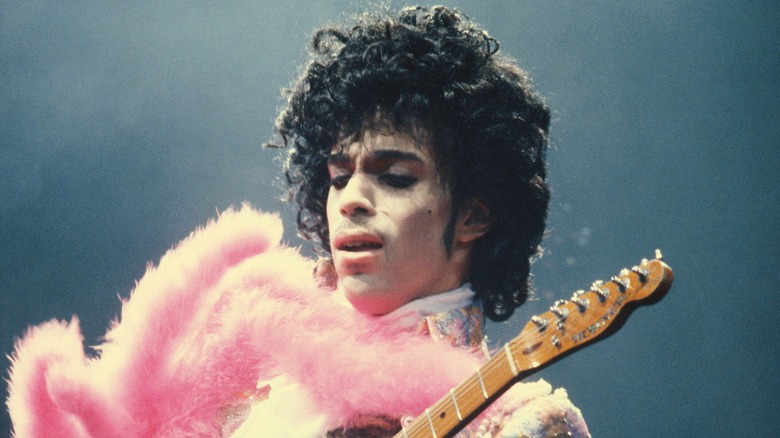 Michael Ochs Archives/Getty Images
Many sources close to Prince spoke with author Touré for "Nothing Compares 2 U: An Oral History of Prince." Prince's cousin, Pepe Willie, said that Prince was deeply against drug use, an attitude that went back even to his teenage years. "He wasn't hip at all. Prince was a square," Willie said. "We'd go outside, smoke a doobie and come back upstairs, and he goes, 'Oohhhh, ooohhh, look at you! Your eyes are red! Look at you, look at you!' And we'd be going like, 'Oh, man, come on.' He was square," (via the New York Post).
Prince was extremely attentive to any drug use amongst his band members and crew, and even sometimes broke up with girlfriends because of their drug use. That's not to say he never tried drugs. Friends told Touré that he went through a brief period of trying ecstasy and hallucinogens, but it was surprising to those close to him. However, it was his injuries sustained on that fateful tour that spurred Prince's reliance on opioids. Touré wrote that this effort at self-medication may have begun as early as the late '90s. Mark Brown, the bassist for Revolution, told the author, "I feel that the whole fentanyl thing was just him escaping pain from the hip and it got out of hand."
If you or anyone you know is struggling with addiction issues, help is available. Visit the Substance Abuse and Mental Health Services Administration website or contact SAMHSA's National Helpline at 1-800-662-HELP (4357).