Why This Steamy Photo Of Mariska Hargitay And Christoper Meloni Is Causing Such A Stir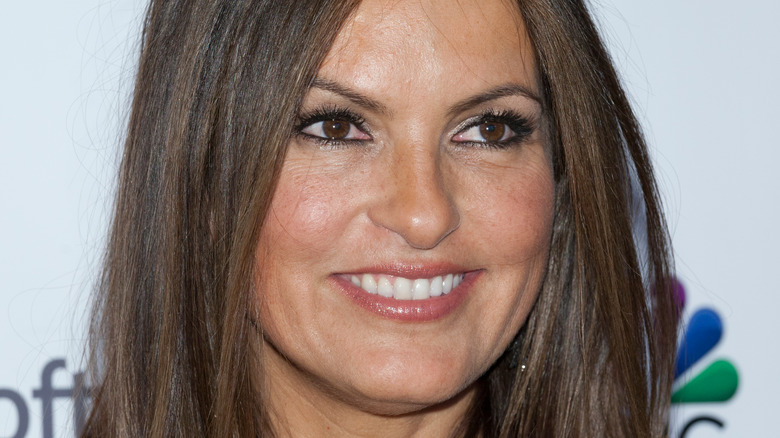 lev radin/Shutterstock
Shippers drive the momentum of many TV shows these days — as recently seen with the Anthony Mackie/"Stackie" controversy – and Elliot Stabler and Olivia Benson are no exception. One of TV's biggest "Will they-won't they?" duos, Christopher Meloni and Mariska Hargitay's "Law & Order: Special Victims Unit" detective partners appeared to be flirting with the idea of, well, flirting for 12 years, despite Stabler being married for a good while (via TV Insider). Even after Elliot separated from his wife, "Bensler" shippers never got so much as a kiss by the time of Elliot's abrupt Season 12 departure from the show. 
However, it seems Elliot and Olivia just can't escape the possibility of a romantic story arc. When Meloni's "SVU" spin-off "Law & Order: Organized Crime" premiered earlier this year, the two reunited in a same-universe crossover ... and Elliot even dropped the "I love you" bomb by episode 4. The actor addressed the fandom's wishes with Entertainment Tonight in May, acknowledging that such a "sacred" relationship's arc must be handled delicately if it "needs to go to another place."
Meloni continued feeding into shipping dreams when he posted a particular Twitter selfie on August 21. Here's why the snap is sending Bensler-lovers into a frenzy.
Christopher Meloni and Mariska Hargitay love teasing fans
After a fan posed a captivating hypothetical on Twitter on August 20, asking, "Can y'all imagine if one day @Chris_Meloni and @Mariska posts a picture ... pretending they are kissing with the caption #Rehearsing. It would be the end of us and the end of the internet," Christopher Meloni granted the wish for shippers everywhere.
On his Twitter the next day, Meloni posted a selfie (seen above) intimately touching noses with Mariska Hargitay — with their lips thisclose together — with the caption, "#rehearsing what @Mariska?" Hargitay, whose "Law & Order: Special Victims Unit" character frequently crosses over onto Meloni's spin-off "Law & Order: Organized Crime," gave back just as good, quote-replying, "Are you blushing? It's getting hot in here." 
This isn't the first time the close friends engaged in silly on-set antics, as evidenced in an August 18 Instagram video of Meloni giving Hargitay a wagon ride as he pulled her along in an office chair. "Hop on board #OC #SVU #marshachoochoo," Meloni's playful caption read. While the co-stars may be simply playing along, shipper imaginations were awoken by Meloni's selfie — and there appears no turning back. "OMG. Let this happen. I have waited years," one fan tweeted, while another congratulated Meloni on his accomplishment, tweeting, "I hope you have a huge supply of crazy glue because I think you just broke the internet again." A job well-done.