The Real Reason Dog The Bounty Hunter Didn't Invite Two Of His Daughters To His Wedding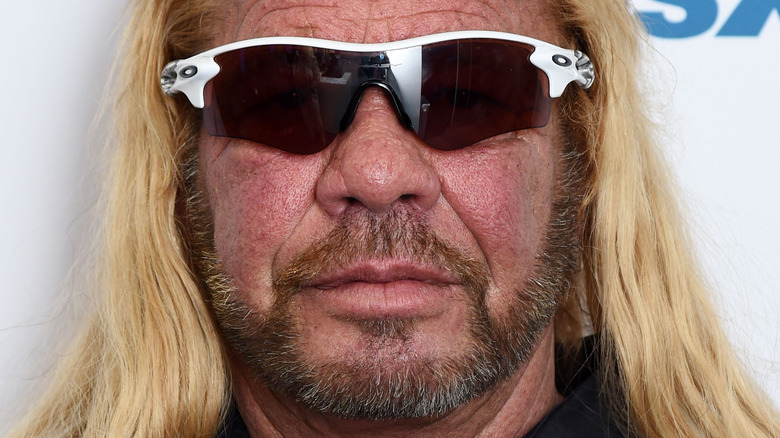 Ilya S. Savenok/Getty Images
Duane Chapman, better known as Dog the Bounty Hunter, is getting remarried, two years after the tragic death of his last wife, Beth Chapman. According to CNN, Beth died in 2019 from cancer. Beth was first diagnosed with Stage 2 throat cancer back in September 2017. She underwent treatment, including surgery, and, a short while later, her doctors gave her the good news that she was cancer-free. However, in 2018, Beth's cancer returned.
According to Entertainment Tonight, Beth then underwent another surgery to remove a mass in her throat. Several weeks later, she started chemotherapy treatments, and in an interview with Star-Advertiser (via ET), she revealed that her "outlook [was] grim." A few months later, TMZ reported that Beth was "not expected to recover" after she was hospitalized and placed in a medically induced coma following a choking incident. Beth died on June 26, 2019, in a hospital in Hawaii, surrounded by her loved ones, according to TMZ. She was just 51 years old at the time.
In the months that followed Beth's tragic death, her family mourned the devastating loss. Less than a year later, Duane went public with a new girlfriend, Francie Frane, according to People magazine. The two were able to bond over losing a spouse, as Francie had lost her husband Bob, according to The Sun, and she grew extremely close with Duane. In May 2020, Today reported that Duane and Francie were engaged. Now, with their wedding just around the corner, two of Duane's kids are speaking out about not being invited to the big day. Keep reading to find out more.
Duane Chapman may be scared, according to Cecily Chapman
Duane Chapman and Francie Frane are getting married in September. Dog the Bounty Hunter revealed the news during an interview on the "Two Guys From Hollywood" podcast. "I'm getting married. We went to the venue, picked it out yesterday, looked at it. Man, it costs a lot to get married," Duane said. Interestingly, however, two of Duane's kids will not be attending the ceremony — and it is not because they don't want to attend or are against their dad getting remarried. According to TMZ, Duane's daughter Bonnie Chapman, and his adopted daughter Cecily Chapman (Beth Chapman's daughter from a previous relationship), weren't actually invited to the wedding.
The girls aren't completely certain why their famous dad is keeping them from attending his upcoming nuptials, but Cecily's best guess is because they remind their dad of their late mom, Beth. "My only guess or idea would be that he's just not really on the same path as me and my sister," Cecily told TMZ. "What I'm seeing personally, is that my dad is having a hard time dealing with the fact that maybe he's not going to be able to replace my mom, and that maybe me and Bonnie bring out a lot from my mom, in that he sees my mom in us. And I feel like that scares him," she added. She also suspects fear may be a factor as well. "I think he's just scared that we remind him too much of our mother," Cecily concluded.
Cecily and Bonnie Chapman have no problem with their dad getting remarried
Both of Dog the Bounty Hunter's daughters Cecily Chapman and Bonnie Chapman expressed that they have no issues with their dad getting remarried. "Me and Bonnie, we've always been pretty fine with it. I mean, we think [Francie Frane] is a great lady, and she's never done anything [bad] to us," Cecily told TMZ in August.
Cecily went on to say that Bonnie is following in their mother Beth Chapman's footsteps by standing up for what she believes in and trying to make a difference in the world. Meanwhile, Cecily shared that she is currently working on a documentary about her mother's life. "As far as I'm concerned, I'm doing a docuseries about her. I just want to remember my mom. I just want my mom to be honored in the best way that she can," she explained.
Bonnie told TMZ that she believes that her mother would have wanted her and Cecily to attend their dad's wedding. "We are family, we're his flesh and blood," she told the outlet. Dog the Bounty Hunter has 12 children, including Cecily and Bonnie, though the relationships that he has with some of his kids are believed to be "strained," according to The Sun. It's unclear how many of Duane's other kids will be at his wedding next month.