John Krasinski, Emily Blunt To Star In First Feature Film Together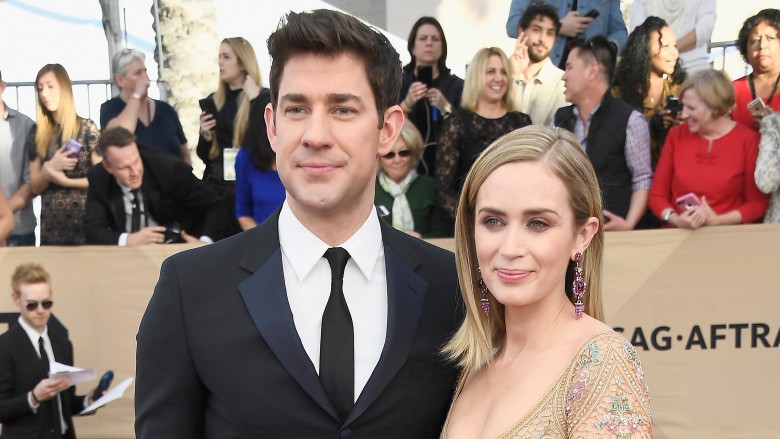 This married couple will be hitting the big screen together soon.
John Krasinski and Emily Blunt are teaming up to tackle a new film, A Quiet Place. According to Entertainment Weekly, Krasinski will write and direct the supernatural thriller as well as act opposite his wife.
Michael Bay is listed as a producer of the Paramount/Platinum Dunes movie, which was originally written by Scott Beck and Bryan Woods.
So far, Krasinski and Blunt are the only actors attached to the project, which, according to Variety, starts production in fall 2017.
Krasinski, who gained popularity after starring in NBC's The Office (2005-2013), is no stranger to directing. The 37-year-old actor directed the 2016 film The Hollars as well as Brief Interviews with Hideous Men (2009), for which he also wrote the screenplay.
While both Krasinski and Blunt, 34, have enjoyed successful TV and movie careers, A Quiet Place will mark the first time that fans will see the husband and wife as co-stars.
Krasinski and Blunt married on July 10, 2010 and have since had two children together, daughters Hazel and Violet Krasinski. Though the two keep a relatively low profile by Hollywood's standards, they can't help but gush about each other in interviews.
"The best days of my life started when I met my wife–that's the truth, it's not just me saying it because it sounds nice on a card," Krasinski told The Daily Beast in early 2016. "She's one of the coolest people, she's so talented, she's beautiful, and she's certainly out of my league."
And what does Blunt think of her husband?
"Meeting John really changed my life," the Girl on the Train (2016) actress revealed to InStyle in a 2013 interview. "When I feel the support that I have from him, I feel invincible. There's someone behind you on your good days, and someone in front of you on your bad days."
Hopefully, Blunt will still feel that support when Krasinski puts on his director's hat in the fall.