Jenny Slate Opens Up About Breakup With Chris Evans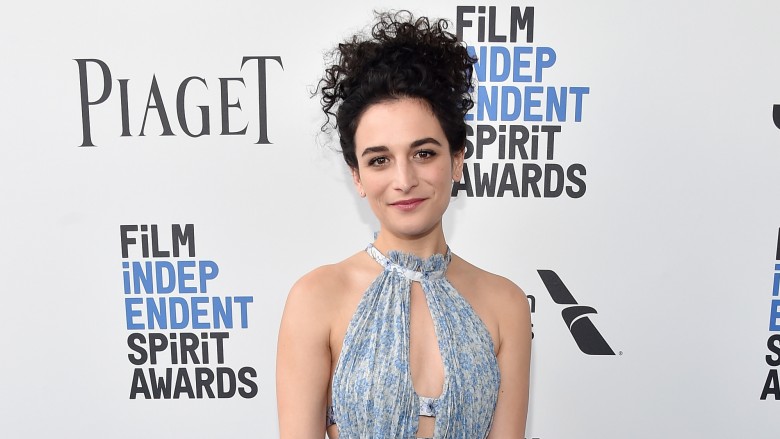 Getty Images
One month after their breakup, Jenny Slate got candid about what it's like to date Chris Evans. And be forewarned: It's incredibly aw-inducing.
In the March 20, 2017 issue of New York Magazine, the Obvious Child star stated, "I don't mind talking about him at all. He's a lovely person." She added that their nearly ten-month relationship "feels like such a huge thing. Last year was a giant, big year for my heart."
The Gifted co-stars met at an audition for the film, which comes out April 12, 2017. It was a strange time for Slate, who revealed, "When Chris and I started dating, my husband and I had only been separated for a couple of months."
Slate wed filmmaker Dean Fleischer-Camp in 2012 and the two separated in 2016. By mid-2016, there was already an instant connection with Evans. "I remember him saying to me, 'You're going to be one of my closest friends.' I was just like, 'Man, I f*cking hope this isn't a lie, because I'm going to be devastated if this guy isn't my friend.'" She attested, "Chris is truly one of the kindest people I've ever met, to the point where sometimes I would look at him and it would kind of break my heart."
But Slate admitted that she initially had her doubts. "To be quite honest, I didn't think I was his type...I mean, I understand why I think I'm beautiful, but if you've had a certain lifestyle and I'm a very, very different type of person—I don't want to be an experiment."
Naturally, being in such a high-profile relationship came with its difficulties. "If you are a woman who really cares about her freedom, her rights, her sense of being an individual, it is confusing to go out with one of the most objectified people in the entire world," Slate noted.
Today, the exes are "not on bad terms" but have not spoken much. Slate concluded, "It's probably best. I'd love to be his friend one day, but we threw down pretty hard. No regrets, though. Ever."