Kristen Bell And Dax Shepard's Zen Parenting Approach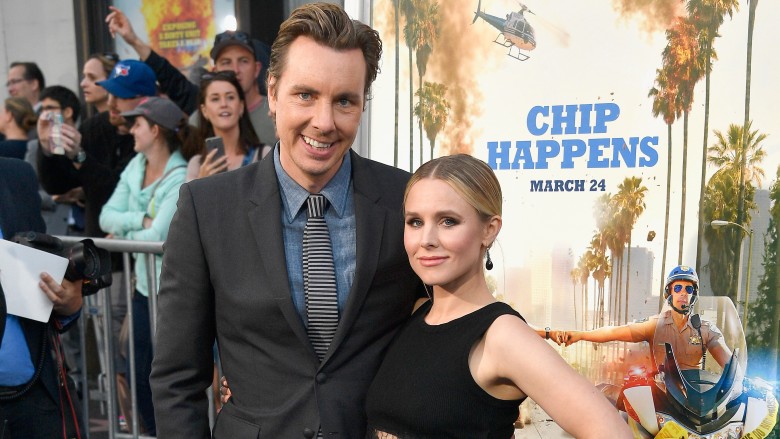 Getty Images
Kristen Bell recently disclosed that she and husband Dax Shepard don't resort to the well-known "good cop, bad cop" parenting style, but rather found equal footing in their more zen disciplinary approach.
The Good Place star explained to Entertainment Tonight at the premiere of the upcoming buddy cop movie CHiPs, "We have a dialogue with them [3-year-old Lincoln and 2-year-old Delta] where there are things that are acceptable and things that are not." She clarified, "There's no bad cop enforcing anything....Everything is very calm in our household." Shepard added, "I don't know that anyone is laying down the law, but I'm probably more the disciplinarian."
Previously at this year's Golden Globes, the CHiPs co-stars shared another glimpse into their lives as parents of two young kids, revealing that their daughters have finally warmed up to Frozen, the mega-hit Disney film in which Bell voices the role of Anna. "Now they like it!" exclaimed Shepard. Bell agreed, "They do. They like the dolls more than the actual content. Although they just don't like it when I sing along with any of the songs. They have me zip it real quick."
She then quipped, "You know what? To each their own. If they don't enjoy it, that's their choice. They're their own people." Shepard quickly joked, "It proves the axiom that your parents are never cool."
After three years of marriage, Bell confided to Entertainment Tonight earlier this year that her relationship wasn't always as solid. "We've gotten a lot older and it's evident. We've changed a ton but for the better." She then admitted, "Our relationship was turbulent when we started. But there was a very strong attraction that was obviously physical but also emotional, mental, intellectual, and we worked through a lot of our own problems to get to a really good marriage."
The happy couple's secret? Bell told People last night, "We got there by doing therapy when we needed it, and constantly doing fierce moral inventories."