The Real Reason You Don't Hear From Jay Leno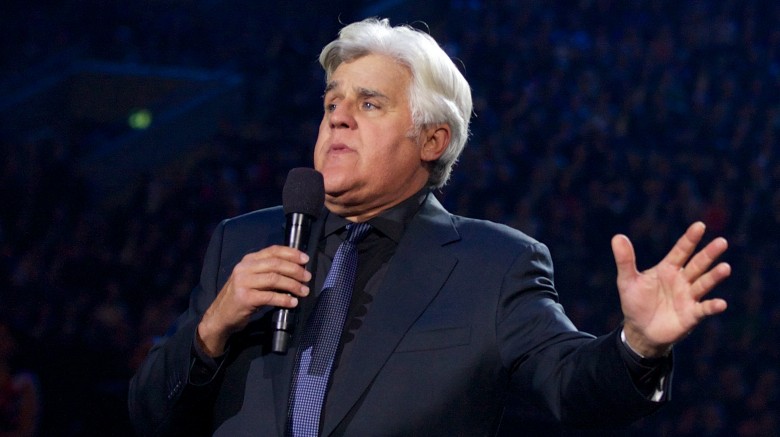 Getty Images
Jay Leno is arguably a television icon with an astounding 21 years under his belt as the host of The Tonight Show on NBC. Sure he's a well-known comedian whose jokes will tickle anyone, but he's also a complex man with many interests—many of which have certainly kept him away from the spotlight in recent years. When Leno, 66, left The Tonight Show in 2014, he pushed his energy and focus onto other projects including building his massive car collection, ramping up his stand-up comedy dates, launching a successful car show and spending time with his longtime wife, Mavis. Here are numerous reasons the former NBC frontman has quietly stayed away from the public eye.
He's obsessed with cars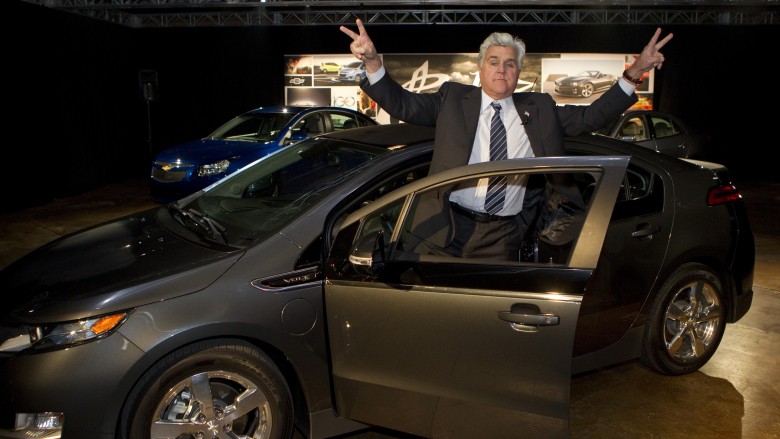 Getty Images
To say Leno is a car enthusiast would be an understatement. He's got a hangar near the Burbank airport which houses his collection of 130 cars, 93 motorcycles, spare car parts, and other car memorabilia. He even employs a staff of four full-time mechanics to keep everything in tip-top shape and to even help restore battered and bruised vehicles. "I never thought of it as a collection," Leno told the Los Angeles Times. "Probably in the mid-1980s, I just started to keep stuff."
While most car collectors focus on a particular brand, era or type of car, Leno's taste is wide ranging from vintage Bentleys, super fast and super expensive McLarens and Lamborghinis down to American Muscle Cars. His love of cars started back when he was 14. At the time, he purchased a 1934 Ford truck and he worked on it until he got his driver's license. From there, the rest is history.
Because Leno's collection is so famous, fans are desperate to gift him cars and are also eager to buy his collection when his passes away. Leno says his wife, Mavis, gets business cards from men hoping to get in on the action. "It drives my wife bananas," Leno quipped. "People come up to her all the time."
He's got a little-known show about cars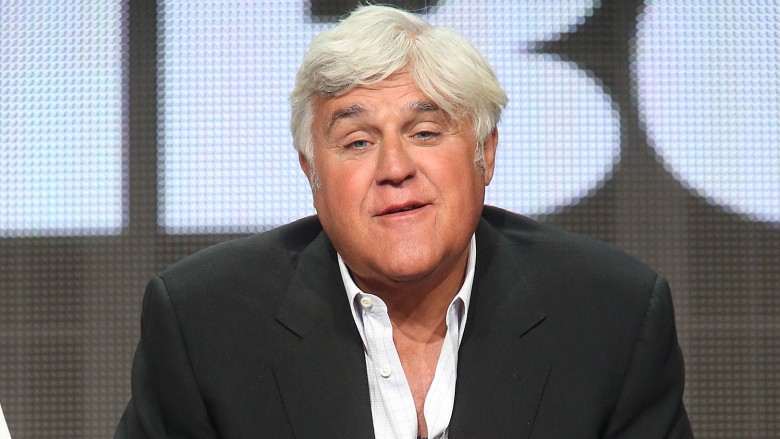 Getty Images
In 2015, Leno returned to television but in a different fashion. He launched his own show centered around cars called Jay Leno's Garage—which airs on both CNBC and YouTube. The show welcomes stars who simply tell want to discuss their love affair with automobiles. "People have connections with cars," Leno told People about the series which has two seasons under its belt. "When you call these big stars up, my opening pitch is that I'm not going to talk about your career. I'm not going to talk about your movie, divorce, cocaine bust, or whatever it is."
So far, he's had on Kendall Jenner, Caitlyn Jenner, Nick Cannon, former Vice President Joe Biden, who raced Colin Powell, and more. But sometimes big Hollywood or political names aren't always the draw. Quite often, as Leno tells it, regular every-day people have extraordinary stories to tell about the cars they own too. He tells the site about a 94-year-old woman who offered to sell her old car to him. Leno bought, restored and it took back for a test drive with the old lady. The joy she had made the entire experience worth it. "Some cars are valuable and some I just have sentimental attachment and they have a great story," Leno said. "You wind up buying a lot of stories."
While there is no shortage of star power on his car show, Leno would like to have one longtime friend and rival David Letterman on an episode. "I would love to have Dave," Leno explained to Extra. "I should give him a call. Dave's kind of quirky, but it would be great to have him on — he's a real car guy."
He's staying away from politics, thus the spotlight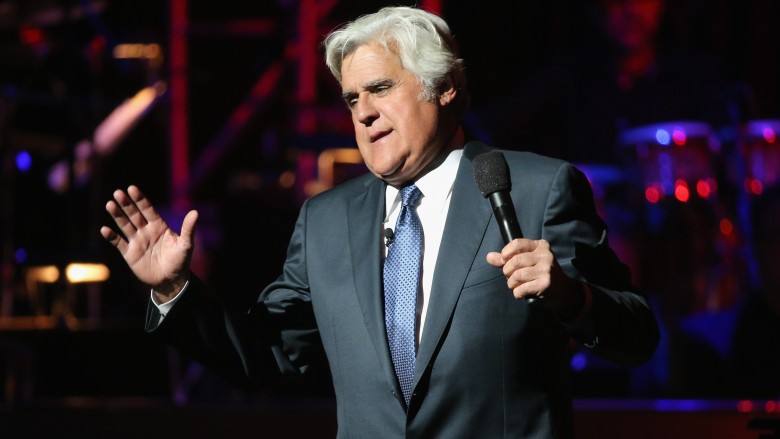 Getty Images
These days, the easiest way for comedians and celebrities alike to get a moment in the spotlight is to say something funny, outrageous or offensive about President Donald Trump or his administration. But as Leno sees it, he has nothing to say. In fact, he's thankful he's no longer doing The Tonight Show so he can dodge the conversation altogether.
"I don't want to interview Trump," Leno told Fox News referencing his show. "I came up in the era when Clinton was horny and Bush was dumb. It was a simpler, funny time. Now it is all race baiting and homophobia and Islamophobia." The comedian says there's a side of politics emerging he's not a fan of, it perhaps is persuading him to steer clear of the spotlight. "There are still plenty of jokes there, but there is an ugliness to this campaign that I don't find attractive at all, and I really don't want to joke about somebody saying, 'All Muslims should be kicked out of the country' or 'because a guy is Mexican, he can't be a judge.' It is tricky to find the joke there," he said.
He enjoys spending time with his wife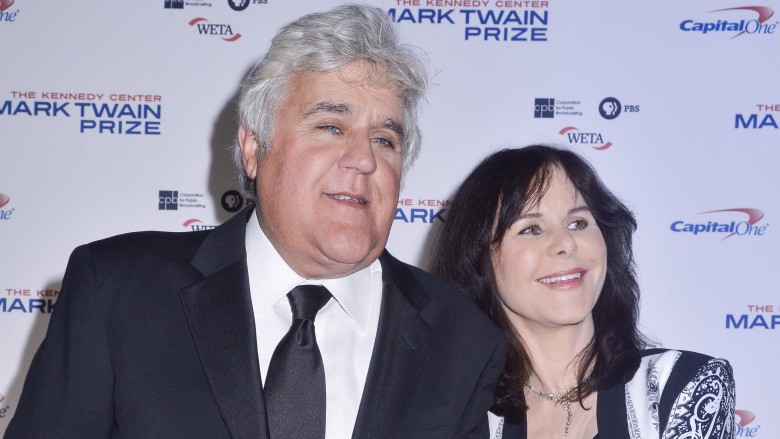 Getty Images
When Leno isn't tinkering under the hood of a hot ride or on a stage telling jokes, he's probably snuggled up next to his wife, Mavis. The pair have been married for nearly 40 years and it's an accomplishment Leno is quite proud of. He's also become a relationship expert of sorts over the years. Leno told the Today show what makes his marriage so successful saying, "The trick is to marry, like, a normal person," he said. "I always meet people who go, 'I met this girl, she's crazy, the sex is wonderful.' [And I say] 'I know, I know, but you know, when the sex is over, she's still crazy.' That's the problem."
But Leno got serious with his marriage advice. "Here's the secret: You marry your conscience... you marry the person you wish you could be. That's what I did," he explained. "I'm in show business, which is a selfish profession, so I married a woman that works very hard for women's rights and other issues like that and it balances out. You marry the person you wish you could be."
Although they've deeply in love, the couple does not have any children. Mavis told the Washington Post why kids were never in the cards for them. "I remember telling my mother when I was seven or eight that I was never going to get married or have children," she told the paper. "To me, this is the way women get caught." She did bend on her marriage rule and doesn't regret her decision. She can't help but dote on her husband saying, "He is probably the single kindest human being I ever met."
He's still doing stand-up shows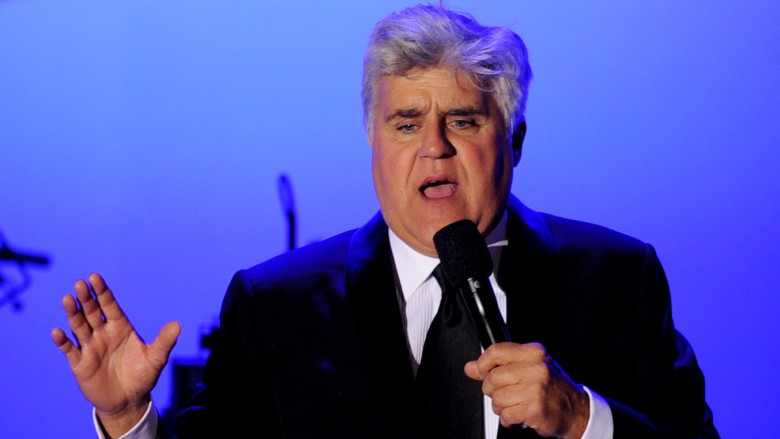 Getty Images
Although Leno is no longer doing The Tonight Show, it doesn't mean he's quit telling jokes. He's far from retired and hits the road doing an astounding 200 shows a year, according to a Q&A with the Boston Globe. It's a job he'll never get tired of for a number of reasons.
"The fact that it's all you. When you do a TV show, you need 175 people, lighting, line producers, caterers, limo guy," Leno explained of his love of stand-up comedy. "On the road, you just show up. It's the most primitive form of entertainment — just one person talking. With the exception of the microphone, it hasn't changed in hundreds of years. We live in an age where people don't gather anymore. When you're in a room doing comedy, you're sharing something. Laughter's infectious."
This spring, Leno returned to the Kennedy Center in Washington, D.C., some three years after being recognized with the Mark Twain Prize. This time, he did his stand-up routine. He clued in fans on what his act is like these days. "Just telling a few jokes, trying to make a living," Leno told WTOP. "I was a stand-up comedian before I got The Tonight Show and I was a stand-up comedian during The Tonight Show, and now that the show is over, that's what I'm back to doing again. It's fun! I actually like it. It's actually really good."
He's busy writing columns and forewords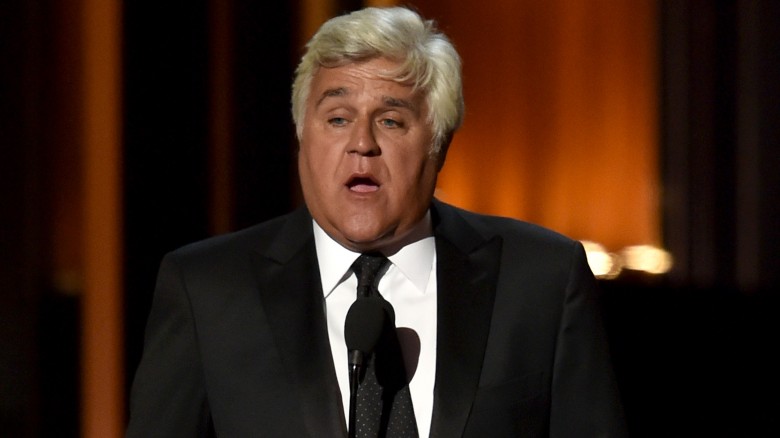 Getty Images
He's working hard for charities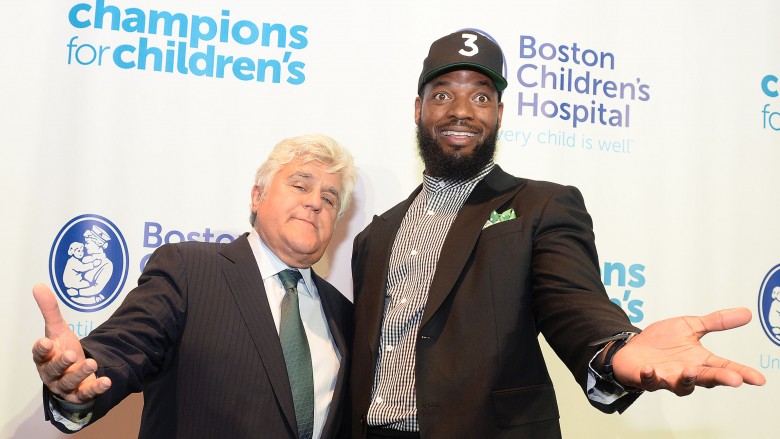 Getty Images
Leno has proven he's quite the charitable person over the years. He's auctioned off a number of his own vehicles to benefit others including his one-of-a-kind Ford F-150 Harley Davidson Edition truck, which was the first ever created. Leno put it on the auction block and it sold for a shocking $200,000, according to Barrett Jackson Auctions. Car Scoops says the proceeds went to the National Multiple Sclerosis Society.
The Hollywood Reporter shared that Leno auctioned off a 2007 New Holland Boomer tractor in 2012. Although it was unusual by Leno's standards, the auction was for a good cause. Proceeds went to Fisher House, an organization that houses families in need. The tractor, which was also signed by former President George W. Bush, sold for a whopping $500,000. "The one thing that is really nice about it is you always hear about these things that you donate your car to and six months later there is a scandal because only five percent went to the cause. You know it all goes to Fisher House," Leno said.
In 2016, the New York Post uncovered that Leno had been quietly keeping a New York City charity alive, with his donations, for years. As the story goes, Leno gave Bailey's Cafe — an intergenerational community art charity based in Brooklyn—more than $1 million. Leno and the charity founder Stefanie Siegel have been friends since college. "He's been a lifesaver," says Siegel said. "Jay's ability to support us and talk about us... has broadened our exposure. He's really kept us alive." Leno also says the money also comes directly from Leno and never a foundation or middle man—proving he's easy to access and genuine about his giving.
He's embarrassed by his racing accident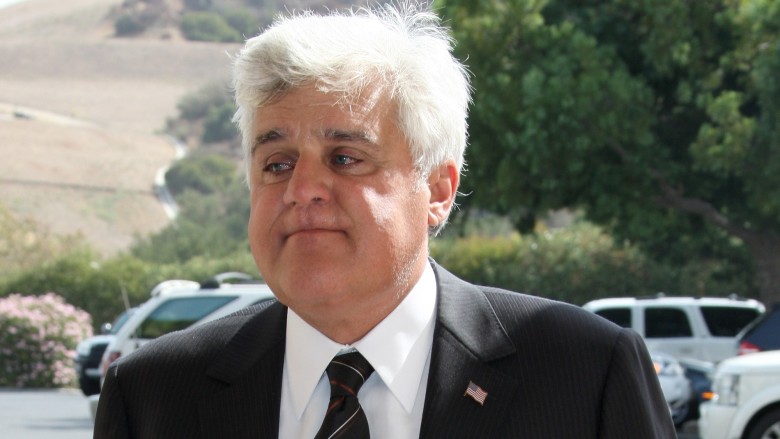 Getty Images
Leno's love for cars can sometimes come at a scary cost. While filming an episode of Jay Leno's Garage in 2016, Leno was nearly killed in an accident. The comedian was fulfilling one of his dreams of riding in a 2,500-horsepower Hurst Hemi Under Glass drag-racing car with famed racer Bob Riggle. Unfortunately, the car flipped over several times, reports People.
The site adds the pair had just become their ride at California's Irwindale Speedway when the accident occurred. Cameras were able to capture footage of Leno being tossed around and his face bracing for the worst. As the footage shows, this was no simple bump, but an accident that could have seriously caused harm or ended a life. Ever the comedian, when the crew rushed over to ask if he was okay, he quickly pretended to be the driver.
"This was certainly exciting," Leno quipped to Riggle. "I'm fine. I'm okay. I do stuff like this every week. That's why I have so many cars. I roll half of them half of the time."
Although the men walked away unharmed, it was surely embarrassing. Especially for men who drive cars all day, every day.
He's filthy rich and doesn't need to work anymore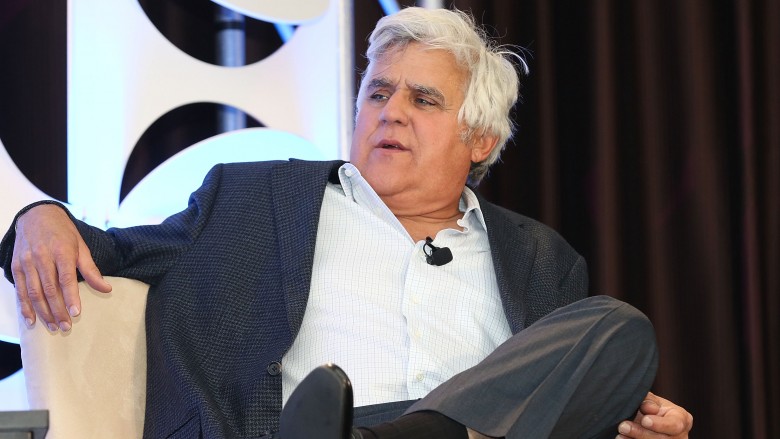 Getty Images
Leno has been around for decades. He was a fixture on the late-night scene of NBC for years and in combination with his stand-up acts, he certainly amassed a fortune. But what few people know is Leno may be the next Warren Buffett. In fact, his absence from the spotlight could be explained by his wealth.
"I always had two incomes," he told CNBC about his finances. "I'd bank one and I'd spend one." Leno made sure to always spend the small of the two salaries. He was said to be making roughly $30 million a year hosting The Tonight Show at one point. "When I was younger, I would save the money I made working at the car dealership and I would spend the money I made as a comedian," he said. "When I started to get a bit famous, the money I was making as a comedian was way more than the money I was making at the car dealership, so I would bank that and spend the car dealership."
When Leno landed his gig at The Tonight Show in 1992, he quickly began to bank that salary and spend the money he earned from 150 stand-up shows a year. "So many people get to be the age I'm at now and they've got nothing because they just blew it all," he says. "I put my money in a hammock and say, 'You relax. I'm going to go work.' And when I come back, I put some more money in the pile. It sounds ridiculous, but if everything ends tomorrow, I know I'll be fine."
He's joined Mickey's gang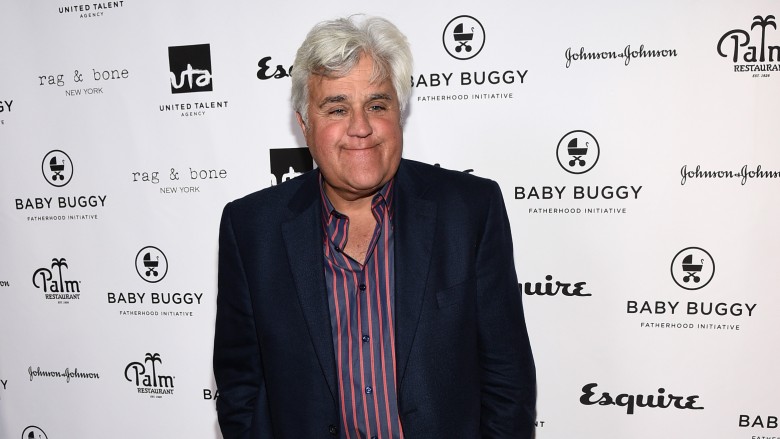 Getty Images
Leno has spent time doing voiceovers too. He plays the energetic and bonkers Billy Beagle, who is an announcer on the new show Mickey and the Roadster Racers, on the Disney Channel, according to Extra. Leno also voices one of the many cars taking Mickey and his friends around Mickey's hometown of Hot Dog Hills, reports TV Insider.
Leno says show creators and artists looked to him for a bit of inspiration. "They asked if they could come to the garage and see some kind of unusual, different or funny-looking cars that might be good cartoon cars," Leno dished. About his flamboyant character, Leno said, "He's sort of a verbose character. He gets very excited. Very worked up. His race is his whole life and he just loses it at every announcement." The series was released in January 2017.
The 'Tonight Show' drama is still fresh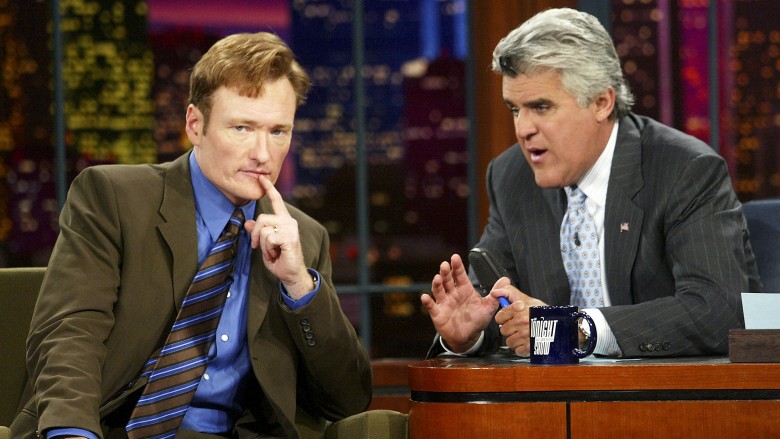 Getty Images
In 2009, Leno retired from hosting the Tonight Show and Conan O'Brien was named his successor. In the new deal, according to the Huffington Post, Leno would have a new show airing at 10 p.m., while the Tonight Show remained at 11:35 with its new host — O'Brien. But after ratings for both hosts in their new roles began to tumble, NBC made an interesting decision to push Leno back to 11:35, which would of course put O'Brien after midnight. O'Brien didn't agree with the changes and quit. Leno was thus reinstated as the host of the Tonight Show in 2010. O'Brien went on to launch a new show on TBS. Many saw the shakeup as disrespectful to O'Brien, who worked so hard for the job. Others saw Leno as the culprit. "If you want to blame the whole thing on me, I guess that's OK," Leno told Variety about the debacle. "If you think the whole reason that show didn't work is because of me, you're certainly welcome to believe that. [But] if Conan was not given a fair shake by NBC, that's certainly not my fault."
And when Leno retired from the Tonight Show for the second time in 2014, it was clear his number was up. He could no longer compete with younger hosts on other channels. At the time, Leno wasn't doing any comedy skits, no games with guests and nothing that went viral. His style of hosting had become passé and no longer a crowd pleaser. Jimmy Fallon, who took over, provided a fresh take on late-night TV and his Saturday Night Live background proved to be a good move for all.
Leno legacy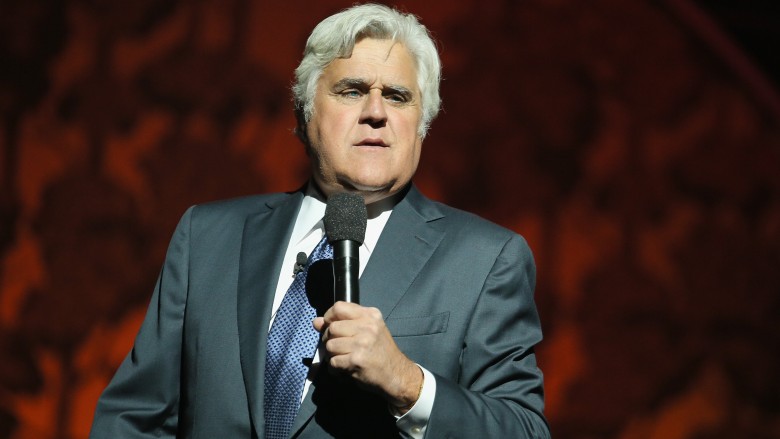 Getty Images
While Leno has been off primetime television for the last three years, he continues to keep busy. He will obviously never leave behind his love of cars or his massive collection, which appears to be growing by the minute. And when he's not busy fiddling with engines or shooting episodes of Jay Leno's Garage, this funnyman will continue working on his first love — stand-up comedy. With at least 200 shows a year, it's not hard to find him at a comedy club near you. Above all, Leno appears to be loving his life out of the spotlight. It's rich full of energy, passion, charity and love.