Kendra Wilkinson And Hank Baskett Celebrate The Day They Met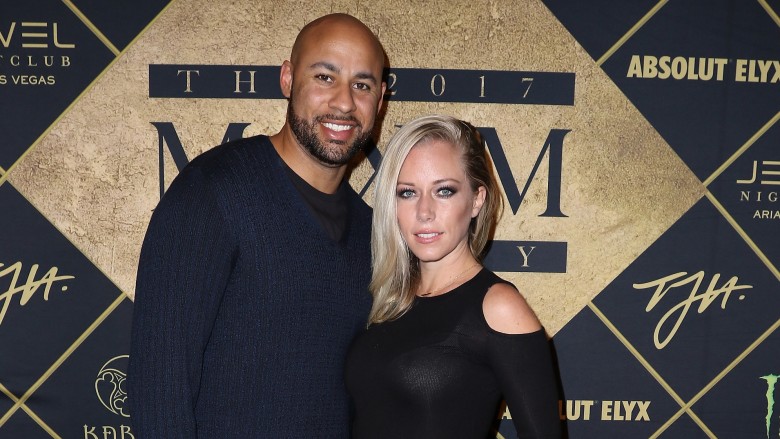 Getty Images
Kendra Wilkinson and Hank Baskett have infamously and very publicly been through hell and back in their marriage, but now they seem stronger than ever – and it's giving us all of the feels.
Wilkinson took to Instagram Tuesday, March 21st, to celebrate the nine-year anniversary of the day the happy couple met, Entertainment Tonight reported. Sharing a cute, snuggly photo, she wrote a sweet caption: "Nine years ago I met the person who would take me all the way to the top and hold me there even during the weakest times. We met that day out on the golf course and knew he was mine."
The reality TV stars married at the Playboy Mansion in June 2009 and have two children – Hank IV, 7, and Alijah, 2. And the Kendra on Top star couldn't be prouder of the beautiful life they've built together: "Even with little bump in the road, nothing or nobody can be greater or make me feel more successful than @hank_baskett, Imperfection is where great change and growth happens with us. We are true best friends who f*ck good, fight good, golf good, BBQ and drink beer good." The caption ended with a grateful, "Thank you Hank for being there on the golf course that day and being that shy guy. Thank u for my happiness and our children...here's to eternity."
Baskett also took to Instagram to express his love, posting a photo from the day they met. The former pro-footballer wrote, "In life, you're told to go with your gut. Well, 9 years ago I did just that." After explaining how he nearly missed their destined meeting, he continued with the heartfelt, "We had no idea that trip would change my life. I sit here eight years later having it all, and by all, I mean my family." Baskett concluded the adoring note with, "Instead of just a day of golf, I found a lifetime of love! Things happen for a reason and I'm eternally grateful they did that day! I love you bayba!!"