Are Stranger Things Co-Stars Natalia Dyer And Charlie Heaton Dating?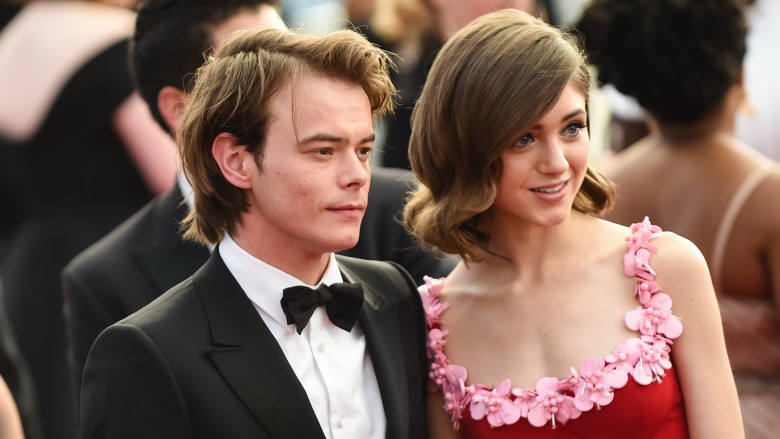 Getty Images
On-set relationships are nothing new to Hollywood. But, unfortunately, they're still often shrouded in mystery. The latest celeb coupling–between Stranger Things (2016-) co-stars Natalia Dyer and Charlie Heaton–is no exception.
TMZ caught up with the pair at Los Angeles International Airport on March 22, 2017 and asked them to address rumors about whether or not the two were dating.
"Is it hard blending personal and professional lives?" the reporter is heard asking in the video, causing Dyer to shake her head.
After further prompting, Dyer, 20, stated, "Well, I mean, whether people are dating or hanging out, I think that our cast is cool with each other."
"We're all one big family," she added.
When asked directly if they were dating, Heaton, cigarette in mouth, walked away. Dyer quickly followed, telling the reporter, "Have a nice day!"
While it's hard to tell from their reactions if the actors are indeed an item trying to keep their relationship under wraps or, alternatively, are just two coworkers tired of answering questions about their romantic lives, there's no doubt that there's chemistry between the pair–on-screen, at least. Dyer plays Nancy Wheeler on the Netflix original series, a love interest to Heaton's character, Jonathan Byers.
Initial rumors of the two's romance were further fueled after Dyer and Heaton, 23, were seen at LAX in Jan. 2017, catching a flight out together after the Golden Globes.
The co-stars have also appeared on each other's Instagram accounts. In Sept. 2016, Dyer shared a photo of Heaton covered in birds, joking, "Wow congrats @charlie.r.heaton on his new one man show Stranger Wings!! Sure gonna miss you s2 but happy you're doing what you love."
On his own social media, Heaton documented a fun Halloween night with Dyer and other friends in a post on his account, posting a photo of the group dressed in Wizard of Oz costumes.
Only time will tell if the two stars are romantically involved. Whatever the case, let's just hope their characters will at least get together.
The second season of Stranger Things premieres Oct. 31, 2017.