Inside Luke Bryan's Tragic Real-Life Story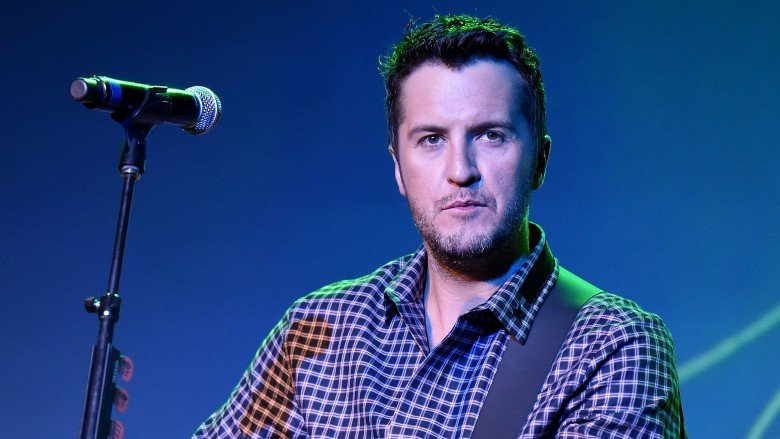 Getty Images
Country music singer Luke Bryan is famous for upbeat party songs like "Country Girl (Shake It for Me)," "That's My Kind of Night," "All My Friends Say," and "This Is How We Roll," his collaboration with Florida Georgia Line. He's also known for what ABC News describes as his "booty-shaking dance moves."
But there are a lot of tears and sorrow behind the singer/songwriter's infectious smile and crowd-pleasing wiggle. Bryan has suffered through multiple family tragedies. Here's a look at the sad stories in his life.
He had a normal, small-town childhood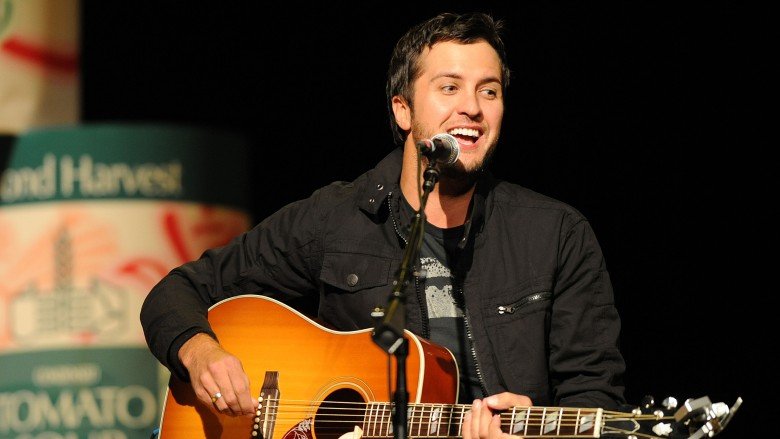 Getty Images
Thomas Luther Bryan, the youngest of three children, was born in Leesburg, Ga., on July 17, 1976. His sister Kelly was nine years older, and his brother Chris seven years older. Their father was a peanut farmer and co-owned a peanut processing plant where Luke worked as a teenager. Bryan's mother LeClaire told 20/20 her son was "sickly" as a baby, so she hummed "Rock of Ages" to soothe him. He picked up on the song immediately. "He could literally hum 'Rock of Ages' before he could talk," she said.
His parents and siblings encouraged his music interests
Bryan grew up in the 1980s listening to a variety of musical styles, courtesy of his family. According to Billboard, his parents played records around the house from country artists like Conway Twitty, George Strait, Ronnie Milsap, and Merle Haggard. Milsap inspired Bryan to learn how to play the piano as a child, something he would later do onstage. "I make my way around on a piano OK," he said in a 2015 interview. "Just good enough to fool people."
And his siblings introduced him to pop artists Lionel Richie and Michael Jackson. "Thriller was my first cassette; that was like currency," Bryan told Parade magazine. "At school I could moonwalk all the way to the pencil sharpener and back." Of course Elvis Presley was a big influence, too, especially given how much hip-shaking both are famous for. "I'd be, like, 4 years old in my underwear singing Elvis songs!" he once joked.
At the age of 14, a trip to Jennings, Louisiana started him on the guitar. Bryan later recounted to Rolling Stone what happened next. "During that trip there was a kid playing guitar at a church and I saw all the girls swooning over him, and I told myself when I got back to Leesburg I was gonna find a guitar." He did through a friend, and by age 15, he was singing and playing guitar with local bands.
He was about to move to Nashville when the first tragedy struck
When Luke Bryan was 19, he was still working on his music and was just five days away from moving to Nashville when he got news that would change his life forever. Bryan's brother Chris died in a car accident on October 27,1996 at the age of 26. So Luke stayed home with his family after the death, going to college at Georgia Southern University (he earned a degree in business management and was in Sigma Chi) and working at his father's peanut plant while singing in bars.
"I was never convinced I'd get back to Nashville, but I didn't spend time on 'Should I go or should I not?'" Bryan told People in 2013. "It was just 'Not going.' Your mother had just lost a child. At that point her youngest son was not going to leave the house. Chris's dying got me a little more mature."
His mother said to 20/20, "We knew Luke at some point would come to Nashville," she said. "But ... you can't leave your family, and ... I couldn't bear the thought of him being away."
Unfortunately, his parents divorced two years later from the strain of his brother's death.
College was unplanned, but important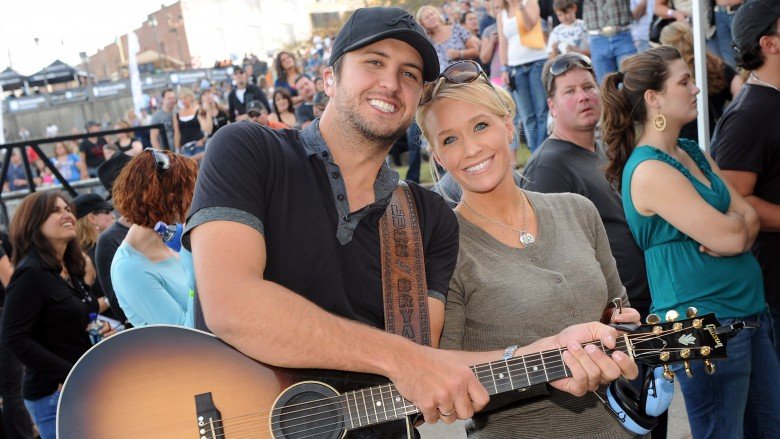 Getty Images
Although this was a sad time for the Bryans, the time home in Leesburg with his family ended up being productive for Bryan in two ways. He led a band during his college years called Neyami Road. They made one album that he described as "horrible." But he did learn something from being in the band, "We had to dance to take the focus off how bad the music was," he said in 2015 (via Billboard). "That's where I learned a little bit of the [booty] shaking."
He also met his future wife Caroline Boyer at a bar called Dingus Magees when he was a senior and she a freshman at Georgia Southern University. He was immediately smitten. Her, not so much. "It took me eight seconds to figure it out and it took her about eight years to figure it out," he told reporters in 2013, according to The Boot. "I had to drink a lot before I could go talk to her, but I did," he said. "Somehow I managed to ease over there and somewhat be charming."
After dating in college, they were apart for five years, then reconnected and stayed together for good. They married in 2006 and have two sons together, Bo, born in 2008, and Tate, born in 2010.
His father threatened to fire him to get him to Nashville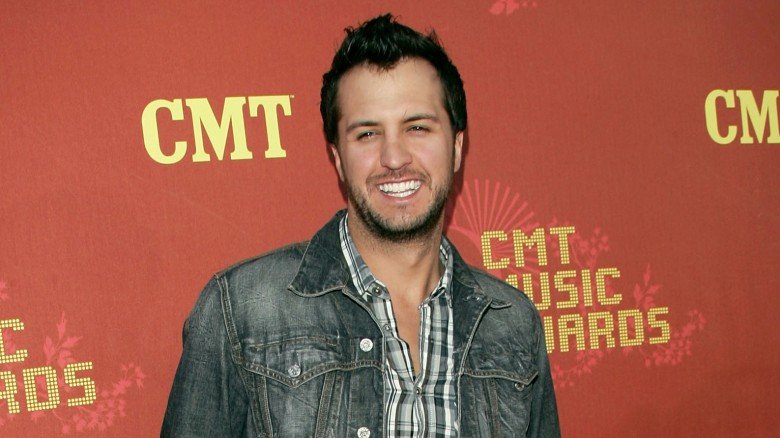 Getty Images
By 2001, Bryan had graduated college but was working for his dad Tommy (who still lives in Leesburg today). His father believed in his son's musical talents so much that he told him to go to Nashville and follow his dreams. And if he didn't, he would fire him. Tommy Bryan told 20/20 he said to his son, "You know, if you're going to pursue your music career, you need to pack your truck up and move to Nashville.'"
Bryan's sister was supportive of his burgeoning career
After Bryan left Georgia to pursue a country music career, he had some success as a songwriter for artists like Billy Currington and Travis Tritt. But it took him a while to get his big break as a performer. In 2007, six years after moving to Nashville, he finally got an album deal as a performer and released his first record, I'll Stay Me. Then he got invited to the Grand Ole Opry to perform there for the first time. His sister Kelly organized a group of 129 people from Leesburg to go to the show. Bryan was riding high.
Tragedy struck again in 2007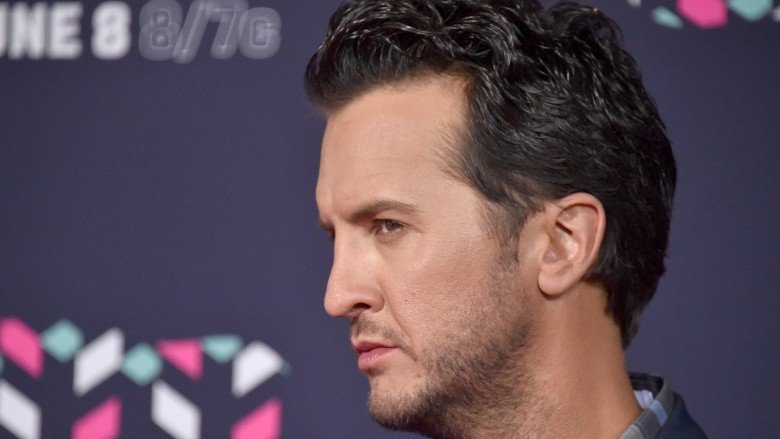 Getty Images
A few days after the Opry show, Kelly, just 39, died while doing the laundry. Despite several autopsies, the cause of death is still unknown. Kelly was married and had three young children, who her husband would raise.
"My only older siblings ... gone from the world, in a flash in two, two different, crazy, tragic manners we'll never know, and never understand," he told 20/20.
When Bryan shared his story with the ABC program, he said that after such tragedies, "You can lean on friends and family through it ... and you can get back life." He noted, "If me telling my story moves people down a positive path of hope and getting up out of the bed and getting back going, then, you know, it's certainly worth telling."
"Losing my brother changed me tremendously and losing Kelly, even more," Bryan said to People Country. "I literally do not take one second for granted."
His career blew up
As time went on he had multiple hit albums, with Doin' My Thing hitting number two on the country charts in 2009 and Tailgates & Tanlines going number one in 2011, which had four Top Five singles. His 2013 album Crash My Party proved to be his first Billboard 200 number one and became a massive crossover hit. Bryan has also released several spring-break themed EPs.
In addition, in 2010 Bryan also appeared as a guest on an episode of Celebrity Apprentice, in which project managers Bret Michaels and Cyndi Lauper gave him and fellow country star Emily West "country makeovers." This episode later got national attention during the 2016 presidential campaign, as a transcript from an unaired portion of the show revealed that Trump mocked West's skin, but said of Bryan: "Personally, I am, as you probably heard, not a gay man, but I think he's better looking that [sic] Emily okay?" according to The Huffington Post.
He got emotional when he won a big award
In 2013, the country music world was stunned when fans voted for Bryan over heavy hitters Taylor Swift, Jason Aldean, Miranda Lambert, and Blake Shelton for the Academy of Country Music's Entertainer of the Year honor for the first time. So was Bryan. He started crying when his name was announced, and gave a touching speech.
"Thank you so much for making my life what it is," he said, according to CMT. "What I always wanted to be was just a country singer that got to ride on a tour bus and show up at a new stage and play music every night." He said it was a "blessing" to play for his fans, and proclaimed: "This is the defining moment of my life, and it means the world to me. I will never take it for granted."
The Boot reported he told reporters afterwards, "What's important is that my family has dealt with a lot of tragedy in my life, with me losing my older brother and my older sister. That's the first thing you [think], that they're in heaven smiling down on moments like this," he said.
Bryan then shared the win backstage at the Las Vegas-based show with his wife, parents, and his late sister's husband Ben Lee Cheshire and Ben's new girlfriend. "We cried for an hour," he revealed. "With all the stuff with my family, I felt like I was the positive thing to outweigh the negative."
Bryan remembered his siblings with a tribute song
In the fall of 2013, Bryan released a song called "Drink a Beer." While it sounds like a rip-roaring tune, the song is actually a ballad about a loved one dying. Jim Beavers and Chris Stapleton, not Bryan, wrote "Drink a Beer," and Stapleton contributed background vocals. Stapleton said they wanted to come up with a song with that title that wasn't about partying, 3 CBS Philly reports.
They wrote the song with nobody in mind, but when Bryan heard the song, he knew it was perfect for his life situation. "Somebody emailed it to me, I listened to it and it just tore me to pieces," he said. When Bryan performed the song with Stapleton at the CMA Awards, a photo of Luke with his late siblings flashed on the screen at the end of the song, and he toasted the picture with a beer.
Bryan told Rolling Stone that "Drink a Beer" was the most "critical song" in his career. He said that with the title, it seemed like it would be "something that they thought was going to be so cliché, so typical me, and then it wasn't. That opened up a whole realm of ways to go and things that we don't have to be scared about."
​ Incredibly, tragedy struck the Bryan family again
As if losing his sister and brother weren't enough, in 2014, Ben Lee Cheshire, Bryan's brother-in-law, died at the age of 46, in what may have been a heart attack. Cheshire had stayed close with the Bryan family, and went to the ACMs in Las Vegas with them every year. He left behind three children, who had already lost their mother (Bryant's sister), one of whom was still in high school.
After this tragedy, Bryan admitted to ABC News that it was a lot to deal with. "It's every day on the phone all day trying to talk with the family and figure out what to do, but it's what you gotta do," he shared. "Tough stuff."
So Luke and Caroline took in Til, their teenage nephew, to raise him along with their own children. And Til's adult sisters, Kris and Jordan, visit the home frequently.
With three young boys in the Bryan household, it is what he calls "constant chaos. "They always have seven or eight of their friends over," he tells People. "Our furniture is constantly getting broken and damaged, but we try not to think about it too much. It's just life at the Bryans'. I wouldn't want it any other way."
He said "bro-country" was offensive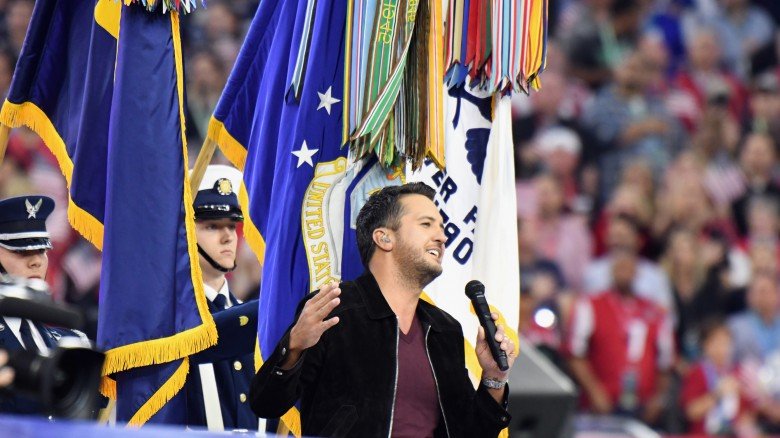 Getty Images
Bryan, famous for his booty shaking, spring break concerts in Panama City, Fla., and party anthems, was one of the main purveyors of what became known as bro-country, with songs about women and trucks and drinking. He bristled at the label, telling Cleveland.com in 2015 that he took "a little offense" to it, and called it "degrading."
But on his 2015 Kill the Lights album, while he included good-time songs like "Kick the Dust Up," he also has more songs about what Billboard calls "adult entanglements" and "more relaxed" songs. Like the single "Fast," which is a wistful look at how fast times go by. "Bryan proves he's more of a singer than he's often credited for," BIllboard said, "With this album, Bryan suggests that he may be able to have it both ways: stirring deeper sentiments even as he sets off massive parties."
He's also stopped the spring break concerts in Florida — for the last two years, he instead performed at Crash My Playa in Mexico, with more of an adult crowd.
Bryan's crossover appeal also showed in February 2017 as he sang the National Anthem before the Super Bowl.
Yet another tragedy hit the family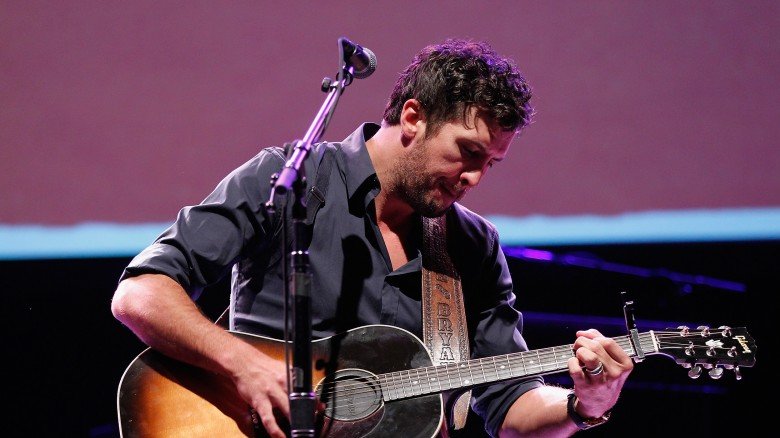 Getty Images
Sadie Brett Boyer, Caroline and Luke Bryan's infant niece, died in February 2017 after a variety of health issues. The baby was the child of Caroline Boyer Bryan's sister, Ellen. Bryan used Twitter to thank his fans for their outpouring of prayers after the terrible news.
Bryan performed for radio broadcasters shortly after the tragedy and thanked the on-air personalities: "I tell you what," Bryan shared, according to People, "when I'm checking my socials [media], and I'm seeing so many of you guys that are lifting my family up, I really appreciate it. It means the world to me."
Bryan relies on his faith to get him through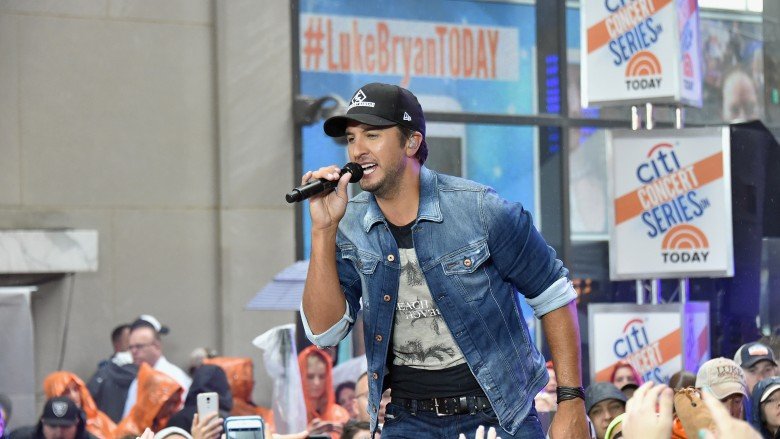 Getty Images
Throughout it all, Luke Bryan keeps a positive attitude. "I think with everything that's happened in my family, I just have to lean on my faith and the understanding that God has a plan for all of us," he told People in 2015. "We just wake up every day and do our best. I'll get down in the dumps, and then I'll meet a Make-A-Wish kid, and I'll ask myself, 'What are you complaining about?' You just have to keep your faith strong and rock on."