Samira Wiley And Lauren Morelli Marry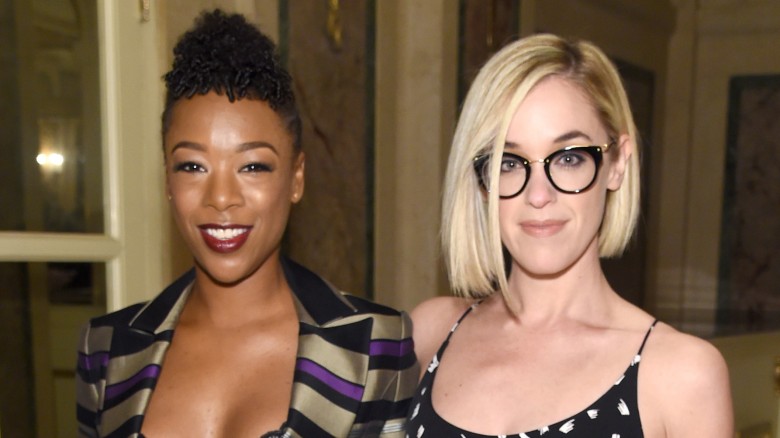 Getty Images
Orange Is the New Black (2013-) star Samira Wiley and series writer Lauren Morelli have tied the knot!
Martha Stewart Weddings reports that Wiley and Morelli married on March 25, 2017 in Palm Springs, Calif. The event was apparently a confetti-themed celebration, due to the couple's love of Funfetti cake and the overall fun atmosphere they wanted to create for their special day.
Wiley's parents officiated the wedding, which was held outdoors. After the ceremony, the couple reportedly walked back up the aisle to the music of Montell Jordan's "This Is How We Do It." Both Wiley and Morelli donned custom Christian Siriano designs–Wiley in a beautiful off-the-shoulder gown and Morelli in a gorgeous white jumpsuit with an embellished bodice and an attached long, flowing cape.
The pair previously opened up about their engagement to Out magazine in Dec. 2016. Before a weekend getaway to Palm Springs, Morelli decided to surprise her girlfriend with a major relationship milestone–the proposal. "She asked me to sit next to her," Wiley, 29, said. "Then she got me up, and we started dancing together, and she pulled a ring from behind the couch. Lauren has been married before, so I wanted her to tell me she was ready, her to be the one to propose. I didn't know she was as ready as she was. I was completely shocked. I was crying uncontrollably..."
As Wiley mentioned to the publication, Morelli has been married before. In an interview with Identities.Mic, the writer revealed that she divorced her husband in 2014 after realizing her true sexual identity as well as her feelings for Wiley, whom she met while working on Orange Is the New Black.
Wiley and Morelli publicly announced their engagement on Instagram with a shot of the pair smiling and Wiley showing off her beautiful new ring.
Congratulations to the happy couple!