Val Kilmer Randomly Praises Cate Blanchett On Twitter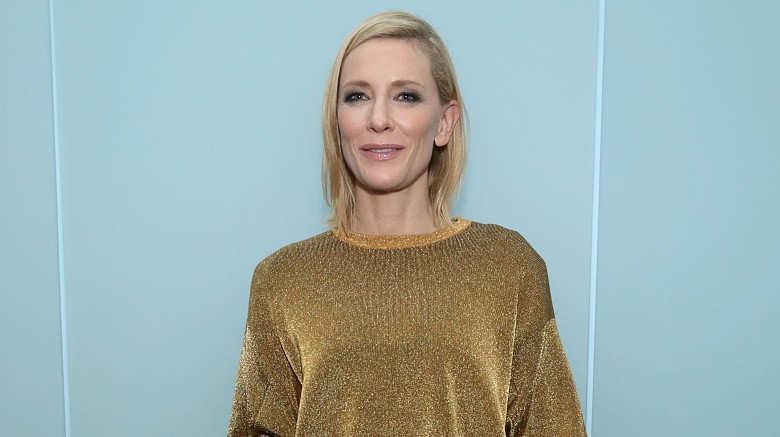 Getty Images
Val Kilmer is apparently Cate Blanchett's number one fan.
The 57-year-old actor, who allegedly has been battling health issues for some time, posted a series of tweets over the weekend praising the two-time Oscar winner, with whom he worked on the 2003 western The Missing.
"Once I flew all the way to Australia just to talk to Cate Blanchett. Her husband met me first. Or, instead, I guess, to be accurate," Kilmer wrote on Friday, March 27th, 2017.
The following day, Kilmer—who also visited the World Trade Center memorial over the weekend, wrote, "She's just as amazing in person. Some super stars aren't-Some superstars don't do a thing to ya in person-Cate is so real it's almost unreal." In a separate tweet, he added, "Once I did a cameo just to hang w/ #cateblanchett who [picked] up a shovel in our sc. I was so dazzled by HOW she picked it up I forgot my line."
As his tweets began to make headlines, Kilmer returned to twitter to defend his words, writing in a since-deleted string of messages (via People), "I've never done said or written a single idea that wasn't of the highest respect and admiration for #cateblanchett or any other great talent."
He added, "She's a friend of mine and I've met her husband thru the years and we've all gotten along just fine. Anyone who thinks I need to curb my enthusiasm for a great rare artist doesn't understand how difficult the job is and how we artist count on the respect of our peers. She will back up every word I say n love that I say I love her. I would love an actor I didn't even enjoy if he flew the world to talk about a role."
Whatever the case, Kilmer has apparently since moved on to another famous face: actress Jessica Chastain, to whom he wished the fellow Julliard alum happy birthday on March 25th. Uh, okay!