Cuba Gooding Jr. Faces Backlash After Lifting Sarah Paulson's Skirt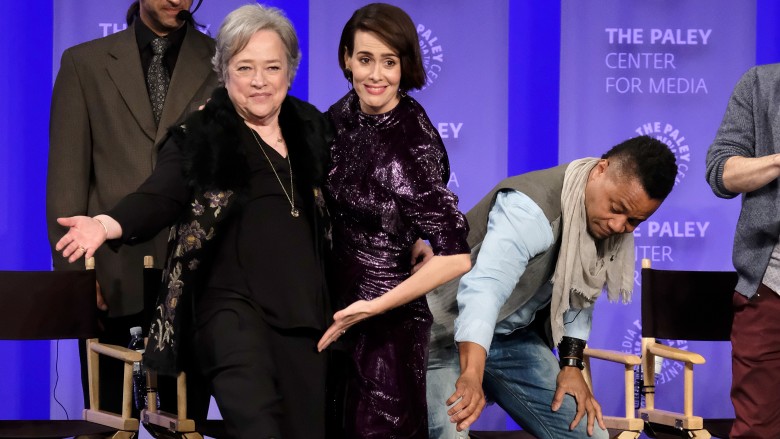 Getty Images
The PaleyFest panel for American Horror Story: Roanoke got off to an awkward, rocky start when Cuba Gooding Jr. grabbed the hem of co-star Sarah Paulson's dress and lifted it up from behind – and the internet has spent the last 48 hours in top backlash form.
As Entertainment Tonight accounted, the action took place at the Sunday, March 26th event in Los Angeles, when Paulson got up from her chair to greet Kathy Bates as she joined the actors onstage. ET's video compilation shows Paulson walking out onstage and sitting down next to Gooding Jr., after which he almost immediately grabbed at her skirt.
After slapping away his hand, Paulson laughed and brushed it off in the moment, and the rest of the panel seemed to go on without a hitch. The two friends and frequent collaborators, who previously worked together on Ryan Murphy's other acclaimed FX success The People v. O. J. Simpson: American Crime Story, even playfully joked around throughout the event. However, Teen Vogue expressed that "audience members seemed more horrified at the way Cuba treated his costar than any of the show's details."
And indeed, after photographic evidence began circulating the internet, the social media outrage exploded full force, with many condemning Gooding Jr.'s intrusive action as "unacceptable," "gross" and "blatantly disrespectful." Teen Vogue's op-ed piece even joined in on this criticism, dismissing claims that it was "just a joke" by arguing that "regardless of their relationship, exposing a woman's body without her consent is not only inappropriate, but it's also incredibly disrespectful."
As ET attested, many are now calling for the actor to at the very least apologize to Paulson. Meanwhile, neither Gooding Jr., Paulson, nor their reps have commented on the incident publicly.