Adele Hints She Might Be Done Touring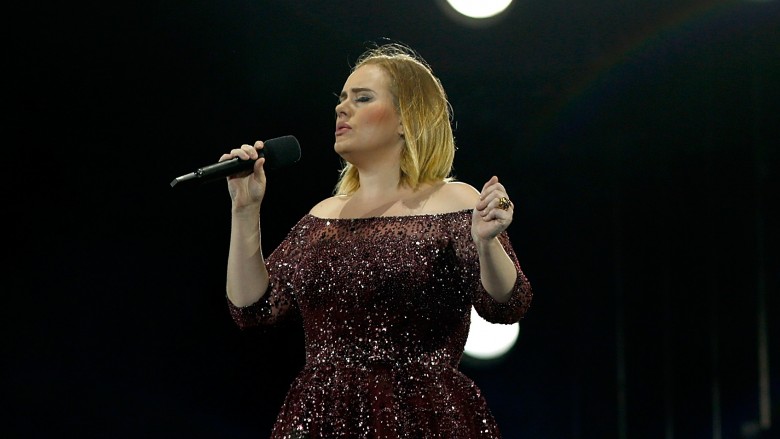 Getty Images
During a recent tour stop in Auckland, New Zealand, Adele dropped quite the bombshell on her audience of 40,000: she might not tour ever again.
As Entertainment Tonight reported, a pink-poncho-covered Adele made the reveal in the middle of her set on Sunday, March 26th, where she spent the evening literally singing in the rain. The "Hello" singer explained over the heavy downpour, "Touring isn't something I'm good at – applause makes me feel a bit vulnerable." She continued, "The only reason I've toured is you. I'm not sure if touring is my bag. My greatest accomplishment in my career is this tour."
Indeed, when the sold out 25 World Tour, which began in February 2016 and made nearly $200 million last year, wraps at London's Wembley Stadium this summer, the 15-time Grammy Award winner will have played 120 shows across three continents. No small feat.
News.com.au addressed that this announcement echoes a similar statement recently made by Australian promoter Michael Coppel: "Adele's been quoted as saying she won't tour again, she's doing this big tour as a recognition of the huge record sales and the enormous demand to see her live." However, he emphasized that "it's impossible to tell what happens next. The future's an open book."
Certainly, no one could begrudge the 28-year-old, who confirmed earlier this month that she had married longtime partner Simon Konecki, for wishing to take a break. This is particularly true as she expressed last October in Nashville that she hopes to expand her family and give their son Angelo, 4, a sibling. ET recounted that the "When We Were Young" songstress supposedly told her audience, "My womb is starting to ache a little bit. It's like, 'Baby, baby, baby. Need a baby, need a baby.' I'm not pregnant. I won't get pregnant until the end of the tour."
While Adele's touring future is now uncertain, the Australian news site hinted at some alleged good news for fans to hold onto: many shows from this tour have been filmed, which means a concert movie may just be in the works.