Troye Sivan To Receive Historic Honor From GLAAD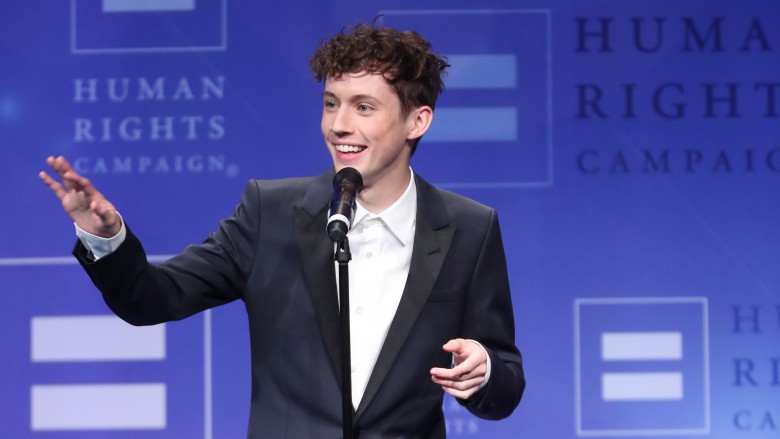 Getty Images
Troye Sivan is about to make history and become the youngest person to receive GLAAD's Stephen F. Kolzak Award, Entertainment Tonight is exclusively reporting.
The award honors LGBTQ advocates for "making a significant difference in promoting equality and acceptance." At only 21 years old, Sivan will join the impressive ranks of previous recipients, including Laverne Cox, Ruby Rose, Ellen DeGeneres, and Sir Ian McKellen. GLAAD President and CEO, Sarah Kate Ellis, told ET in a statement: "Troye Sivan embodies a generation of LGBTQ youth who are unapologetic, outspoken, and proud to be who they are. He has quickly become a leading voice of his generation and sends a message of hope and empowerment with every song, music video, and social post."
Quire right. Since famously coming out on his YouTube channel in August 2013, the South African-born, Australian-raised musician has become a leading advocate for LGBTQ rights. His music videos, including his epic "Blue Neighborhood Trilogy," inclusively represent LGBTQ relationships. And in a December 2016 interview with Paper Magazine, he advised his fans to "be unapologetic about who you are....It's not your job to make other people feel comfortable."
Last year, Sivan won GLAAD's Outstanding Music Artist Award for his debut album Blue Neighborhood. In November, he dedicated his ARIA for Song of the Year to "every gay Australian kid." Afterwards, he told SMH journalists that the responsibility he feels as an openly gay artist "freaks me out sometimes," admitting that "it's a lot of pressure. [But] It would be irresponsible of me to not do my best to embrace it as much as I can." He then advocated marriage equality in his country.
In addition to receiving this prestigious accolade, the "Wild" singer will attend and help hand out grants to LGBTQ students at GLAAD's Inaugural Rising Stars Grants Luncheon on March 31st. The 28th Annual GLAAD Media Awards will be held on Saturday, April 1, 2017 in Los Angeles. Other nominees include Moonlight, Transparent, and I Am Cait.