Amy Poehler And Nick Offerman Team Up For Crafty Competition Series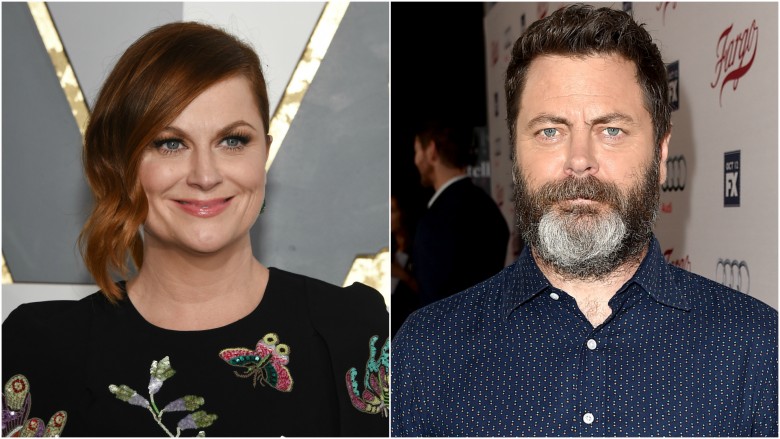 Getty Images
If you thought Parks and Recreation (2009-15) marked the last time Amy Poehler and Nick Offerman would share the small screen together, you'd be dead wrong.
E! News reports that Poehler and Offerman are returning to NBC–but not for a new sitcom. The pair are instead joining forces for a new six-episode reality series tentatively called The Handmade Project. Contestants will compete thematic challenges in an effort to impress both Poehler and Offerman as well as a panel of judges.
The series, which is currently taking applications, will feature eight contestants–top American artisans of all ages–who have to hand-make items using different disciplines, including woodworking, cake decorating, metalwork, and scrapbooking. At the end of the six weeks, a winner will be crowned. And while contestants will surely want to earn the honor of being the best, the show will focus on the individuals, their stories, and their bonds with other crafters.
In a statement regarding the upcoming series, Poehler said, "I'm thrilled to be celebrating artists who make things by hand, and I'm looking forward to finally conquering my fear of paper mache."
Offerman, who owns a woodworking shop in Los Angeles, also expressed his excitement over The Handmade Project–and over working with crafters on the show. "People who make things are my favorite kind of folk. Practical, clever and terrific in a pinch," Offerman said. "That makes me tickled pink to have a front row seat at this prodigious display of talent, and admiring and cheering on an amazing crop of American makers. Plus, Amy and I have a strong tradition of tomfoolery so let's see if we don't have some good fun."
The President of Universal Television Alternative Studio, Meredith Ahr, also commented on the new competition series as well as her excitement have Poehler and Offerman working together again. "With millions of mass-produced products, a handmade item can be the most valuable treasure one can possess because it's one of a kind and made with love," she said. "We are thrilled that Amy Poehler's first venture into the unscripted space is so refreshingly unexpected and original, and can't wait to see Amy and Nick back together again!"
Now if only we could snag the rest of the Parks and Rec cast for a full-on reunion. Do you think Chris Pratt is busy?