'Fresh Prince Of Bel-Air' Reunites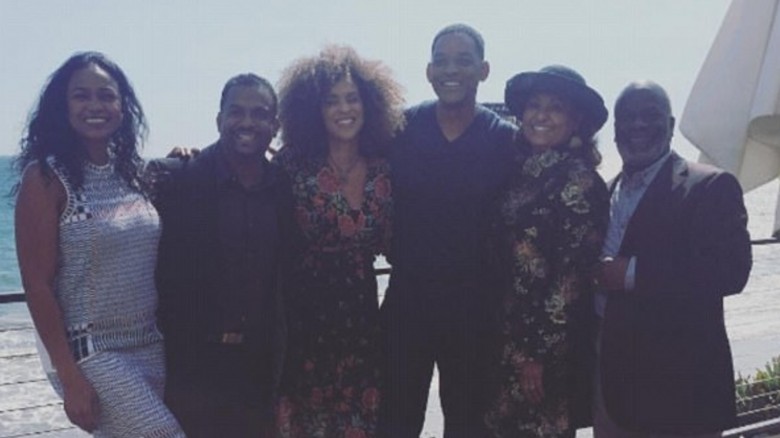 Instagram
Now this is a story all about how the Fresh Prince of Bel-Air cast reunited and our lives got flipped, turned upside down.
Alfonso Ribeiro, aka Carlton Banks, took to Instagram on March 26, 2017 to share an instantly iconic snap of fellow Fresh Prince cast members Will Smith, Tatyana Ali, Joseph Marcell, Karyn Parsons and Daphne Maxwell Reid. And of course they look just as fabulous today as they did at the height of the show's fame.
The actor paid tribute to the late Banks' family patriarch, James Avery, in his caption writing, "Always amazing to spend an afternoon with my Fresh Prince family. Wishing that James Avery was still with us to make this complete."
Avery passed away in 2014 following complications from open-heart surgery.
Although the show ended over two decades ago, fans are still holding out for a revival of the beloved 90s sitcom. However, we wouldn't hold our breath for a reunion show. In an interview with E! News last year, titular star, Smith, said that there is a better chance that "hell freezes over".
Ribeiro has also said that chances of a reunion are very slim out of respect for Avery's legacy.
"Since the passing of my favorite dad in the world, ever on TV, James Avery passed, the chances of a Fresh Prince coming back together will not happen," he told E! News. "I don't think we feel as a cast that we would do even our fans justice. We all felt like he was the centerpiece or the nucleus of that show. Without him, it just doesn't work. So even if the whole cast comes to support me on the show, we're not looking for that to happen. And that's OK."
Janet Hubert, better known as Aunt Vivian #1 , was possibly the only person on Earth who wasn't thrilled about the cast's reunion photo. She took to her Facebook page to accuse Ribeiro of posting the picture solely to get attention.
"I know the media hoe Alphonso Ribeiro has posted his so called reunion photo. Folks keep telling me about it," she wrote. "He was always the a– wipe for Will. There will never be a true reunion of the Fresh Prince. I have no interest in seeing any of these people on that kind of level."
Due to the cast's ongoing, strained relationship with Hubert, we're sure that the feeling is mutual.