The Worst Dressed Stars Of 2017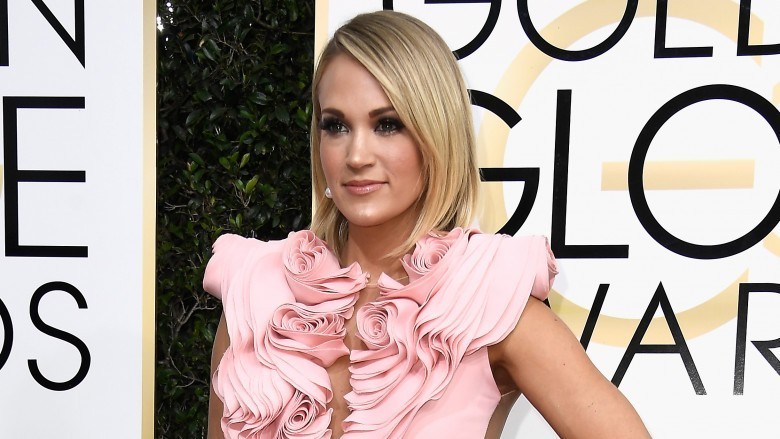 Getty Images
Celebrities experimented with fashion in 2017 and sometimes, those fashion experiments totally missed the mark. Whether it was a pink floral dress that looked a little more like a woman's nether regions or just a gown that tried a little too hard, some of these outfits were just plain bad and some of them gave photographers unfortunate angles. Regardless of which fashion faux pas was made, we've rounded up the worst-of-the-worst for 2017 and some of the fashionistas on the list may surprise you.
Thandie Newton at the SAG Awards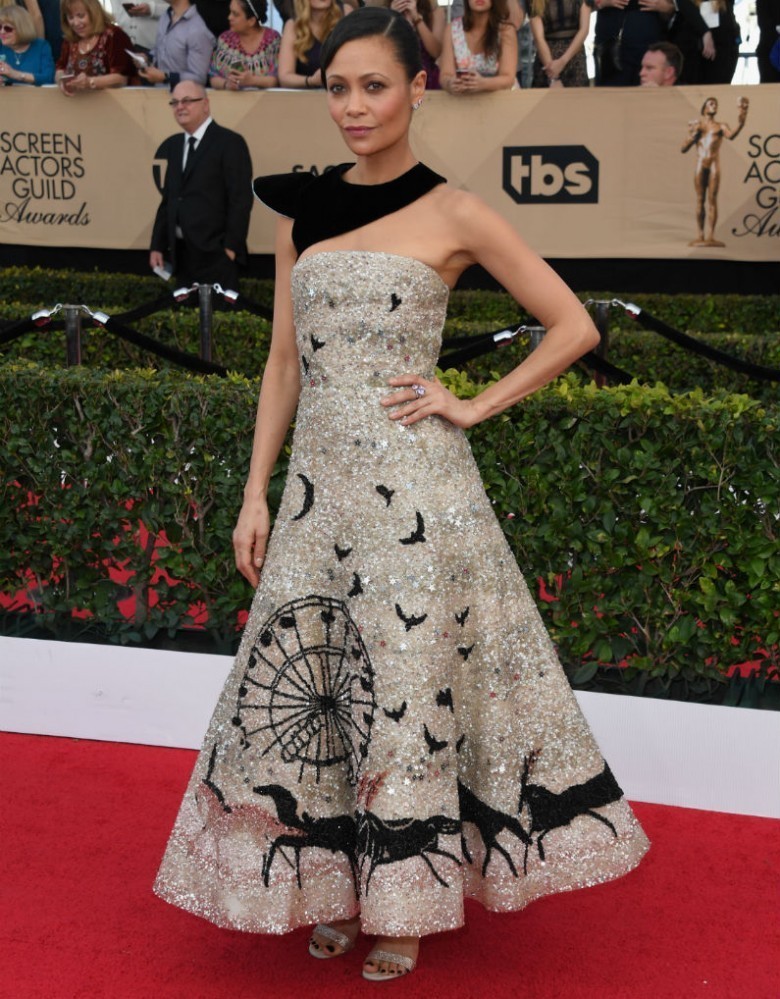 Getty Images
Thandie Newton's Schiaparelli Couture gown wasn't a total miss. The shimmery body of the gown was downright stunning and fit her like a glove. It was the black shoulder and black childlike embellishments that distracted from the beauty of the dress. Without the ferris wheel and the horses and birds, Newton would have certainly landed on our best dressed list. Unfortunately, the decorations made her look like a storybook you'd read your kid at bedtime.
Sophie Turner at the Golden Globes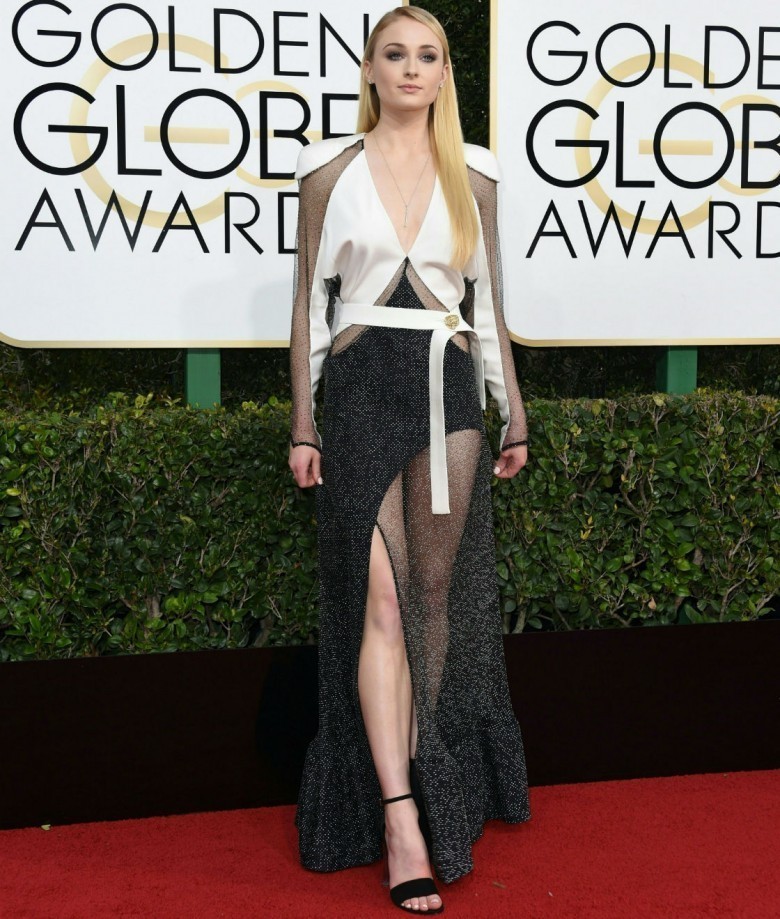 Getty Images
Game of Thrones' Sophie Turner was the talk of the Golden Globes thanks to her black and white Louis Vuitton dress. Unfortunately, most of the buzz was about her being one of the worst dressed at the awards show and we'd have to agree. Although we love the sheer trend celebs are embracing, we're voting no on this one. The sheer panels were awkwardly placed and the dress took the high-low trend to a very confusing extreme. The shoulder pads added an '80s look to the Louis Vuitton creation that already looked like it belonged locked away in a time capsule from 30 years ago.
Mayim Bialik at the SAG Awards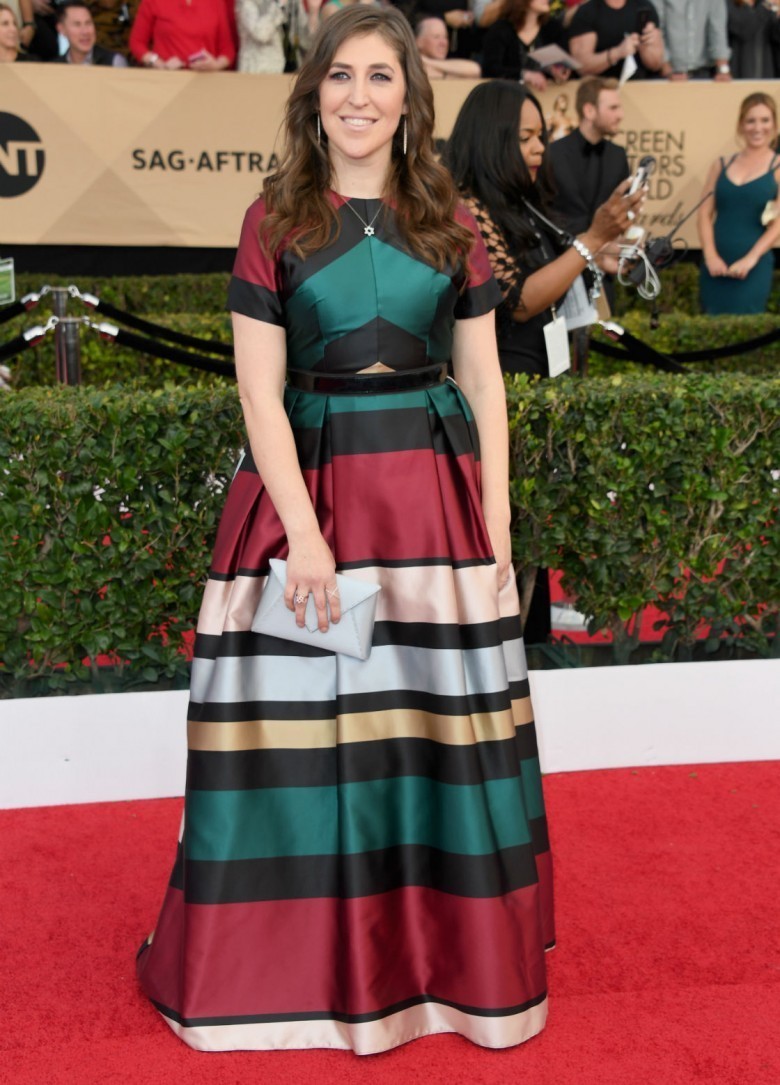 Getty Images
Mayim Bialik's striped dress at this year's SAG Awards fit her perfectly but it was the pattern that landed her on this worst-of-the-worst list. The multicolored stripes looked more like they would be hanging over bay windows than draped across a star of The Big Bang Theory. She would have looked less like a curtain in a monochrome dress of the same fit but, hey, at least her hair looked good.
Jessica Biel at the Golden Globes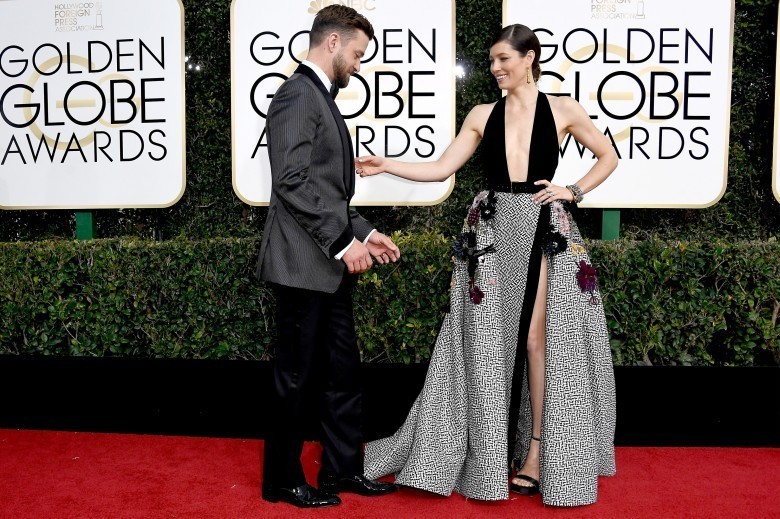 Getty Images
Jessica Biel and Justin Timberlake made us do a double take at the 2017 Golden Globe Awards — and it was not a good thing. The couple's clashing patterns were enough to make us dizzy on the red carpet but only one of them earned a spot on this worst-of-the-worst list. Simply put, The Book of Love actress' Elie Saab dress tried to do too much. The gown's plunging neckline backfired showing a little more sternum than was necessary (Cosmopolitan also placed her on the worst list, referring to the dress as "the sternumiest") and the unique skirt was a little too eccentric for the simple bodice. Better luck next time, Biel.
Felicity Jones at the Golden Globes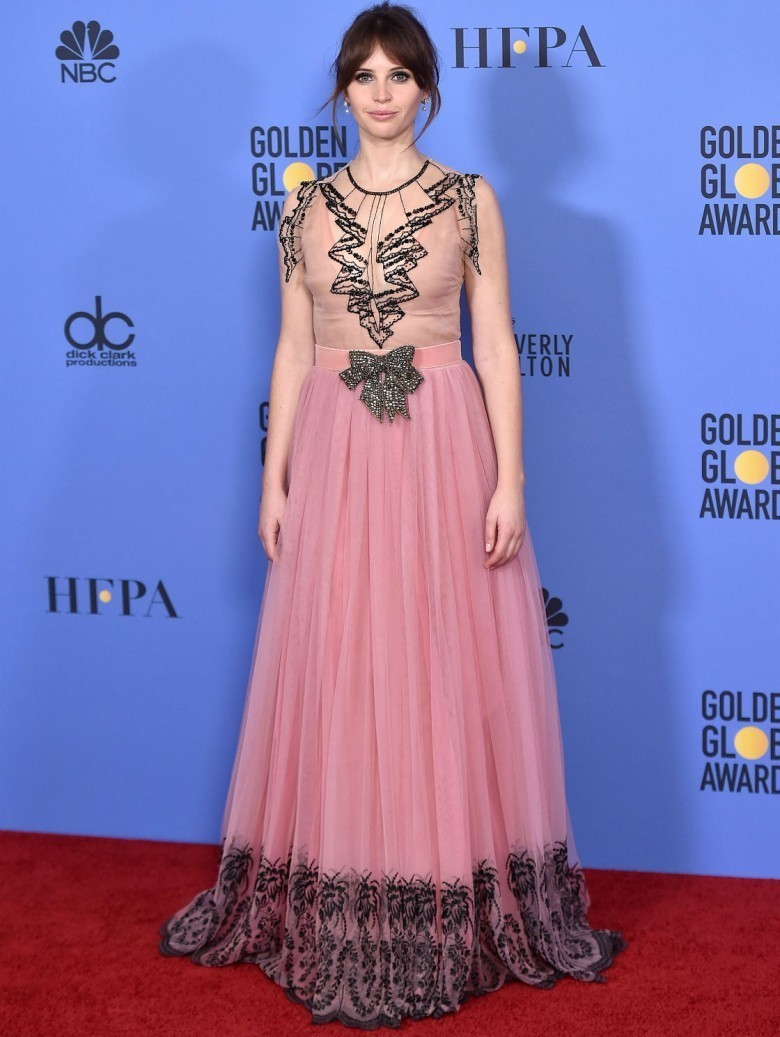 Getty Images
Felicity Jones' two-tone pink Gucci ensemble from the 2017 Golden Globes Awards was, um, busy. The pale top's bodice had black embellishments... wait are those even real ruffles? The busyness continued thanks to the glittery black bow that accentuated her waist. The brighter pink skirt clashed with the color of the top and don't even get us started on the skirt's black embellishments. Jones may be hot but this dress was a hot mess.
Ginnifer Goodwin at the Oscars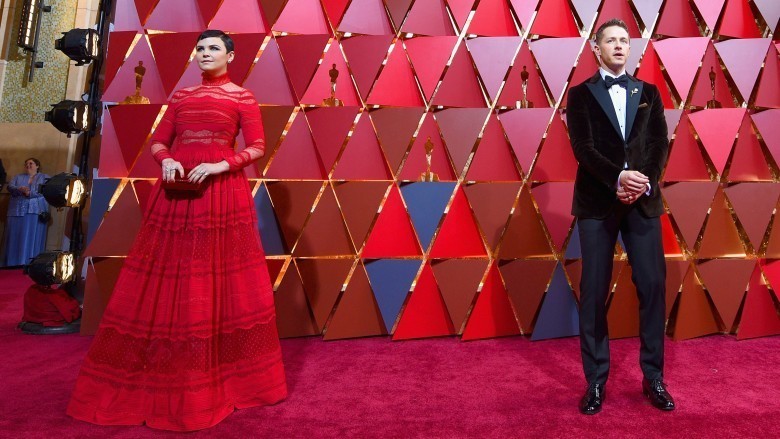 Getty Images
Ginnifer Goodwin donned a red Zuhair Murad dress to the 2017 Oscars. Her biggest mistake with this gown was its color, which rivaled the color of the carpet. She should have been the main focus but she fought for attention with the red-magenta hue of the carpet (which ultimately won). As far as the style of the gown, it can best be described as frumpy. This is another case where a shorter sleeve or lower neckline would have really done Goodwin some good.
Dakota Johnson at the Oscars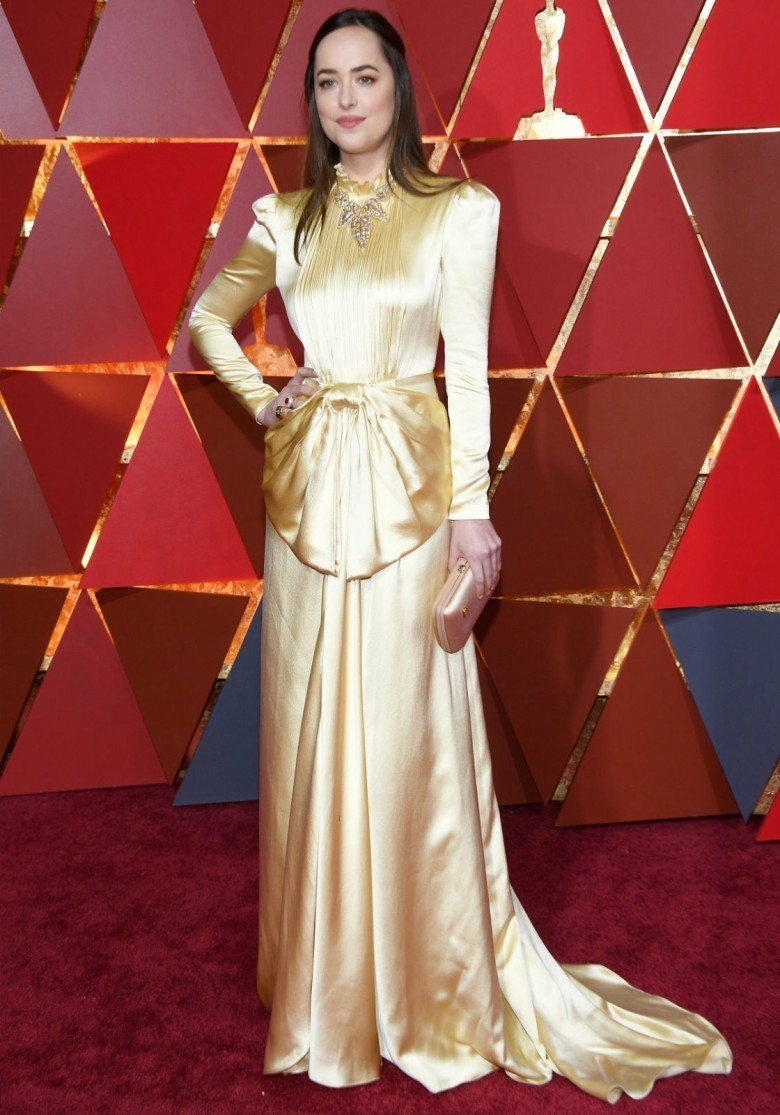 Getty Images
Is that Dakota Johnson or a life-sized Oscar? The actress opted for a monochrome look but instead of 50 Shades of Grey, she was 50 shades of gold. And we didn't love it. In fact, we'd like Christian Grey to rip that high-cut Gucci gown right off the 27-year-old. We can't help but think she would have made our best dressed list instead of our worst-of-the-worst if the sleeves were shorter or the skirt showed a little leg.
Leslie Mann at the Oscars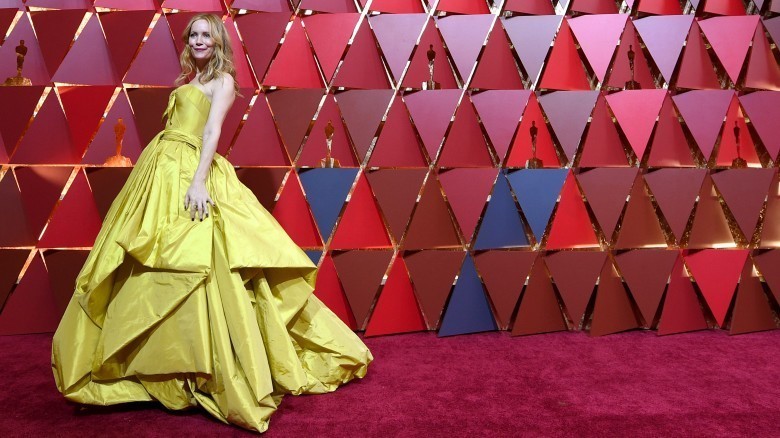 Getty Images
Leslie Mann may be one our favorite comedic actresses but we don't think she was being funny with her attire at the Oscars. Mann's gorgeous skin tone can pull off almost any color — except for mustard. We'd prefer this color drizzled across our hot dog at a baseball game. She struck out with this very full Zac Posen gown but she hit a home run with her wavy locks and pink lips.
Pharrell Williams at the Oscars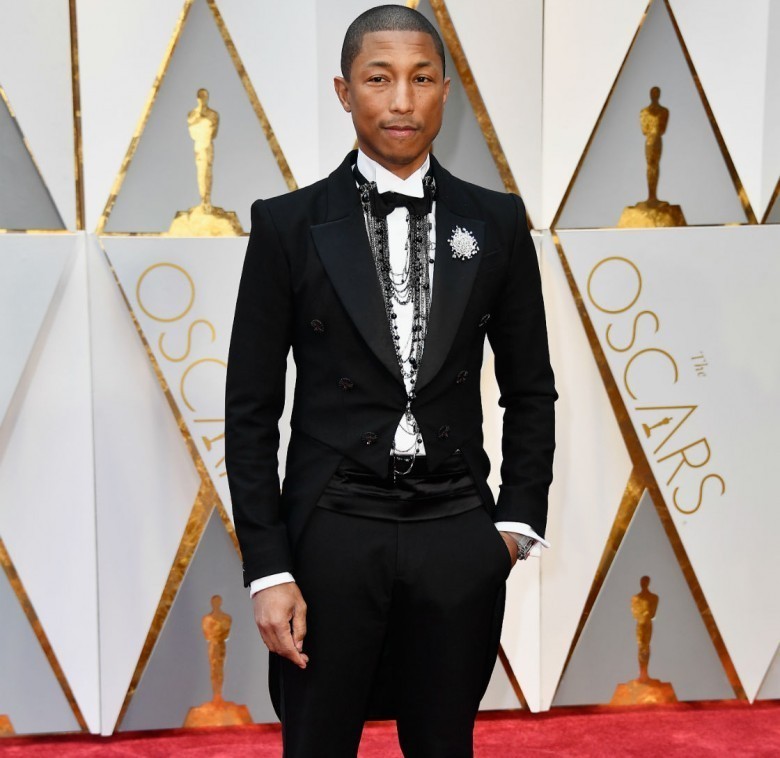 Getty Images
Coco Chanel reportedly once said, "Before you leave the house, look in the mirror and remove one accessory." Pharell Williams definitely didn't live by Chanel's wise words at the Oscars even though he was wearing one of her suits. Although we love his well-fitted black suit with a matching bow tie, it's the many layers of black pearl necklaces that we didn't love. It was accessory overload and it took away from his sleek suit.
Katy Perry at the Grammys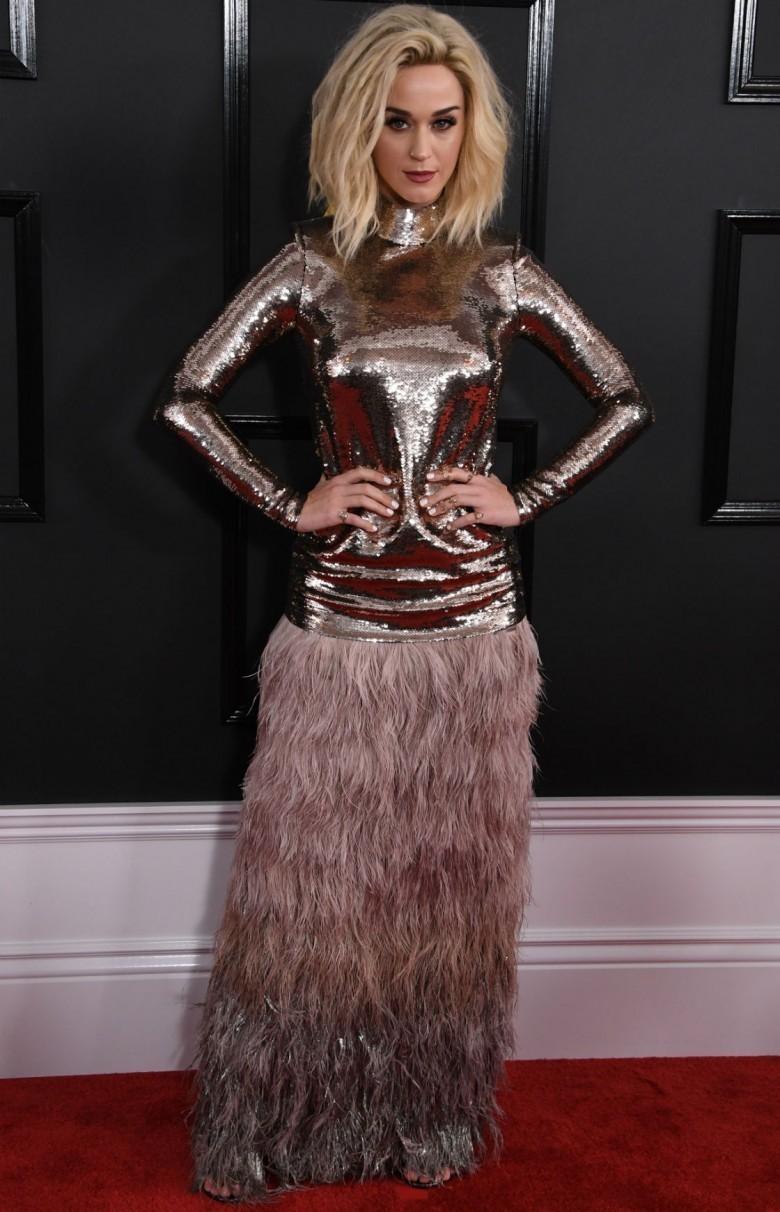 Getty Images
Katy Perry showed up to the Grammy Awards wearing a Tom Ford dress that was half disco and half feather duster. The gold ensemble's long-sleeved, turtleneck sequin bodice was paired with a feathered skirt. The styles didn't quite match and, worn together, took away from Perry's seductive hair and makeup. It would have worked better if she would have ditched the feathers.
Sarah Jessica Parker at the Golden Globes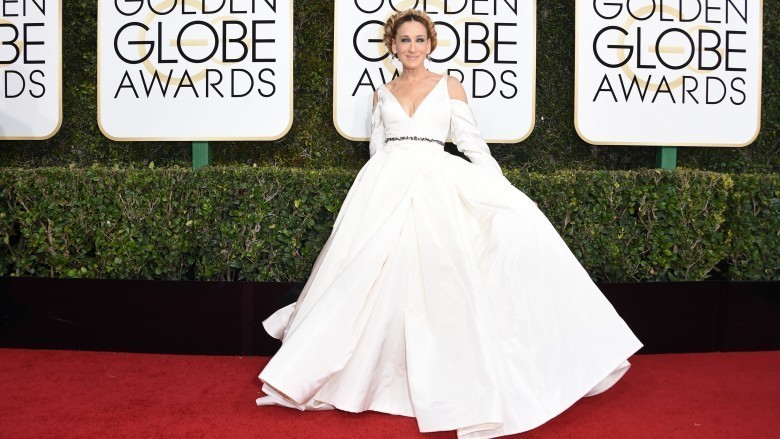 Getty Images
You're probably as surprised as we are that Sarah Jessica Parker made any of our worst dressed lists. What's even more surprising is that she made this worst-of-the-worst roundup, thanks to her Princess Leia getup at the Golden Globes. She tried to pull off Carrie Fisher's signature look with a fishtail crown braid that resembled Leia's side buns. The hairdo may have looked better with a simpler gown but not paired with this wide Vera Wang bridal gown. Together, they were mismatched and a little overwhelming. SJP needed a little more help from Obi-Wan Kenobi at this award show.
Amy Landecker and Jenifer Lewis at the SAG Awards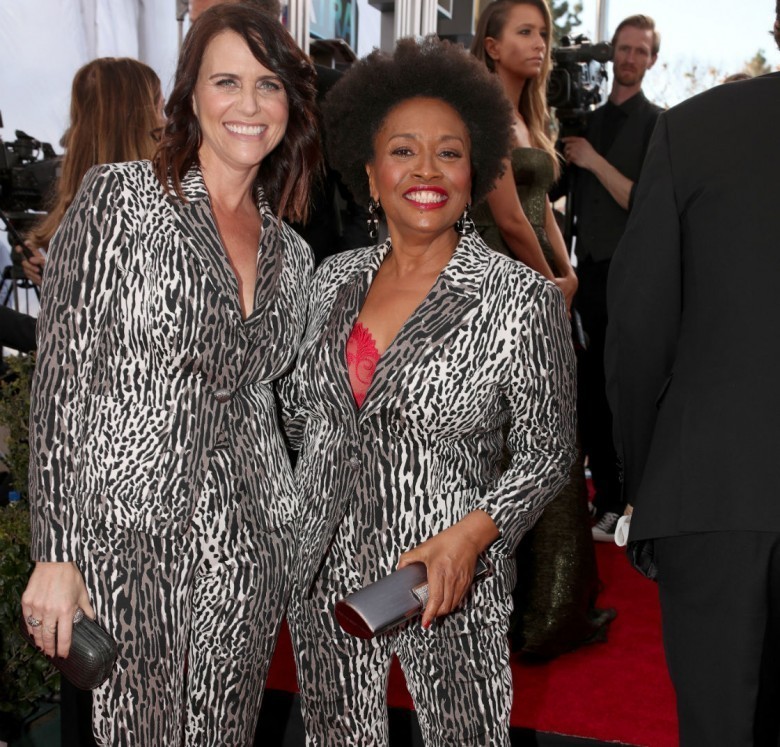 Getty Images
We have one question for Amy Landecker and Jenifer Lewis. Why? These two showed up to the 2017 Screen Actors Guild Awards donning the exact same suit. Landecker paired hers with platforms, keeping it casual, while Lewis sexed hers up a bit with a red lace bra and red lipstick. While we're all for women in suits, these are dizzying. What animal is that, anyway? The Nanny called. She wants her wardrobe back.
Taryn Manning at the SAG Awards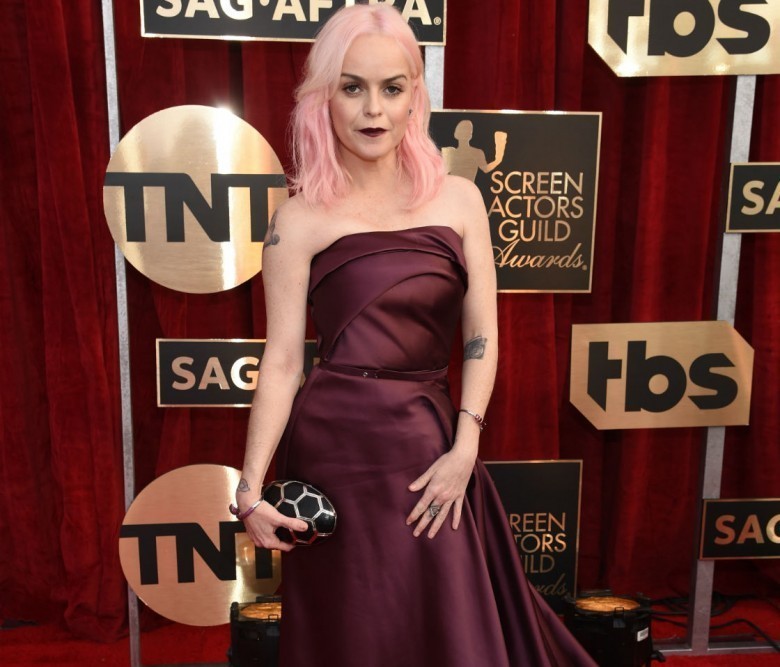 Getty Images
Taryn Manning's elegant floor-length plum dress at the SAG Awards was absolutely stunning — and fit her perfectly. So why did she earn a spot on this worst dressed list? Her plum gown was way too fancy for her pale pink rocker tresses (which reminded us of Gwen Stefani). No Doubt about it, this look was not a good fit.
Joy Villa at the Grammys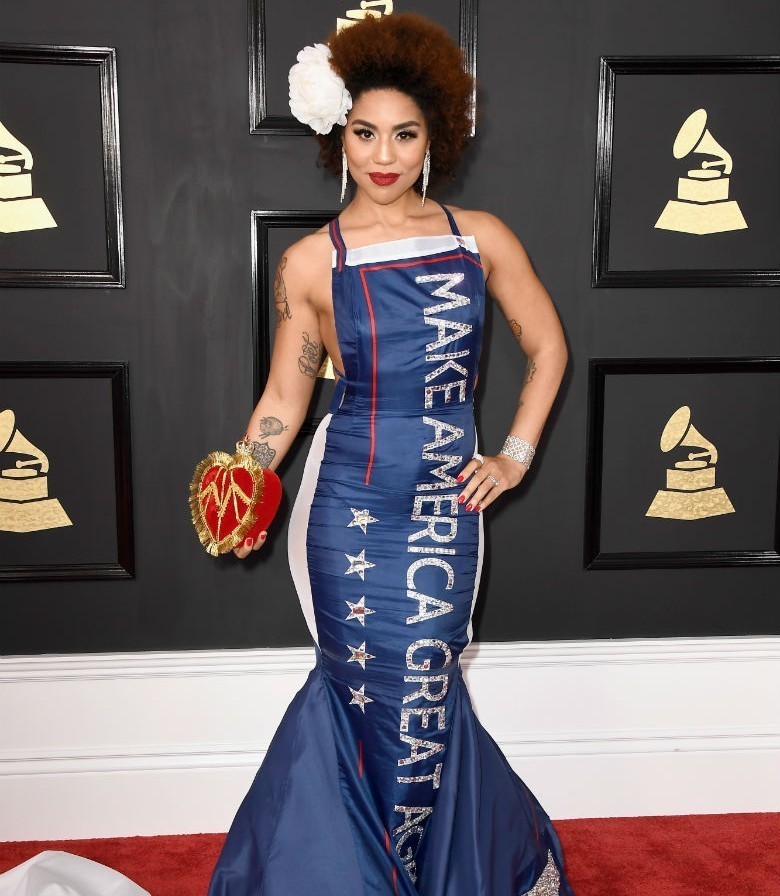 Getty Images
Joy Villa didn't have to open her mouth about her political views at the Grammy Awards. Instead, she let her dress do the talking. Her dress may say, "Make America Great Again," but it made fashion look less than great on the red carpet. The red, white and blue dress made quite the statement but it wasn't the politics behind it that we didn't like. The form-fitting apron-style dress made several worst dressed lists but the buzz made her album sales rise.
Halsey at the Grammys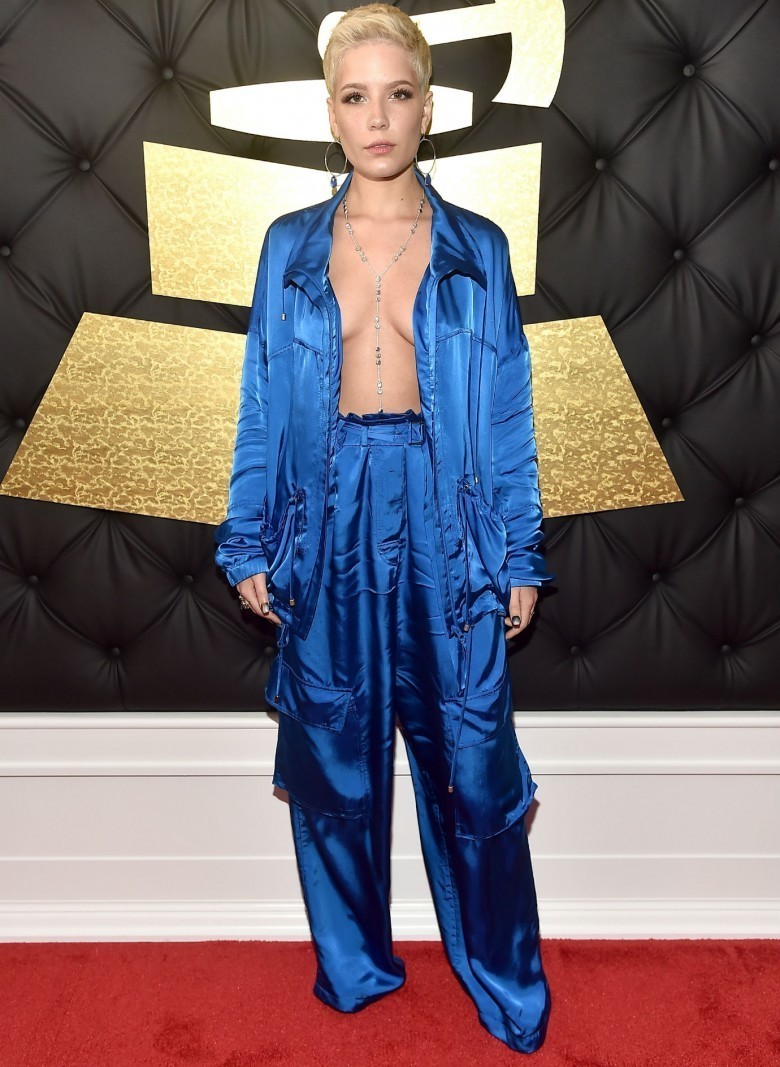 Getty Images
Halsey isn't one to play it safe when it comes to fashion and, for the Grammy awards she risked a potential nip slip with a blue silk pajama set. OK maybe it wasn't actually pajamas but it sure looked like something you'd crawl under the covers in. In fact, she was inspired by TLC's silk pajamas from a music video. Although we appreciate the sentiment, the silk threads left very little to the imagination.
Girl Crush at the Grammys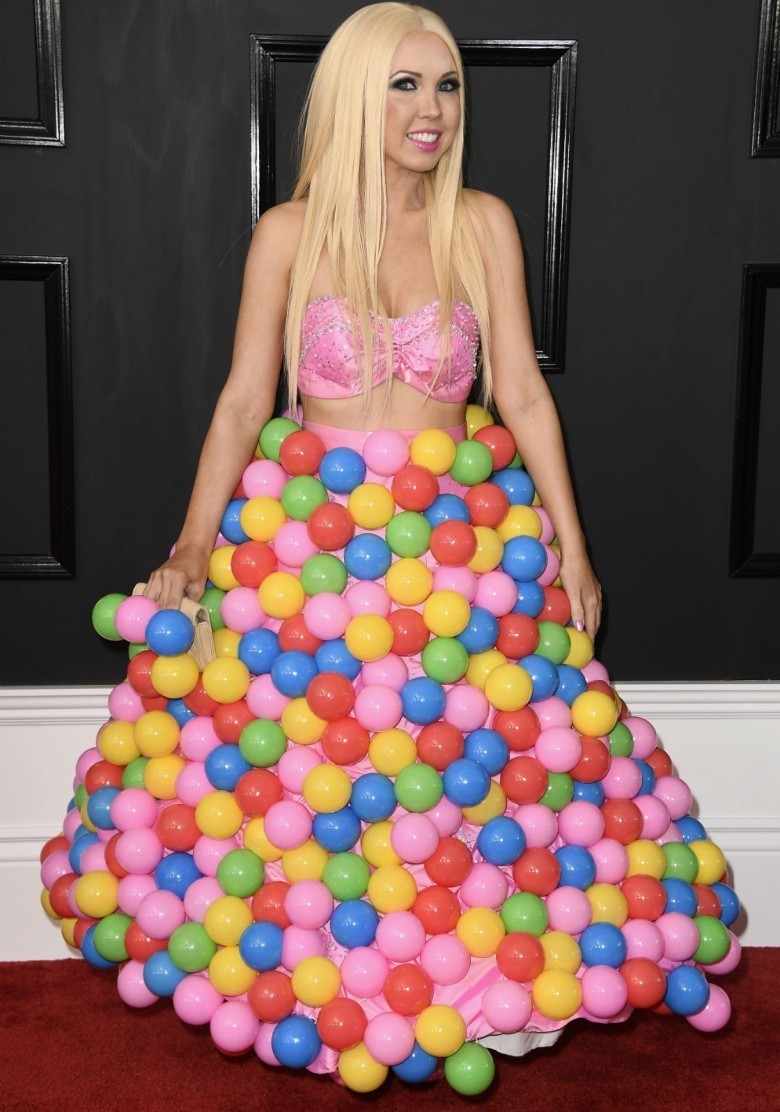 Getty Images
If you resemble something we put a quarter in to get a piece of gum, we're going to suggest you don't wear it on the red carpet. Or ever. Unfortunately, we weren't able to tell Girl Crush that before her appearance at the Grammys. The two-piece multicored dress is from Amadour and it's just plain weird. Elle brought up a good point about the dress. How in the heck did she sit down during the award show? We're not sure about anything when it comes to Girl Crush's look except that we don't like it.
Carrie Underwood at the Golden Globes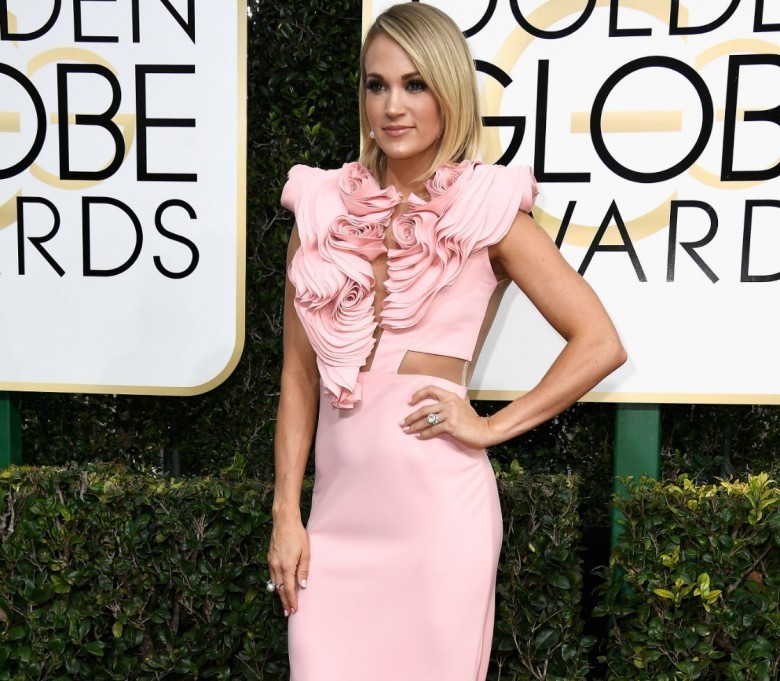 Getty Images
Carrie Underwood may look pretty in pink but this look would have been prettier on top of a three-layer cake than on a country star. The Iris Seban outfit got a lot of comparisons to a buttercream cake frosting but that wasn't the worst of the comparisons. A lot of Golden Globe viewers took to Twitter to talk about the dress that they thought resembled a woman's vajayjay. You may see the gown at your next obgyn appointment because, according to E!'s "Fashion Police," it needs a "vaginal rejuvenation."
Blanca Blanco at the Oscars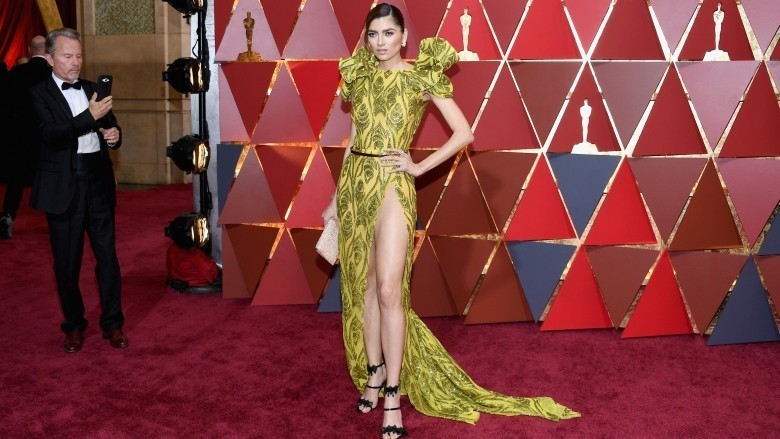 Getty Images
Is that Blanca Blanco or Miss Chiquita? The sleeves on this gold number weren't the worst thing that happened to her on the carpet. As she posed for photographers before the show, the 27-year-old's very daring slit showed a little too much. Let's just say, we know how she maintains her lady parts. Hopefully next time Blanco will opt for a maxi dress — with no thigh-high slits.