Exes Chris Evans And Jenny Slate Reunite At Gifted Premiere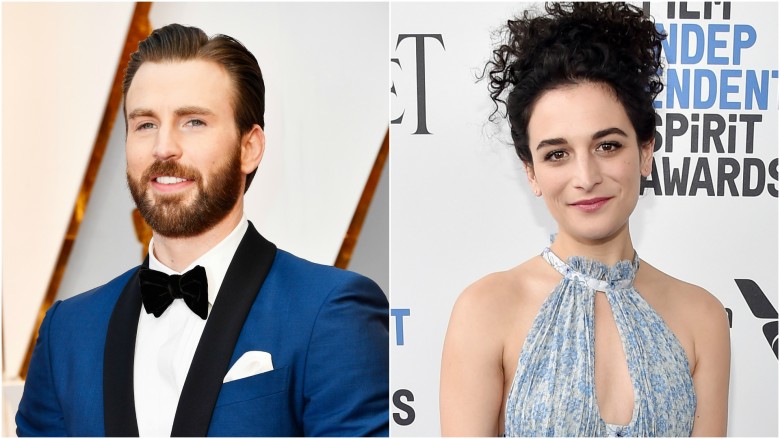 Getty Images
Chris Evans and Jenny Slate reunited for the first time since their breakup in Feb. 2017—and they're basically Hollywood's friendliest exes.
The two posed for photos on April 4, 2017 at the Los Angeles premiere of their new film Gifted, E! News reported. Both donning gorgeous Dolce & Gabbana attire, they were all smiles on the red carpet, laughing and complimenting one another's work.
But their lighthearted demeanor isn't too surprising. Over the last two months, both Evans and Slate have spoken fondly about their nine-month relationship in interviews.
Slate, 35, first opened up to New York Magazine about Evans in March, only weeks after the couple called it quits. While she admitted that they hadn't really spoken or seen each other, she emphasized that the breakup was amicable. "I don't mind talking about him at all," Slate said. "He's a lovely person."
She then added, "Chris is truly one of the kindest people I've ever met, to the point where sometimes I would look at him and it would kind of break my heart."
Meanwhile, Evans, 35, later shared similar sentiments. To People magazine, he gushed, "She's my favorite human."
He continued, "She's so vulnerable, so honest, so interested in other people more than herself, she's incredibly compassionate, there's just nothing to not love about her."
And at the premiere, Slate expressed to E! News that Evans is "so excellent" in the film. And she made it clear that she couldn't be prouder of their indie movie: "I am glad that people love the film. It's a really sweet one, and we all need some sweetness."
Indeed! Gifted hits theaters on April 12, 2017.