Chelsea Handler Says Jennifer Aniston Doesn't Care About Angelina Jolie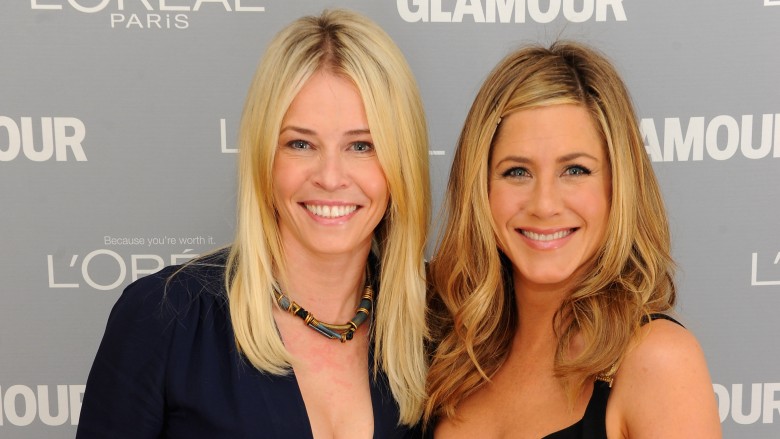 Getty Images
It's no secret that Chelsea Handler isn't a huge fan of Angelina Jolie. Handler's disdain for the Maleficent actress has also turned her into something of a de facto Jennifer Aniston cheerleader over the years, ever since the Friends star's infamous split from Brad Pitt.
In a recent interview with You, Handler once again went on the defensive regarding tabloids trying to get Aniston's take on Pitt and Jolie's ongoing divorce. "I don't think Jen cares about what's going on and it's crazy that people think she does. As if she's sitting around caring about [Angelina Jolie]. I know I don't," Handler said.
And while not commenting at all probably could have achieved the same effect of letting people know how much you don't care, that's never been Handler's style.
According to The Daily Mail, Handler recently shaded Jolie at a charity event where she brought Pitt's divorce lawyer, Laura Wasser, on stage. Handler said, "And she's such a humanitarian, she's actually currently negotiating Brad Pitt's emancipation."
Prior to that event, Handler spoke about the Mr. and Mrs. Smith stars' divorce on her Netflix show, saying Pitt "married a f*****g lunatic," and that the rumored reports that he'd been drinking and smoking marijuana were probably "self-medication" because, "he could have been spending the last 12 years at Lake Como hanging out with George Clooney and Matt Damon, instead of being stuck in a house with 85 kids speaking 15 different languages."
Aniston has remained characteristically mum on the split, and her current husband, Justin Theroux, has so far offered only this simple statement of empathy to Business Insider. "As a child of divorce, all I can say is that's terrible news for those children, and that's all you can really say. It's boring to sort of comment on anything else. People are having a bad time — that's horrible," he said.
Theroux also slammed the tabloids who constantly reference Aniston in the Pitt/Jolie divorce, calling them "trash," and said he can't believe how much attention they get considering there are "far more important things going on in the world."
Sounds like Handler could use the advice of her BFF's husband.