Hilary Duff Shares Photo Of First Gift From Son Luca Comrie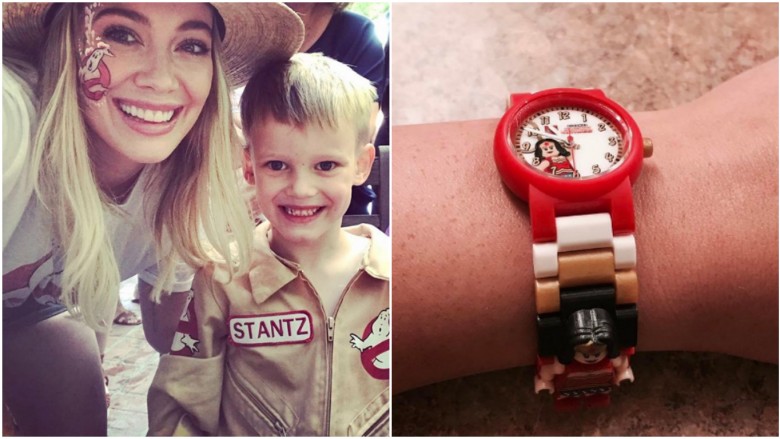 Hilary Duff took to social media to show off a recent present her young son, Luca Comrie, had given her.
Posting a photo of herself donning a Lego Wonder Woman watch, Duff explained her odd choice in jewelry. "This is the first gift Luca has ever actually picked out for me all by himself," she wrote.
"I couldn't love it more," the 29-year-old Younger actress continued. "Going to wear this bad ass thing till it breaks #luckymom #wonderwomanrules."
Duff previously shared a photo of herself with Luca two weeks earlier in celebration of her son's fifth birthday. Wearing Ghostbusters costumes in the picture, Duff wrote, "My handsome boy is 5! Happy birthday to the sweetest of all time."
The "So Yesterday" singer shares custody of her 5-year-old son with her ex-husband, retired hockey player Mike Comrie. Duff and Comrie married in Aug. 2010 but divorced less than six years later. "It wasn't working well enough to stay together, but there was still a lot of love involved," Duff told Cosmopolitan of her marriage in their April 2015 issue. "It was just a slow set-in of us not being the match that we used to be."
Comrie made headlines in Feb. 2017 after a woman accused him of rape. As Nicki Swift reported, the woman claimed that, after meeting Comrie at a bar, the pair went back to his condo, where he allegedly raped her multiple times. However, Comrie reportedly maintained that the sex was consensual.  The LAPD have since opened an investigation.
Despite Duff and Comrie's separation and the stomach-churning allegations made against him, the former couple still appear to remain on good terms. They were spotted leaving a restaurant together in early March 2017.
Balancing a career, motherhood, and a healthy relationship with her ex? Maybe Duff is Wonder Woman.