Emma Stone Responds To Teen's Epic 'Promposal'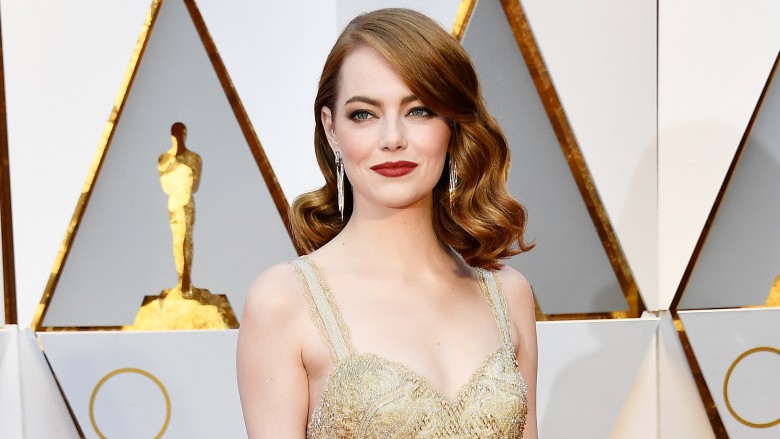 Getty Images
Here's to the one who dreamed of going to prom with Emma Stone.
Jacob Staudenmaier, an Arcadia High School student in Arizona, recreated the opening scene of La La Land (2016) to make his case for why Academy Award winning actress Emma Stone should go to prom with him. According to E! News, Staudenmaier didn't even have to shut down the Los Angeles freeway to steal the show. All he needed was his school's parking lot, a clever reworking of the lyrics to "Another Day of Sun," and a striking resemblance to Stone's La La Land co-star Ryan Gosling.
Although Staudenmaier did get a response from his would-be prom date, it probably wasn't the one he was hoping to hear. He appeared on Good Morning America on April 7, 2017 to read a letter from Stone, in which the actress called his "promposal" "the greatest proposal I've ever received."
"I can't tell you what an honor that was and how much I smiled through that entire beautifully orchestrated video. I'm in London working, but I hope you have the best time at prom, and I'm grateful you thought of me. Thank you," Stone wrote.
Not that it makes up for having to fly solo at prom, but Stone did pay Staudenmaier a pretty big compliment to lessen the blow.
"P.S. I do see Gosling around the eyes. Love, Emma."
Stone isn't the first to be asked to an Arcadia High School prom via a viral video. Back in 2014, student Matt Peterson asked Miley Cyrus to his prom. Even though she had to turn him down, she did invite him to her concert—and told him not to forget a corsage.
Even though he didn't score the prom date of his dreams, Staudenmaier still plans on going to the prom with friends.
However, after garnering national attention from the viral video, we're sure that there are more than a few young ladies out there who would be more than happy to be the Gosling look-alike's plus one.