The Untold Truth Of Love Actually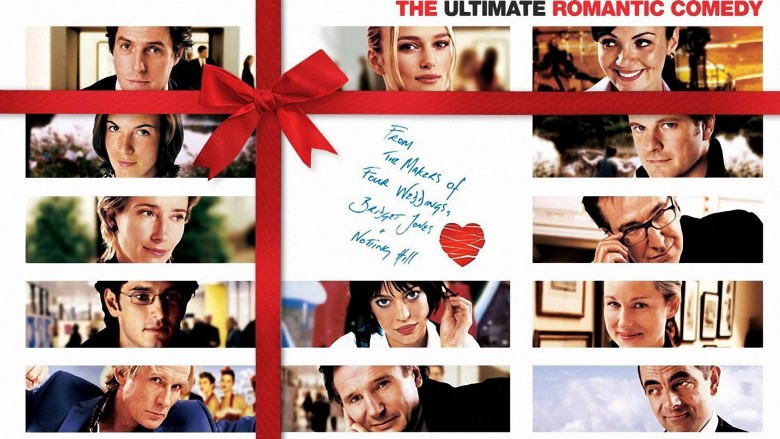 Whenever we get gloomy with the state of the world, we think of Love Actually, the 2003 rom-com that launched a whole new generation of interconnected relationship movies, none of which would be able to live up to their pitch perfect predecessor. The film not only featured a whole generation of future stars, serving as an early introduction to the likes of Chiwetel Ejoifor, Keira Knightley, Andrew Lincoln, Martin Freeman, January Jones, and Thomas Brodie Sangster, but it also provided an instantly quotable script, a memorable soundtrack, and a classic Christmas must-watch to add to DVD collections everywhere. Here is the untold truth of Love Actually, which proves that love, actually, is all around.
It almost wasn't a Christmas movie
Just because it's Christmas, and at Christmas you tell the truth, we have something to tell you: Love Actually, one of the most classic Christmas movies of the 20th century, was almost not a Christmas movie. Writer-director Richard Curtis said that he never set out to make a Christmas movie, and that his original plan for the film was not set around the holiday; in fact, he only decided it would be set at Christmas when he was 30 pages into writing the script. However, Curtis, who loves Christmas movies, was happy to set the film around the holiday, and even attributes part of the film's longevity to its focus on the Christmas spirit, saying, "It didn't occur to me that it might be one of those Christmas movies where people actually watch it again and again, and it's a delightful surprise to me."
It almost wasn't an ensemble movie
Love Actually could have been really, really different. It turns out that not only was the original movie not set at Christmas, but it actually wasn't even one movie— it was two. Curtis says that he actually started writing a movie about the character that would eventually become Hugh Grant's prime minister and another about Colin Firth's lovelorn writer. However, he got worried because they both seemed too similar to movies that he had seen before, and he decided that he was more interested in making a movie about love in general as opposed to two movies about their separate stories. Taking inspiration from the films of Robert Altman and Woody Allen (and even Pulp Fiction), Curtis decided to write a movie with multiple storylines, and the rest, as they say, is history.
Hugh Grant did not want to dance
One of the more memorable moments in the movie comes when Grant's prime minister decides to let free and bust a move all over his house. However, it turns out that the actor was really, really wary to film to scene, with Curtis telling the Daily Beast that he was "hugely grumpy" about it, which resulted in them pushing the filming to the final day.
According to Curtis, Grant worried that the scene didn't fit with a serious prime minister, and that he often pushed back when the director told him to say something in a sweeter or more charming way, because he "thought he was being tricked." The dance, originally set to a Jackson 5 song as opposed to "Jump (For My Love)" by The Pointer Sisters, wasn't something Grant was able to bring a regal take on, so he begged to get out of it. "He was hugely unhappy about it," said Curtis, adding that it was also a huge headache to edit the scene after it was filmed. However, in the end, it all worked out, as the sequence is one of the film's most popular moments.
Harry actually (probably) did have an affair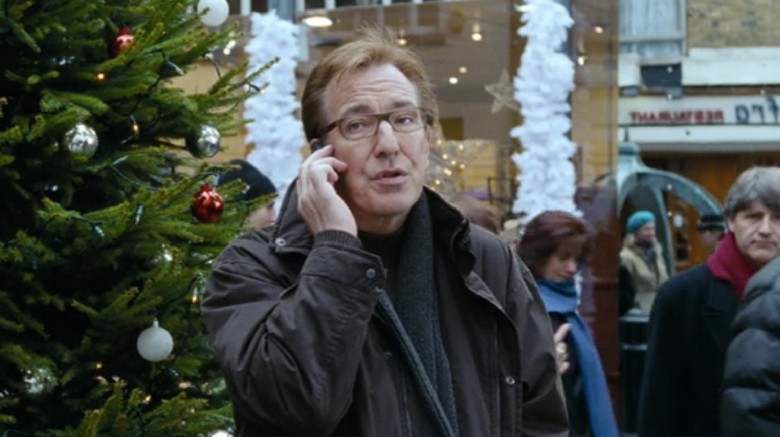 Netflix
Many fans were hopeful that Alan Rickman's Harry just had a flirtation with his secretary instead of a full-blown affair, but script editor (and Curtis' partner) Emma Freud blew everyone's bubble when she live-Tweeted a Love Actually screening in 2015. Freud noted on Twitter that, even though she "begged" Curtis to make it just a flirtation, the two did actually have an affair, which makes it even more heartbreaking that Thompson's Karen decided to stay with him in the end. (Freud confirmed that the final scene does mean they ended up together, although their home is never as happy as it once was.)
However, Curtis has apparently contradicted this, telling Freud during the screening that he has now deemed it just a flirtation. (Where is the lie, Richard?) Either way, it turns out that there was almost a hero in their tragic story, with Rowan Atkinson's historically slow store clerk originally moving at a turtle's pace in an effort to save the pair's relationship by stopping Harry from being able to buy the necklace. Unfortunately, they cut out that part of the bit in edit, and Atkinson just became a bumbling employee as opposed to a relationship savior.
Andrew Lincoln has mixed feelings on his character
Andrew Lincoln's character is one of the more controversial parts of Love Actually, with the Walking Dead star taking on a role that falls on a very thin line between adorably love struck and unhinged stalker. Lincoln has commented on the part at multiple times, and it seems that his thoughts on the character have changed over time. On the movie's tenth anniversary, according to Entertainment Weekly, he called the famous cue card scene "beautiful" and "marvelous," and said that he thought the moment was "sweet and honest."
However, around the film's 20th anniversary, he changed his tone slightly, saying that during filming he repeatedly went to Curtis and asked if he was coming off like a stalker, although he still noted that the scene "felt so easy" to act in. Curtis, who says that he told Lincoln not to worry about it at the time, does realize now that the character may have a bit of a creepy side, but said that Lincoln's charm helped it to come off okay. It's easy to see how Curtis may not have realized the possibility for Mark to seem creepy at the time at the time, especially considering that Lincoln says Freud told him that the character was the closest Curtis had ever written to himself. Basically, the history of Mark would require quite a few cue cards to tell.
The airport scenes are real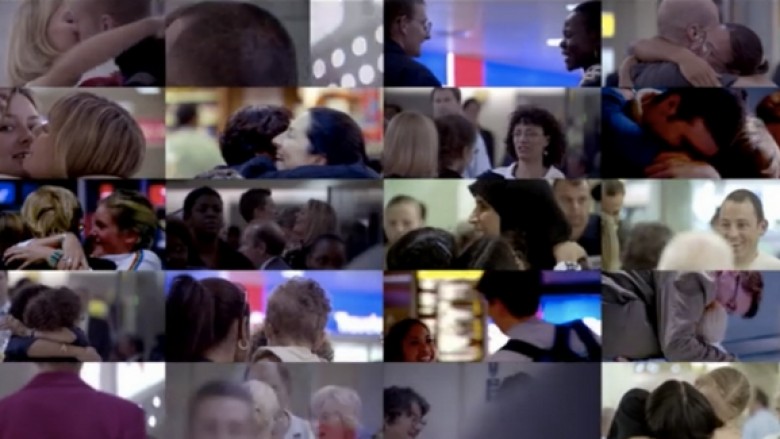 Netflix
The beginning and ending moments of Love Actually, with couples and families reuniting at the London Heathrow Airport, is guaranteed to make you cry (if the rest of the movie hasn't already). To make it even more a tearjerker, according to Vulture, it turns out that all the footage (except the parts featuring the film's actual actors, obviously) is of real people, which Curtis had a team send out and secretly shoot. Anytime they saw something that they knew they wanted to use in the movie, they rushed out to get the unknowing people on camera to sign a release. "That is the proof that there is so much overflowing love in the world and it's absolutely core to people's lives," Curtis said of watching those moments.
The editing process was a nightmare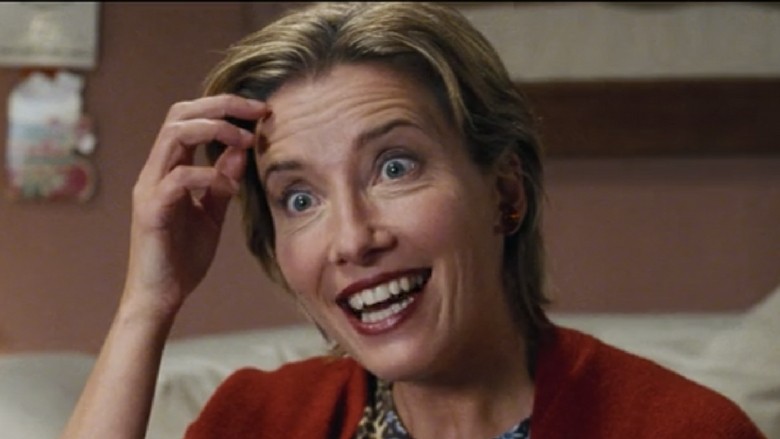 Netflix
It's not easy to make a movie with multiple storylines, which is something Curtis realized when the crew was working on the editing of the final product. "There were 12 stories, so [finding the right order] was like three-dimensional chess," he told The Independent. "It was enormously difficult to finish or get right." This was compounded even further by the fact that the studio was (understandably) pushing for the movie to get done for a Christmas release, something which put Curtis under a pretty extreme time crunch to get it done.
Curtis, who stepped down from directing after 2013's About Time (aside from directing the short Love Actually reunion, which we'll give you more info on later), says that the original cut of the film was a "catastrophe," adding that he wasn't sure that "all the stories were from the same universe." He also added that he is usually very critical in the editing room, something which could have contributed to making the Love Actually process so hard.
Multiple love stories were cut
Curtis' troubles in the editing room were remedied by cutting some of the planned relationships, including two scenes that had already been filmed. One of the stories was set in Africa, which would be introduced through a picture in the office of Laura Linney's character. The picture showed the man looking out at his dead crops, but, as they zoom into the picture and it becomes real, you see his wife there and realize that his life is fine because there is love in it.
The second storyline is much sadder, focusing on a lesbian relationship that Curtis says he was "really sorry" to lose. However, he was forced to cut the scene because it stemmed from an incident where the son of Emma Thompson's character got in trouble at school, a bit which was cut from the film. The scene began with Thompson's son having to meet with his stern headmistress. The movie would later go on to show the headmistress' home life, where she is caring for her partner Geraldine (played by Harry Potter's Frances de la Tour), who is dying of cancer. Thompson's character later revealed at a school assembly that Geraldine actually died, leading to the whole class clapping for their headmistress. The bit was meant to show that "no matter how unlikely it seems, any character that you come across in life has their own complicated tale of love."
Curtis has revealed via the Daily Beast that some of the other un-filmed cut storylines included one about a girl in a wheelchair, one about two schoolgirls, and another based on a "dreadful story" about a friend of his who wrote and produced an entire pop album about a girl he had a crush on at school. (It turns out that, during the recording process, his crush had sex with the drummer.)
Love, reunited
We never got to see a Love Actually 2, but we will get to see a reunion for the movie soon, courtesy of NBC's Red Nose Day. The charity programming raises money and awareness for children in poverty, so it was easy to get the cast to want to come back for a good cause. The 10-minute epilogue will show where most of the film's characters ended up today, although some weren't able to make it, including Thompson (who said it would be too sad following the death of Rickman) and Martin Freeman. (Kris Marshall, who played Colin, likely also won't appear, as Curtis says he imagines that at this point the character is in prison— although he hopes that's not true.) The special is set to air on America on May 25, so be sure to tune in to find out where your Love Actually favs are now.