Kendra Wilkinson Celebrates Hugh Hefner's 91st Birthday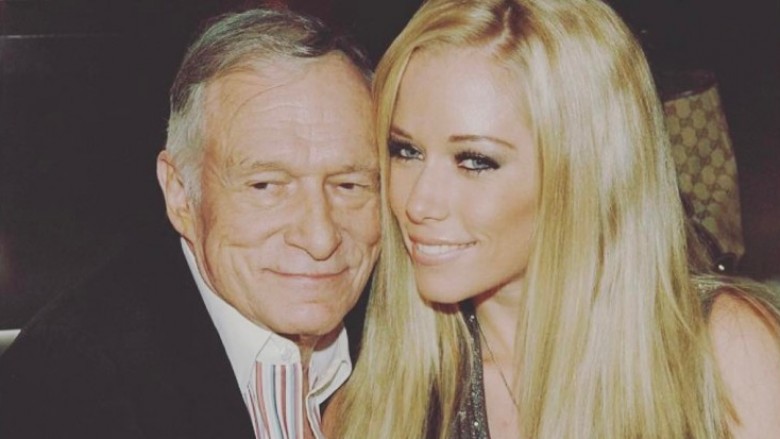 Instagram
Hugh Hefner turned 91 years old on April 9, 2017, and former girlfriend Kendra Wilkinson was happy to celebrate.
The former Girls Next Door (2005-10) star took to Instagram to wish Hefner a happy birthday, sharing with her fans a sweet photo and heartfelt caption. "Happy birthday Hef!! Thank you for EVERYTHING," she wrote. "People might not understand you but that's because they've never had the chance to know you like I do. I'll celebrate you forever!!!"
However, the milestone birthday celebration comes amidst rumors of the Playboy CEO's alleged ailing health. But as E! News reported, both Wilkinson and Hefner's son Cooper were recently quick to dispel this hearsay.
Wilkinson told the publication that when she last saw Hefner in October 2016, he looked "very healthy." The Kendra on Top star added that while she often "worries" about her longtime friend, the two shared "a great talk and [they] were very happy to see each other."
"You know and there were rumors that things are happening, but God, he's 91-years-old!" she said. "He's gonna live longer than us!"
And as Us Weekly confirmed, the 91-year-old was certainly well enough to celebrate his big day twice this year—with both parties done in his typical lavish style. As has become tradition, Hefner threw a Casablanca-themed birthday party at the Playboy Mansion. Less than a week earlier on April 4, 2017, his son Cooper organized an early celebration that coincided with the premiere of American Playboy: The Hugh Hefner Story, an Amazon docuseries covering the business tycoon's life.
At the party, the 25-year-old was quick to assure E! News that, while his father has stepped down from most of his business duties, he was "doing fine." He continued, "The reality is he has a really bad back—that happens when you're 90—and he is enjoying life at the mansion."
It's a relief to hear Hefner is doing well and can enjoy his retirement. Happy birthday, Hugh!