Gordon Ramsay's Kids Will Not Inherit His Fortune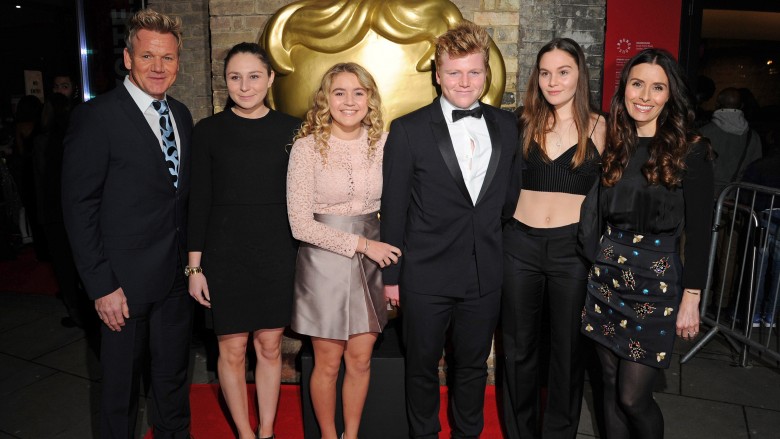 Getty Images
Think it seems tough to work in Gordon Ramsay's kitchen? Try being his kid.
The Hell's Kitchen (2005-) star and world-renowned chef has revealed that his children will not be inheriting his fortune, which is estimated at between $140 and $175 million dollars.
"It's definitely not going to them, and that's not in a mean way; it's to not spoil them. The only thing I've agreed with Tana [Ramsay's wife] is they get a 25 per cent deposit on a flat, but not the whole flat," Ramsay told The Telegraph. But that's not all. Not only will the kids have to earn their own keep in adulthood, they aren't exactly living the life of luxury now.
"They don't sit with us in first class. They haven't worked anywhere near hard enough to afford that. At that age, at that size, you're telling me they need to sit in first class? No, they do not. We're really strict on that," Ramsay also revealed.
The Ramsay children, Megan, 18, twins Holly and Jack, 17, and Matilda, 15, each receive a small weekly allowance that they must use to pay for their own phones, bus fare, and clothing. And they don't even frequent Ramsay's world class restaurants all that often.
"Last time we went to Royal Hospital Road [Ramsay's three Michelin starred flagship restaurant in Chelsea] was for Megan's 16th birthday, and that was the first time we've ever eaten there with the kids. They have served the Chelsea pensioners there for Christmas lunch, but not eaten there," Ramsay said.
While this may seem cruel yet characteristic of the hardliner super chef whose signature move is to fly off the handle in a string of expletives, Ramsay explained that it's important that the kids not be spoiled.
"Tana came from a super set-up, and I'm just 'educated rough' from a council estate. So we meet in the middle and the kids bounce off both of us. They have a completely different life than I did growing up. I worked my arse off to get out of the s*** mess that I grew up in and they're grateful, they're not spoilt," the Masterchef (2010-) star said. So, while it's obvious that he doesn't want his kids to struggle like he did, he also wants them to value hard work.
Ramsay left an abusive home at age 16. "I started with nothing and was dealt a dysfunctional card. My father was a severe alcoholic and my mom worked as a cook, and a nurse at night. We moved around ... I went to 17 different schools between the ages of 5 and 16," he told CNN.
For Ramsay, the big lesson is gratitude.
"I've been super lucky, having that career for the last 15 years in the US. Seriously, it has earned a fortune and I've been very lucky, so I respect everything I've got," he said.
Hopefully the rockstar chef is at least whipping up some delicious fare at home.