Star Wars Actors Mark Hamill And Daisy Ridley Announce New Charity Campaign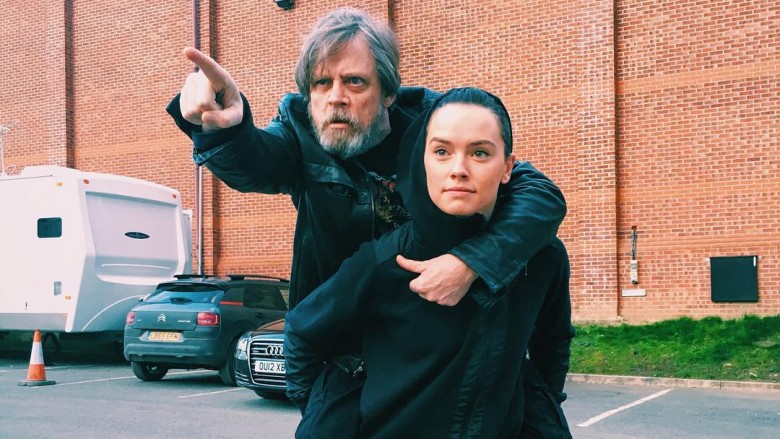 Instagram
Attention all Star Wars fans! Put down the lightsabers and take out your wallets because Mark Hamill and Daisy Ridley have three opportunities of a lifetime for you.
The charismatic Star Wars actors showed off their chemistry on April 11, 2017, as they teamed up to promote
Force for Change's
new fundraising campaign with OMAZE,
Star Wars "Past, Present, and Future."
During their joint pre-taped Good Morning America appearance, the stars revealed that the
campaign
is in celebration of 40 years of Star Wars.
The three Star Wars experiences on the table? Through lighthearted banter, Hamill and Ridley announced that winners and their guests could spend the night at Skywalker Ranch, appear in the upcoming untitled Han Solo film, or attend the world premiere of Star Wars: The Last Jedi (2017) with the cast later this year. Vanity Fair explained that the campaign will last for four weeks with new winners announced every week, and revealed that one lucky grand-prize winner will have the chance to take part in all three opportunities. No big deal, right? Plus, depending on the size of your donation, other prizes, from t-shirts to private screenings, abound.
As E! News reported, Force for Change is a joint charity effort run by Disney and Lucasfilm. It began in 2014 with the ultimate goal to "empower people to come together to make a positive impact on the world around them." And most importantly, this incredible campaign will benefit two worthy causes, UNICEF and the Starlight Children's Foundation, to make a truly global impact by helping children in need from around the world.
With the Star Wars fandom gearing up for the December 15, 2017 release of Star Wars: The Last Jedi, the initiative coincides with this week's epic three-day
Star Wars Celebration
in Orlando, Fla. The event will include panel discussion presentations from the next installment's director Rian Johnson, Lucasfilm president Kathleen Kennedy, and actors Felicity Jones, Riz Ahmed, Alan Tudyk, Billy Dee Williams, Hayden Christensen, and more.
For the chance to win any and all of these prizes,
enter the campaign
now—and may the force be with you.