Will Smith Cuts Off Son Jaden's Dreadlocks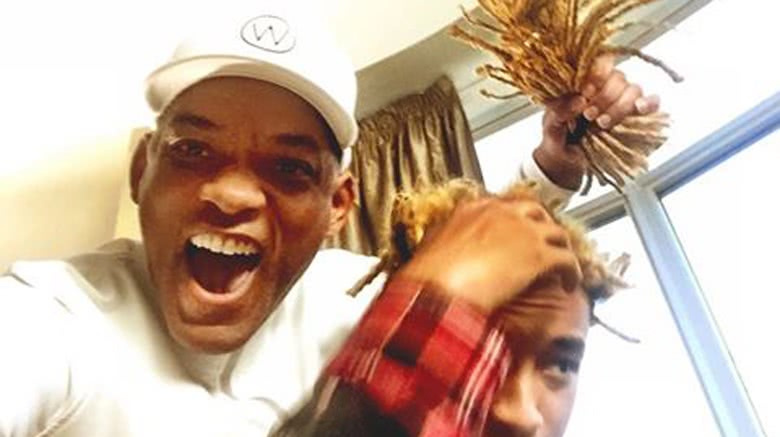 Jaden Smith is gearing up for his new role in Life In A Year (2018), and, apparently, his character is more of the clean-cut type.
On his Facebook page yesterday, Will Smith posted a few photos of himself gleeful chopping his son's dyed-blond locks along with the caption, "Getting Jaden Smith ready for the first day of filming #LifeInAYear...maybe I should've used scissors?!"
According to Deadline, Jaden will play the lead opposite Cara Delevingne in Life In A Year, which is the story of a teen diagnosed with cancer (Delevingne) and her boyfriend (Smith)'s "desire to make the most of the little time they have left together."
Will, who is also a producer on the film, has been outspoken in the past in his support of Jaden's unique looks.
In an interview on BBC Radio's 1Xtra with A.Dot (via Huffington Post), the elder Smith addressed his youngest son's gender-bending wardrobe. "You know, there's a really powerful internal quality as an artist that as parents we encourage," Will said. "You gotta get out on the edge, you have to try things, you have to be comfortable doing things that people don't agree with and you have to be comfortable doing things that you could fail."
"And Jaden is 100 percent fearless, he will do anything, you know?" the proud father continued. "So as a parent it's scary, it's really terrifying, but he is completely willing to live and die by his own artistic decisions and he just doesn't concern himself with what people think."
Looks like sometimes parents just do understand.