The View: The Most Controversial Moments In The Show's History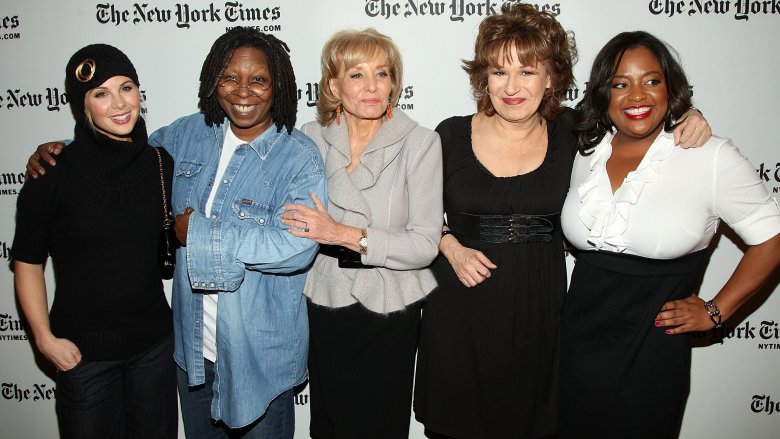 Getty Images
Since its 1997 debut, the female-led talk show panel on The View has been notorious for putting everyone, from celebrities to public figures and even fellow co-hosts, in the hot seat. 
Who's the Oscar-winner that staunchly defended disgraced comedian Bill Cosby? Who equated immigration rights with needing someone to clean their toilets? And who just up and quit one day? There have been tears, apologies, anti-apologies, and plenty of choice and not so choice words exchanged. In other words, there is always a lot to talk about on this long-running talk show.  
It's no surprise that The View has seen its fair share of dramatic and uncomfortable encounters over the course of its more than two decades on the air, but with so many awful experiences to choose from, it's difficult to pick favorites (or least favorites.) Here is our collection of the most biting, surprising, scandalous, and controversial moments in the show's history.
Whoopi Goldberg defends Bill Cosby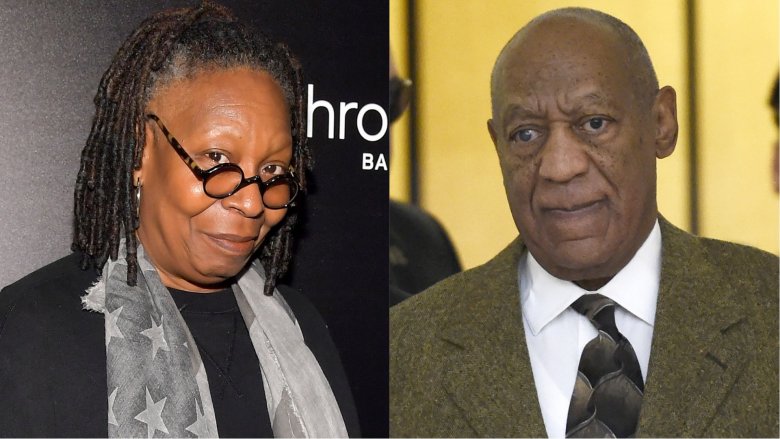 Getty Images
At this point, few people are jumping in to defend disgraced comedian Bill Cosby, who is battling numerous sexual assault allegations made against him dating as far back as 1969. But in 2014 and 2015, Whoopi Goldberg came to Cosby's defense on The View, explaining that she did not want to make a judgment until his case was tried in court. 
Goldberg caught a lot of heat for her statements, but the truth is that in 2014, the entire cast — aside from Rosie O'Donnell — took a similar stance. Jezebel summed up their positions: Nicolle Wallace said at the time that, "This is either a tragedy or a tragedy ... I don't know what the truth is." Rosie Perez lamented, "It's as if you are guilty until proven innocent," and decried the role of social media. Only O'Donnell pushed her co-hosts to take Cosby's many accusers at their word.
Goldberg defended Cosby yet again on The View in July 2015, saying (via the Daily Mail), "This is my opinion and in America, still — I know it's a shock — but you actually were innocent until proven guilty ... He has not been proven a rapist." 
However, she switched her stance following an interview with ABC News Chief Legal Analyst Dan Abrams, eventually conceding that about 50 women falsely accusing Cosby was highly unlikely. "If this is to be tried in the court of public opinion, I've got to say, all of the information that's out there kind of points to guilt."
Kelly Osbourne's toilet comment
In a controversial and cringe-worthy moment in August 2015, co-host Kelly Osbourne tried to make a point about then-presidential candidate Donald Trump's immigrations plans, but her ill-articulated feelings fell flatter than flat. 
Discussing Trump's comments about Latinos, co-host Perez argued that such rhetoric was detrimental to dealing with immigration issues in the United States. Osbourne chimed in, "If you kick every Latino out of this country, then who is going to be cleaning your toilet, Donald Trump? ... You know what I mean?" Mmm, no, we don't. 
Perez clapped back: "Latinos are not the only people to do that." 
Osbourne's comment provoked a ton of outrage on social media, and she later issued an apology on Facebook: "I will take responsibility for my poor choice of words but I will not apologize for being a racist as I am NOT. I whole-hearted[ly] f***ed up today." She also said Perez cut her off mid-sentence, so she wasn't able to finish her point. In turn, Perez kindly tweeted her support and apologies to Osbourne. 
Osbourne told Entertainment Weekly she made a mistake trying to fall back on "witty sarcasm" when discussing race. 
Barbara Walters sides with Woody Allen
Woody Allen and Mia Farrow's adopted daughter, Dylan Farrow, has gone on the record numerous times (including during a 2018 CBS This Morning appearance) to accuse Allen of sexually abusing her when she was 7 years-old. To date, Allen has never been prosecuted and continues to vociferously deny Dylan's claims, though a number of high profile Hollywood figures have turned their backs on him in the wake of the scandal and the rapidly growing #MeToo movement. 
The View co-host Barbara Walters came under serious scrutiny when she voiced her opinion during a February 2014 episode, suggesting that Allen was innocent and Farrow must be lying. At the time, Farrow had recently published a letter in The New York Times detailing her allegations against Allen. Walters claimed, "She's doing it now because he's up for an award." Walters also said that she'd spent a lot of time with Allen and his family, that he seemed to love his kids very much, and that it didn't seem like he'd be capable of harming anyone.
Walters' co-hosts were quick to argue. Sherri Shepherd offered up that Allen's current wife, Soon-Yi Previn, was also one of Farrow's adopted children and that Soon-Yi was allegedly just 17 at the start of their relationship. Walters wouldn't budge, however, and continued to insist that Allen's preference for younger women wasn't proof of inappropriate behavior. 
The backlash on Twitter was swift, with viewers accusing Walters of silencing sexual abuse victims and displaying favoritism, reported USA Today.
Rosie O'Donnell vs Elisabeth Hasselbeck
Some of the most outrageous and controversial moments in the history of The View have occurred between co-hosts. Arguably one of the most infamous was the on-screen blowout between O'Donnell and Elisabeth Hasselbeck.
During a May 2007 episode, O'Donnell and Hasselbeck (who typically represented opposite sides of the political spectrum) got deep into it about the war in Iraq. O'Donnell had previously expressed frustration that conservative groups had claimed that she called American troops "terrorists." Leading up to the fight, O'Donnell predicted that getting into a conversation with Hasselbeck about the issue would result in accusations that, "Big, fat, lesbian, loud Rosie attacks innocent, pure, Christian Elisabeth."
An increasingly heated discussion erupted about the co-hosts' relationship and if Hasselbeck would defend O'Donnell. The whole thing culminated with O'Donnell calling Hasselbeck a coward, and Behar pleading that the show go to commercial. 
Former Executive Producer Bill Geddie reflected on the fight in 2016, "It was a horrible day to be in The View studios." 
Goldberg sticks up for Mel Gibson
In July 2010, Mel Gibson's career seemed to be in the balance following offensive, racist, and sexist rants leaked online that were alleged to be recordings of the actor screaming at and threatening his then-girlfriend. 
Goldberg invited controversy when she jumped to Gibson's defense on the show, saying, "I don't like what he did here, but I know Mel and I know he's not a racist ... He may be a bonehead ... I can't sit and say that he's a racist, having spent time with him in my house with my kids." 
According to the New York Daily News, during an episode a few days later, Goldberg stood by her original statements, saying, "My experience tells me that this is not a racist." She also said her office had been receiving threatening phone calls in the wake of her initial defense of Gibson. 
Co-host Joy Behar appeared on The Insider (via Perez Hilton) and explained that she was surprised by Goldberg's position, noting that "Barbara [Walters] would not allow him on the show. Barbara's Jewish, he's an anti-Semite, he's a racist ... so he's done." 
To date, the actor has never appeared on The View.
Walking out on Bill O'Reilly
It's safe to say that a lot of people have a problem with provocative former Fox pundit Bill O'Reilly, especially since he was fired for sexual harassment. Two of The View hosts made their less-than-fuzzy feelings toward O'Reilly known during a heated October 2010 appearance. 
O'Reilly appeared on The View to publicize his book Pinheads and Patriots. The hot topic for the segment was a mosque that was slated to be constructed near Ground Zero. O'Reilly was dead-set against the mosque and bickered heartily with the hosts. Meanwhile, Behar made bunny ears behind O'Reilly's head and called him a pinhead (an allusion to his book.) The laughs ended, however, when O'Reilly said, "Muslims killed us on 9/11."  
Angered by the racist undertones of O'Reilly's comments, Goldberg and Behar got up and walked off the set. According to ABC News, they returned after O'Reilly sort of apologized for making some people feel like he was "demeaning all Muslims," though he maintained his original position for the remainder of his interview.  
Hasselbeck makes light of Erin Andrews' stalking case
In 2008, sportscaster Erin Andrews was the victim of a horrible stalking incident that involved a man videotaping her through a peephole as she undressed in a motel room. Hasselbeck landed in hot water after making light of the crime during a May 2010 episode. In the segment, Hasselbeck talks about Andrews' costumes on Dancing with the Stars, saying, "In the past three weeks she's been wearing next to nothing ... I mean, in some way if I'm [the stalker], I'm like, 'Man! I just could've waited 12 weeks and seen this — a little bit less — without the prison time!" 
Andrews told People (via The Huffington Post) that Hasselbeck's comments were "a slap in the face to victims of stalking and sexual predators."
Hasselbeck later tearfully explained on the show that she deeply regretted her comments and had called Andrews on the phone (at the behest of her 5 year-old daughter) to personally apologize. However, Andrews told US Weekly (via the New York Daily News) that she didn't speak with Hasselbeck. Honestly, we can't blame her.
Raven Symone's racial firestorm
Guest co-host and former Disney star Raven Symoné quickly gained rank in the controversy department in March 2015 by defending racist comments that Univision host Rodner Figueroa had made about Michelle Obama. 
Figueroa had been fired from his job at Univision after comparing the first lady to a cast member from Planet of the Apes. According to The Wrap, Perez was the first member of the View panel to speak out against Figueroa (with an arguably racist remark of her own.) "There is a secret in the Latin community, specifically the Caribbean, South American, Central American Latin community. They are very racist," she said. 
Symoné wasn't convinced that Figuero had meant his comments in a racist way. "Some people look like animals," she said. "I look like a bird. So can I be mad if somebody calls me a Toucan Sam?" 
The controversy didn't stop there for Symoné. She also caught serious heat for comments she made later that year. During an October 2015 episode she disparaged ethnic-sounding names, saying "I'm not about to hire you if your name is Watermelondrea."
Trump's birther brouhaha
Long before Trump was running for president, he was busy spreading conspiracy theories about President Barack Obama's citizenship. In 2011, he visited the women of The View to discuss potential political ambitions, throw shade at Barack Obama, and demand that the then-President produce proof that he was actually born in the United States. "Why doesn't he show his birth certificate?" Trump asked the hosts. 
"Why should he have to?" Goldberg shot back. 
Trump's reply: "I wish he would ... it's a terrible pall that's hanging over him." He also claimed that no one from Obama's childhood remembers him. He acknowledged that Obama was "probably" born in the States but suggested there's something on his birth certificate he didn't want to show to public. 
Goldberg called Trump's commentary "the biggest pile of dog mess I've heard in ages." Let us never forget that in 2011, President Obama released his birth certificate and derided the distracting noise that people like Trump had created. Trump then took credit for settling the issue, although he has since kicked up dust about it again. 
Drunk Danny DeVito
Let's set politics aside for a moment and turn to a memorable episode in 2006 that garnered a ton of well-deserved attention: Drunk Danny DeVito.
The diminutive actor showed up for a wide-ranging interview in November that year, and it quickly became apparent that he wasn't entirely sober. He warmly greeted the hosts and then went on to explain that he'd been out partying all night with George Clooney and didn't know if he'd slept. "I knew it was the last seven limoncellos that was going to get me," he told the hosts. 
DeVito discussed how the White House was a really cool place, delivered bizarre impressions of President George W. Bush, and talked about making love to his wife in the Lincoln bedroom. The segment is worth watching for Walters' reactions alone.
DeVito's rep later told TMZ that his client intended to call Walters to apologize for his behavior, but the actor managed to find a way to profit off the whole drunken debacle, launching Danny DeVito's Limoncello (no joke) shortly thereafter.
For his part, Clooney addressed DeVito's interview on the Today show (via People): "I had to do Regis & Kelly the next day and I was pretty hung over as well." 
Hasselbeck's wardrobe drama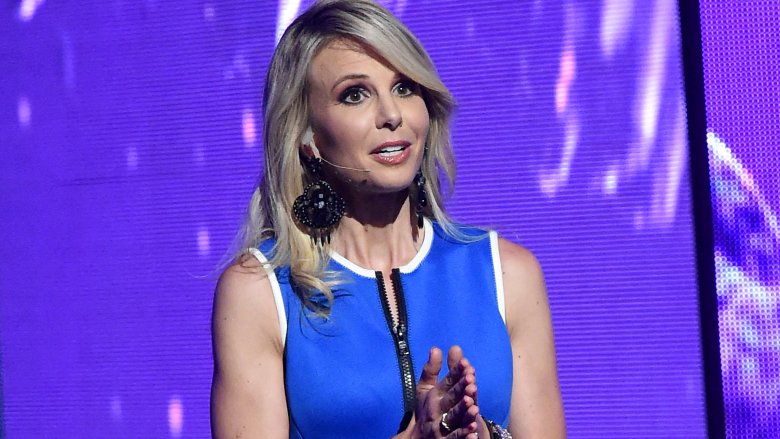 Getty Images
Back to politics: In October 2008, Hasselbeck courted controversy with the show's producers when she donned a t-shirt in support of then-presidential candidate John McCain on air. 
According to Today, the "Great AmeriCAIN" shirt, which Hasselbeck designed, prompted the following terse response from the show: "Barbara Walters and Bill Geddie, executive producers of 'The View,' don't think it's appropriate to wear T-shirts endorsing either candidate but would never forbid any of the co-hosts from expressing themselves."
Moral of the story for Hasselbeck: don't "tee" off with a tee-d off Walters.
A surprise departure
Star Jones took matters into her own hands when, in June 2006, she interrupted the show to announce her departure from The View on air, much to the surprise of her colleagues. She told the audience and her visibly shocked co-hosts that the show was moving in a different direction and she wouldn't be returning for the 10th season. "I'm not sure what the future holds," she said, "But I'm absolutely sure who holds the future." 
Viewers speculated about the true nature of Jones' departure. Walters later explained to The New York Times that it had been in the works for months and that producers decided not to renew Jones' contract due to negative audience reactions to her. However, Walters claimed the plan was to announce her departure together. 
Ann Coulter claims Republicans are friendlier to blacks
Conservative author and media personality Ann Coulter has made a name for herself promoting inflammatory ideas. She stayed the course during a September 2012 appearance on The View, promoting her book, Mugged, and opining that liberals are guilty of "race-mongering" and that most supporters of segregation were liberals. 
Goldberg challenged her theories. "If you're gonna talk about race, at least know what you're talking about. Tell me how much you know about being black." 
Coulter replied that her book wasn't about black people, but about white liberals not caring about black people. According to The Huffington Post, Coulter barreled on with her decrees about liberals and black people, while Goldberg continued to be visibly distressed by her statements and was eventually bleeped for calling Coulter's thoughts "bulls***." 
Joy Behar insults nurses everwhere
One group of people you really don't want to piss off is the nurse community, as Behar discovered in September 2015. As the panel watched a clip of Miss Colorado giving a speech at the Miss America pageant wearing her nurse's uniform, Behar quipped, "Why does she have a doctor's stethoscope around her neck?"
According to Us Weekly, the social media response was almost immediate, with nurses creating a hashtag #NursesUnite and calling for Behar to apologize, pointing out that all medical professionals regularly wear stethoscopes. The American Nurses Association also responded, releasing a statement that derided Behar for using "her national platform and influence to mock Miss America contestant Kelley Johnson ... as if Johnson were wearing a costume."
You've probably predicted by now that Behar apologized, saying, "It was just stupid and inattentive on my part."