Eli Manning Faces Sports Memorabilia Lawsuit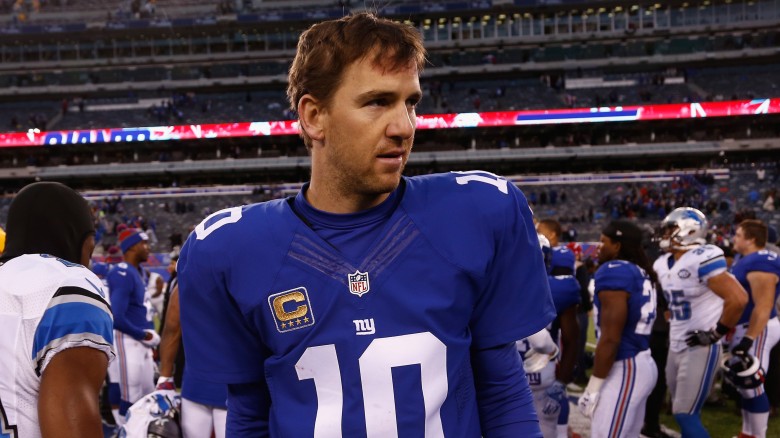 Getty Images
Giants quarterback Eli Manning is in some hot water.
A lawsuit originally filed in 2014 by Eric Inselberg has been making headlines this week. According to
Fox Sports
, the suit claims that Manning, along with the New York Giants, have committed fraud against sports memorabilia collectors by selling equipment that was not actually worn in-game as described.
The
New York Post
reports that, according to documents, Manning told team manager Joe Skiba to push a couple of helmets as game-worn.
In an email, on April 27, 2010, Manning told Skiba, "2 helmets that can pass as game used. That is it. Eli."
Then, two hours later, Manning allegedly emailed his marketing agent, Alan Zucker, writing, "Should be able to get them for tomorrow."
The suspicious emails were filed in New Jersey's Bergen County Superior Court on April 11, 2017. Three memorabilia collectors are reportedly pushing a civil racketeering suit against Manning, Skiba, memorabilia distributor Steiner Sports, and the Giants, among others.
However, despite the found emails, the Giants are apparently claiming that the lawsuit is based on false information. In a statement (via
CBS Sports
), lawyers for the football team called the lawsuit a "misguided attempt to defame [Manning's] character."
Their lawyers also addressed the assertion that someone associated with the Giants had deleted the emails in an attempt to erase their history. "This email, taken out of context, was shared with the media by an unscrupulous memorabilia dealer and his counsel who for years has been seeking to leverage a big payday. ... The email predates any litigation, and there was no legal obligation to store it on the Giants server."
A trial has been scheduled for September 25, 2017.