How Gisele Bundchen Embraces Being A 'Bonus Mom' To Her Stepson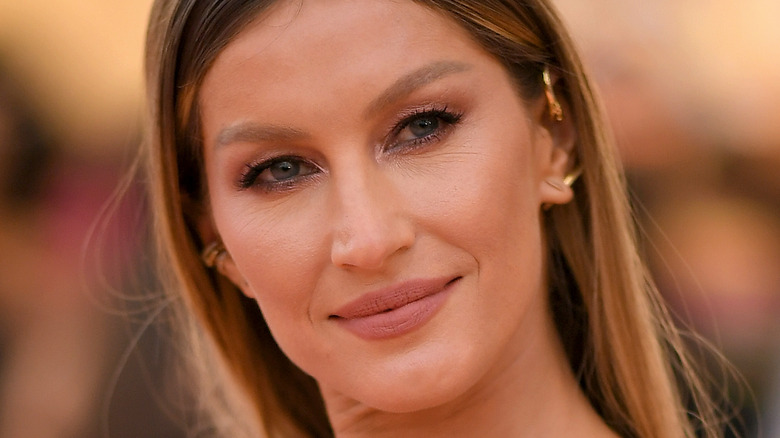 Neilson Barnard/Getty Images
Gisele Bundchen isn't a reality star by any means, but the beginning of her relationship with Tom Brady certainly sounds like something that would come out of an episode of "Keeping Up With The Kardashians." That's because when Bundchen began dating Brady, he had just found out that his ex-partner, Hollywood actor Bridget Moynahan, was pregnant with his first child.
Back in 2015, Bundchen recalled that time in her life and admitted that it was pretty tough. She was falling in love with one of the most handsome and talented men in the NFL, who at the same time was expected a baby with another woman. "It was a challenging thing because here I am, you know, thinking, I'm dating this guy, we met, and we started dating and everything is great and then this happens," the model told CBS, adding, "So, then I felt like I didn't know what to do. It was kind of one of those moments of like, 'Do I just run away?'"
Needless to say, Bundchen didn't run away and ended up marrying Brady. Together, they have two children, Benjamin and Vivian, while Brady shares his son Jack with his ex Moynahan. And while raising a blended family in the celebrity spotlight isn't always easy, this is what Bundchen has to say about being a stepparent.
Gisele Bundchen doesn't want to be called a stepmom
Gisele Bundchen is known as a model and a mom, but if there's one thing she doesn't want to be called, it's a stepmom. Bundchen often doesn't share intimate details about her personal life or her family, but back in 2018 she did open to her Instagram followers about her life as a stepmom. "I don't like the word 'stepmom,'" she shared at the time (via People). "I like the word 'bonus mom' because I feel like it's a blessing in my life. I feel so lucky that I got to have an extra wonderful little angel in my life."
But things weren't always this easy. Back in 2019, Bridget Moynahan made it pretty clear that being pregnant in the spotlight and seeing your baby daddy move on with one of the world's biggest supermodels wasn't easy on her. Things weren't always easy on her, noting that Tom Brady wasn't in the delivery room with her, per People. And, as she told Harper's Bazaar, it was difficult navigating her life as a single mom while constantly being hounded by the paparazzi as she was involved in a Hollywood love triangle that she wanted no part of.
So, how do things look like now for this blended celebrity family?
This is how Bridget Moynahan feels about co-parenting with Gisele Bundchen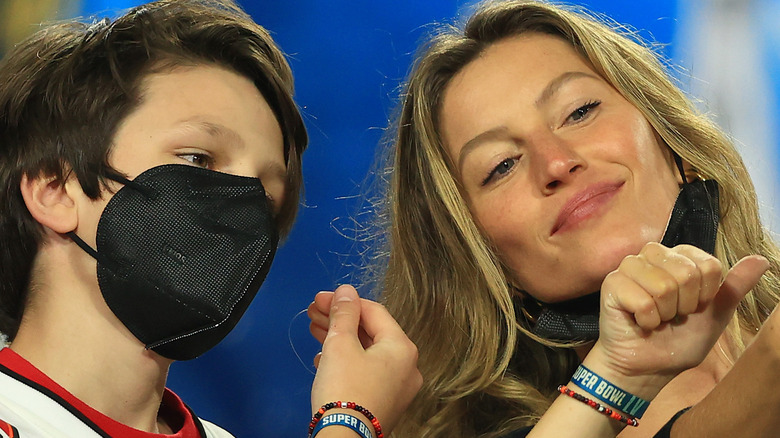 Mike Ehrmann/Getty Images
It shouldn't come as a surprise to Gisele Bundchen's fans that she's a proud bonus mom, seeing how Jack is a fixture in their family life. In fact, Bundchen and Tom Brady's ex Bridget Moynahan get along so well now that they are often photographed hanging out together, despite the circumstances of how they met. Bundchen also includes Jack in her Instagram photos and makes sure he feels like he's part of their family. She even thanked him for being the "best big brother" on his birthday.
With that said, Moynahan says that she and her ex managed to put their differences aside to do what's best for their son Jack as two co-parents. Having Gisele Bundchen in the mix and see her embrace Jack was more than what she could ask for. "Tom and I made a decision to raise a child together and we both found partners that not only supported us in raising that child, but also loved our child as if he was their own," Moynahan, who has been married to business man Andrew Frankel since 2015, told People. "I don't think you can ask for more than that. My son is surrounded by love."
Now that sounds like an unscripted reality show with an actual happy ending.