The Untold Truth Of Rachel Maddow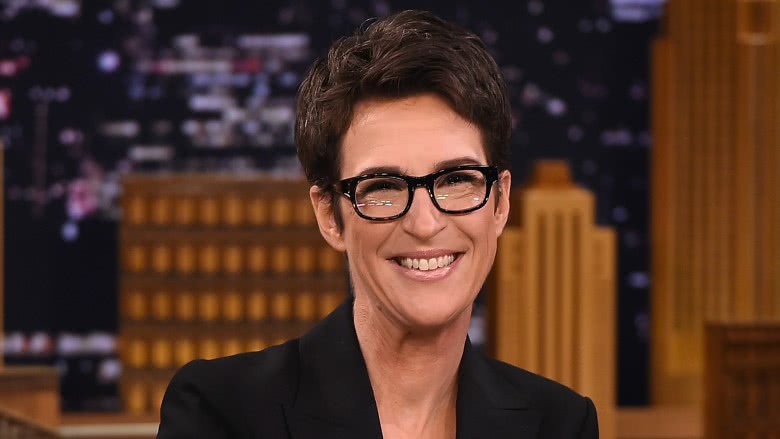 Getty Images
Rachel Maddow is one of the most talked-about news correspondents on television; her sharp wit, cheerful demeanor and captivating storytelling have resonated with audiences even before The Rachel Maddow Show premiered in 2008.
These days especially, Maddow has become a voice that people (well, liberals) turn to as the Trump administration becomes more and more controversial. But how well do Maddow's fans really know her? Here are a few facts that might surprise you. 
She met her partner by chance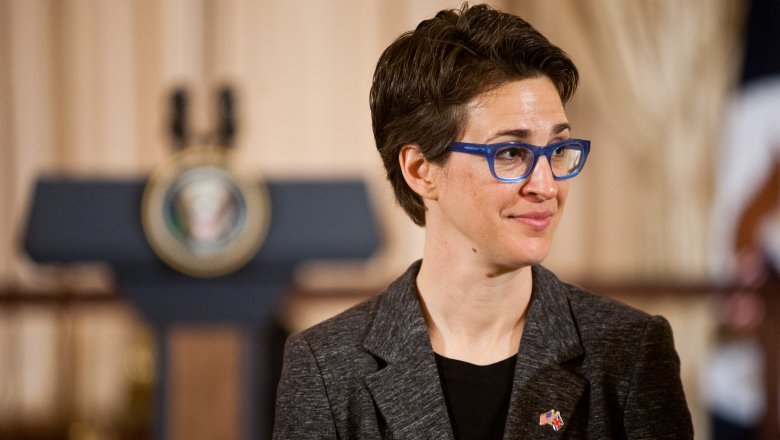 Getty Images
Rachel Maddow has been in a relationship with her partner, artist Susan Mikula, for nearly two decades. The two met by pure happenstance in 1999, when Mikula hired her to do some yard work at her home in the Berkshires. "It was very Desperate Housewives," Maddow quipped to People magazine. She told Us Weekly that she fell in love with Mikula at first sight.
The couple reportedly lives in a small home in Western Massachusetts and, get this, they don't even have a television. "We realized that the two of us have the TV Disease," Mikula told People. "Rachel can't have one because she'd watch it all the time!" 
Their first date was rather unconventional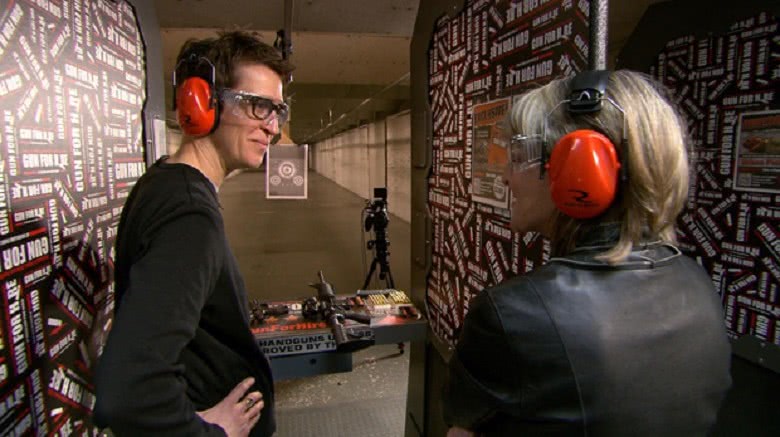 CBS News
When you think of first dates, you typically think of dinner, drinks, or a movie. Which makes Maddow's first date with Mikula feel all the more wild.
"My first date with Susan was at an NRA 'Ladies Day On The Range' event, and that is as close as I have ever gotten to the NRA," Maddow said in 2011, according to the Huffington Post. Maddow admitted the two enjoy shooting firearms. "Susan has the hand-eye coordination," Maddow told Rolling Stone. "But I can't control my movements."
In 2016, Maddow showed off her skills by taking CBS Sunday Morning to a firing range. "I'm a real liberal even on, like, gun safety and gun control issues. That said, I think that shooting is fun," she says during the episode. "And I think shooting ranges are an excellent place to both learn about guns and to freak your friends out."
Maddow used to be a massive punk rocker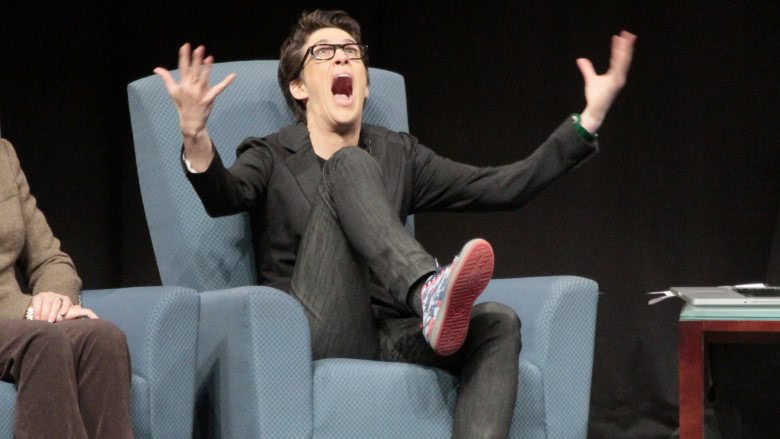 Getty Images
During her 2012 Reddit AMA, Maddow disclosed a secret that her parents were "very very horrified by" — she was a huge punk head in her teens. 
Recalling her love for the band the Dead Kennedys, she confessed, "I don't remember a particular song that made them crazy – I think the band name itself did all the work there." Her love of punk rock didn't stop with the hardcore stuff. "I was obsessive about Husker Du," she said. "I also liked Meat Puppets and Black Flag, but really I would have done anything for Bob Mould." Her musical tastes got her into a bit of trouble with her parents. "I actually got grounded when my mom found an SST records sampler LP in my room," she said. "I think it had particularly porny cover art and she was very rattled by it."
"As a teenager, I thought at the time that it was probably the apex of my coolness," she quipped. "As an adult, looking back, I realize that is true."
She loves to fish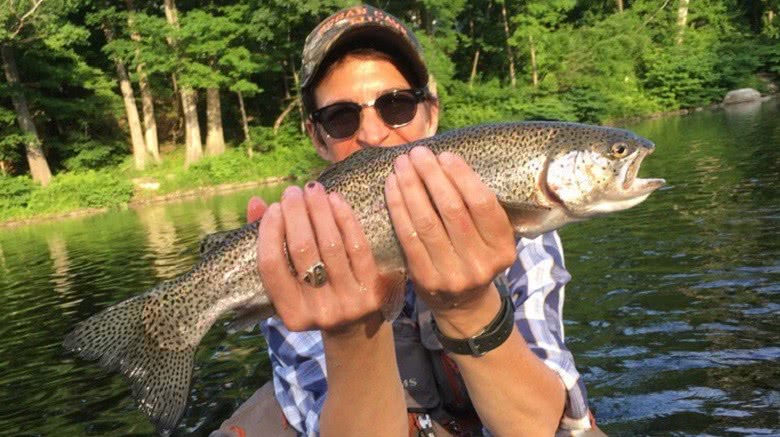 Rachel Maddow's Twitter
Ever wonder what Rachel Maddow does in her down time? If you guessed fishing, you'd be 100 percent correct. "I go fishing every chance I get. Sometimes after my show, I fish at midnight in the Hudson River in NYC," Maddow told Us Weekly.
Maddow also spoke about her love of all-things fishing during a 2012 Reddit AMA, during which she revealed her favorite smell is a "clean river [on a] spring day." She added, "[The] Biggest fish I ever caught was a striper that was two inches shorter than the one my mom caught ten minutes earlier." To which we say: damn!
She was outed by her school's newspaper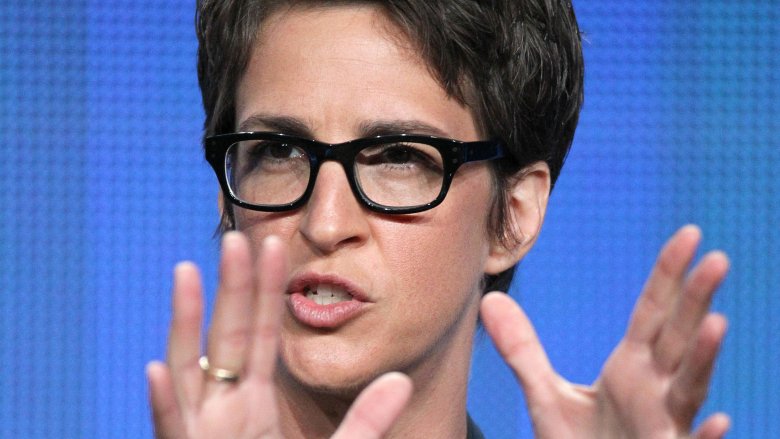 Getty Images
Maddow's parents found out she was gay by reading about it in her college newspaper. "I did an interview with the student newspaper about being one of the only two gay freshmen on campus" the Stanford graduate told the Daily Beast (via BuzzFeed. "The mistake I made was that I had not come out to my parents." According to Rolling Stone, someone mailed the newspaper clipping to Maddow's parents. She said they "took it poorly at first," noting that they were "devout Catholics."
On the bright side, Maddow's courage earned her support from her classmates. "Rachel made one choice when she was 17, and it was a domino — it made all the other choices clear," Stanford alumni and close friend Jill McDonough told Rolling Stone. "No one at Stanford was saying they were gay — there were no other out lesbians — and she saw that it was a lie. The choice was, 'I'm not going to be a hypocrite. I'm going to have courage.'"
She was nominated for a Grammy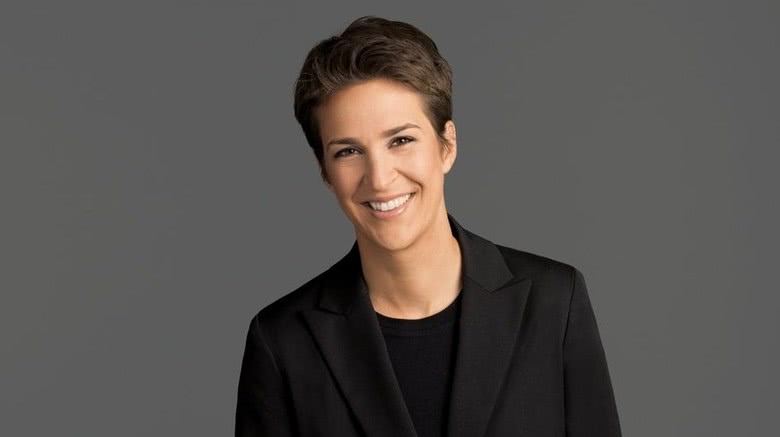 MSNBC Photo
With her silky-smooth voice, it should come as little surprise that Maddow was once nominated for a Grammy. The nomination came in 2013, in the category of Best Spoken Word Album, for her 2012 bestseller, Drift: The Unmooring of American Military Power.
Maddow ultimately lost the Grammy, to Janice Ian; but considering she was also nominated alongside Ellen DeGeneres, Bill Clinton and Michelle Obama, she should feel very, very proud of herself.
Maddow got started in radio on a dare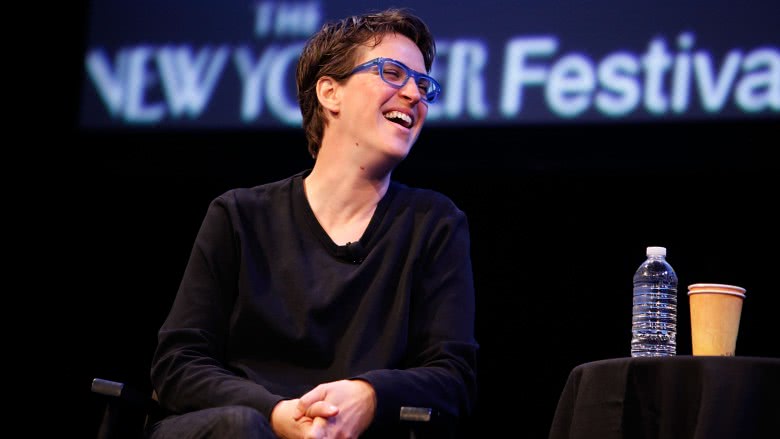 Getty Images
If it hadn't been for a dare, Rachel Maddow might not have become one of today's most popular news correspondents. According to The Guardian, a friend dared her to audition for a local radio morning show's sidekick spot because "it might pay more than the minimum wage." As soon as Maddow got on air, something clicked. "We were a tiny little market that only had tiny little news, but I liked being the person who made good sense on the air explaining that news," she told Rolling Stone. "I liked the responsibility of providing information: news updates, snow-day school cancellations, weather reports, traffic snarls."
That little market led to bigger things. In 2004, a radio executive Shelley Lewis received a tape of Maddow's show and decided to put her on the air with The Daily Show co-creator Lizz Winstead and Public Enemy's Chuck D. "She had this incredible brightness of being — this sort of joy," Lewis recalled. Maddow soon landed her own national radio program, The Rachel Maddow Show, which afforded her a three-hour platform to exercise her sociopolitical storytelling instincts. Guest spots on CNN and MSNBC followed, and thus, a TV career was born.
She's worked a surprising number of odd jobs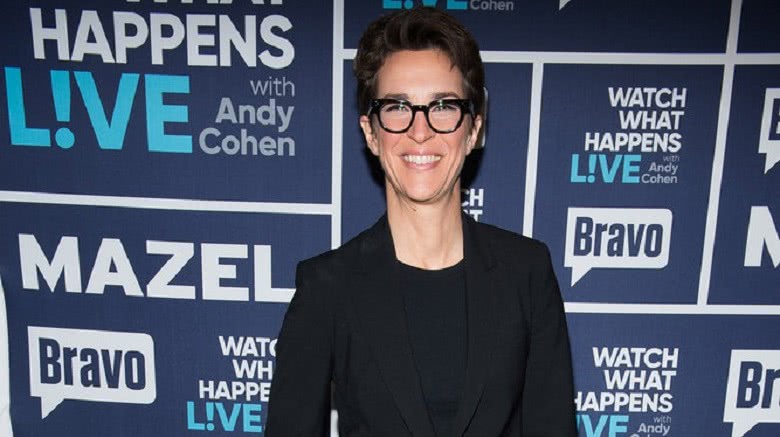 Getty Images
Before finding her place in radio, Maddow was a Rachel of all trades. "I was a waitress, bike messenger, bucket washer at a coffee-bean factory, yard help, landscaping labourer, handyman — I was very bad at that," she told The Guardian. "I went for a job at a video store and got turned down because I didn't know enough about movies."
"I'm just a person who's had about 200 jobs over the course of my life," she said during an appearance on The Tonight Show Starring Jimmy Fallon. Her worst gig? Working at a recycling center. "I'm a real liberal, but it's made me really suspicious of recycling for my whole life," she said, explaining that she'd drive around in flatbed trucks, pick up carefully sorted recycling from offices, and return to the "recycling center" to throw everything away. "At the time, it kind of just felt like we worked at a high-class dump."
As for her most unique job? Maddow told Us Weekly she worked "a very short-lived moonlighting job hosting a gay love songs call-in show with a co-host named Martini."
She suffers from depression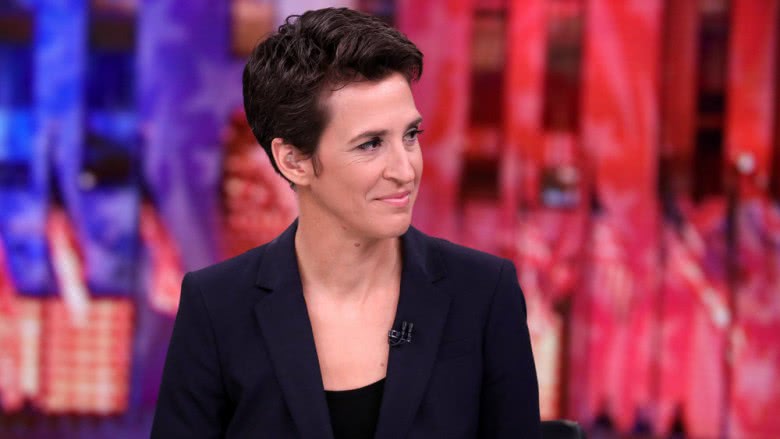 Getty Images
Maddow told Rolling Stone that she suffers from "cyclical depression," which can affect the consistency of her on-air performance. "One of the manifestations of depression for me is that I lose my will. And I thereby lose my ability to focus," she said. "If I'm not depressed and I'm on and I can focus and I can think through something hard and without interruption and without existential emptiness that comes from depression, that gives me — not mania. But I exalt. I exalt in not being depressed."
Maddow said her partner, Mikula, helps her cope with her illness. "The time when it's hardest is when I have forgotten that this happens to me, and so I don't know what it is, and she will say, 'you are depressed,'" Maddow told CBS Sunday Morning. "And just being able to identify it, and then knowing that it's not gonna be forever and that it will pass and that it will ease at some point helps."
Maddow accidentally offended her entire staff on day one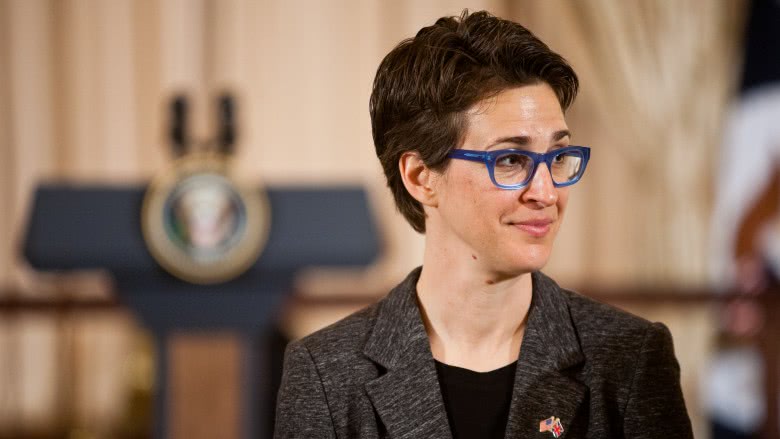 Getty Images
When she was given her own show in 2008, Maddow inherited the staff from Verdict with Dan Abrams. As Rolling Stone described it, she detested the show's "gimmicky emptiness" and news-cycle focus. About a week before The Rachel Maddow Show's first taping, Executive Producer Bill Wolff threw a launch party and invited the entire staff. At the party, Maddow gave a speech that was meant to get everyone excited about this new journey. It didn't.
According to Rolling Stone, Maddow essentially told the staff members "they needed to forget everything they had ever learned — that this show would be completely different from the one they'd been working on, that they must forget all of the skills they'd spent their careers building." Instead of building morale, her pep talk sucked the energy right out of the room. Maddow admits, "I think Day One I was a bummer. Forget everything you've learned! Which implicitly says everything you've learned doesn't matter to me." Wolff said it took about a year for the Verdict staffers to adapt to Maddow's storytelling style.
She only dresses up from the waist up on her show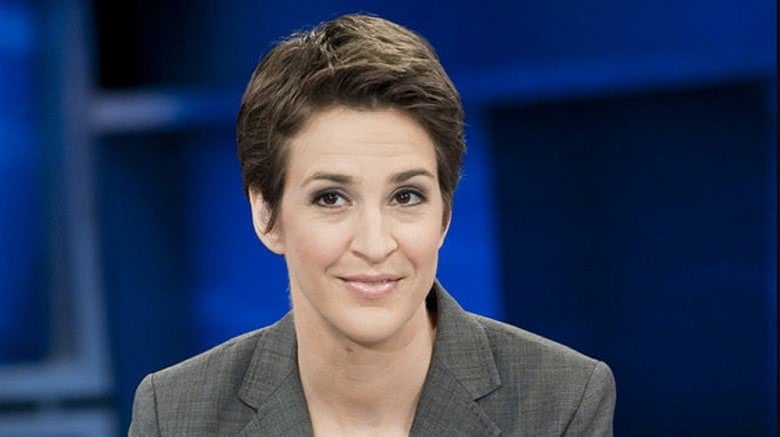 Getty Images
Rachel Maddow seriously could not care less about her appearance. During CBS Sunday Morning's behind-the-scenes look at her show in 2016, the anchor admitted, "It takes me about 15 seconds to get dressed, 'cause I only dress from the waist up." Indeed, underneath her desk and out of sight, she's boasting a pair of comfortable jeans and Converse sneakers. "It's like a mullet: it's business upstairs, party downstairs," she joked.
"I'm not a TV anchor babe. I'm a big lesbian who looks like a man," Maddow bluntly admitted to the Guardian. In that same interview, she referred to her blazer getup as "lady clothes," and admitted that the lipstick and blush are only worn reluctantly. Hey, whatever works!