Aaron Hernandez Found Dead In Apparent Suicide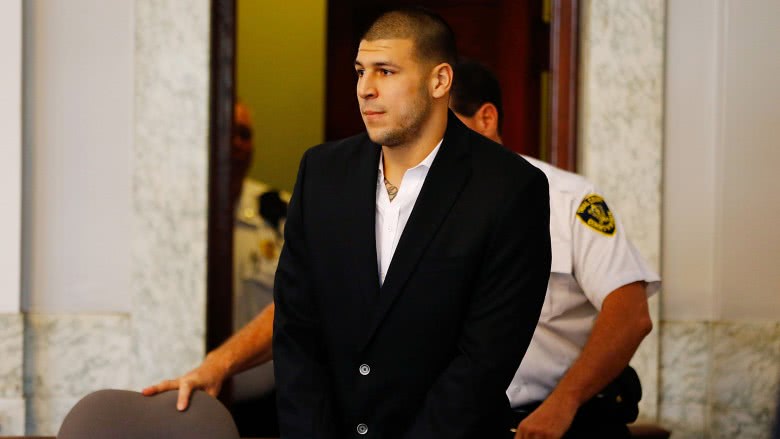 Getty Images
Former NFL star and convicted murderer Aaron Hernandez was found unresponsive in his cell early Wednesday morning on April 19, 2017.
According to a statement issued by the Massachusetts Department of Corrections (via USA Today), Hernandez hanged himself from a window in his cell using a bed sheet.
The full DOC statement is as follows:
"On April 19, 2017 Aaron Hernandez was discovered hanging in his cell by corrections officers at the Souza Baranowski Correctional Center in Shirley Massachusetts at approximately 3:05 a.m., lifesaving techniques were attempted on Mr. Hernandez and he was transported to UMASS Leominster where he was pronounced dead at 4:07 a.m. by a physician at the hospital. Mr. Hernandez was in a single cell in a general population housing. Mr. Hernandez hanged himself utilizing a bed sheet that he attached to his cell window. Mr. Hernandez also attempted to block his door from the inside by jamming the door with various items. The Massachusetts State Police are on scene and the investigation continues. Mr. Hernandez's next of kin have been notified."
Hernandez was serving a life sentence for the murder of Odin Lloyd, the boyfriend of his fiancée's sister. He had also recently been acquitted of the murders of Safiro Furtado and Daniel de Abreu, who were gunned down outside a nightclub in Boston in 2012.