Inside Tim McGraw's Struggle With Alcoholism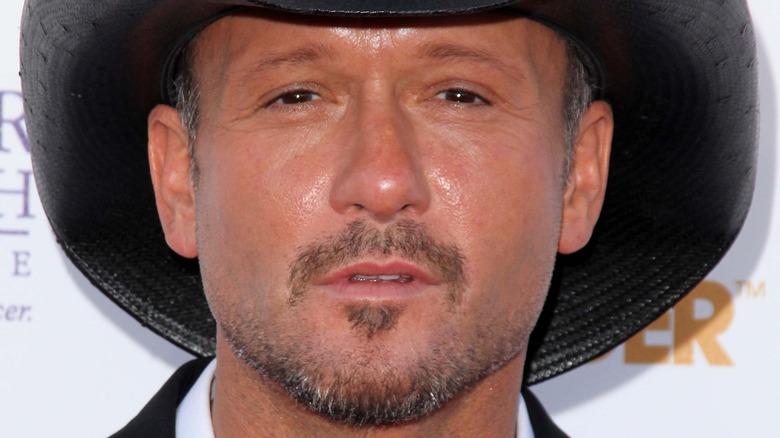 S Bukley/Shutterstock
Tim McGraw is one of country music's biggest names. The country crooner first broke out in the music scene in 1990, per The Boot. Six years later, he married Faith Hill after falling in love on tour, and together they became the king and queen of country music. The couple shares three daughters and have released several songs together throughout their nearly three decades of marriage, including "Like We Never Loved At All," "Let's Make Love," "It's Your Love," and more, per Taste of Country. The hunky singer has also dabbled in acting, having appeared in films like "The Blindside," and "Tomorrowland," as noted on IMDb.
While McGraw has worked hard to get to where he is today (and made a lot of money along the way), he didn't begin his career with the confidence he now projects on stage. In fact, he almost put his life in jeopardy when he became addicted to drinking alcohol early on in his career. Let's take a look inside his struggle with alcoholism and how he overcame it.
Tim McGraw drank because he needed confidence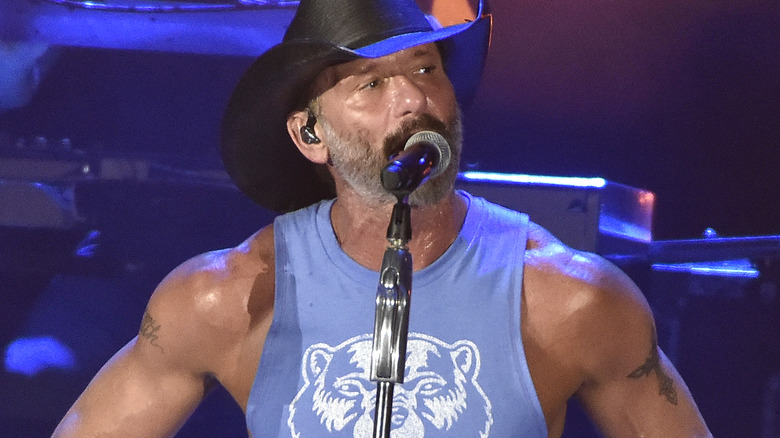 Tim Mosenfelder/Getty Images
Tim McGraw blamed his low confidence for the reason he started drinking early in his career. In fact, he revealed to Oprah in 2014 that he couldn't step on stage unless he drank. "I used to have to have a few drinks to get on stage, because I'm sort of an innately shy person," he said on "Oprah's Master Class" (via HuffPost). "To step out on stage and to sing and be in front of people was nerve-wracking for me in a lot of ways. That was the way I got my courage — some liquid courage, with a little Jack Daniels."
The habit became an addiction over time and caused McGraw to feel like he couldn't perform without it. "I couldn't do it without [drinking]," he added. McGraw, at the time, didn't see anything wrong with his alcohol consumption because he grew up around people who drank. "I grew up in Louisiana and we used to drink Miller ponies, sitting on a tailgate around a bonfire. I mean, that was part of the culture of growing up for us," he said.
Eventually, McGraw felt he hit rock bottom and has his wife, Faith Hill, to thank for bringing him back to a happier reality. Keep scrolling to learn how she helped her husband. 
Faith Hill 'saved' Tim McGraw from his alcohol dependency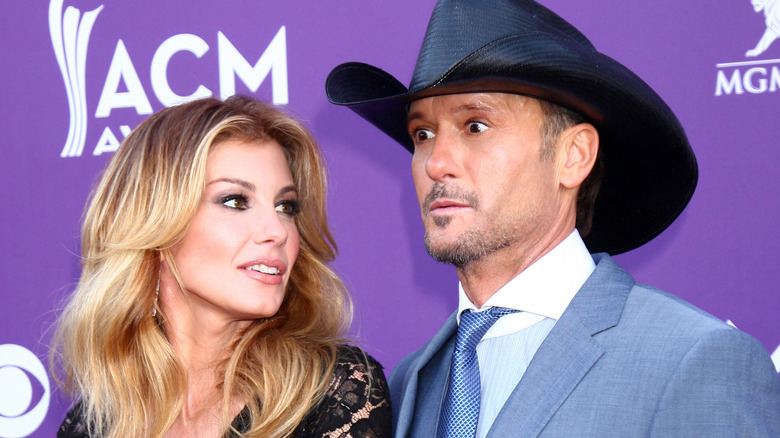 Kathy Hutchins/Shutterstock
According to People, Tim McGraw got sober in 2008 and has been for 13 years now. He credited his daughters — Gracie, Maggie and Audrey — as well as his wife, Faith Hill, for helping him change his lifestyle around. "People said things. People were worried about me," McGraw explained about his risky alcohol misuse. "It wasn't something that I didn't know as well. But ultimately, it is really about how I want to be around for my kids. I want to be around to see how they grow up. I want to see what their lives become. I want to see what their kids look like."
McGraw continued on about how he realized he needed to change his alcohol consumption habits. "I felt like I had to change my life. And it wasn't like I was out doing crazy things, it was just that I was drinking too much. You know, some people might look at it and say — hey, I drank twice as much as that. But for me, it adversely affected my life and it was time to change it."
Instead of going for a drink or two, McGraw now works out twice a day, which explains his fit physique. He also credited Hill for saving his life, telling the outlet he thinks he'd "be dead" without her. "Faith saved my life in a lot of ways — from myself more than anything ... My wife makes me a better man."
If you or anyone you know is struggling with addiction issues, help is available. Visit the Substance Abuse and Mental Health Services Administration website or contact SAMHSA's National Helpline at 1-800-662-HELP (4357).