The Truth About Kaley Cuoco And John Ritter's Relationship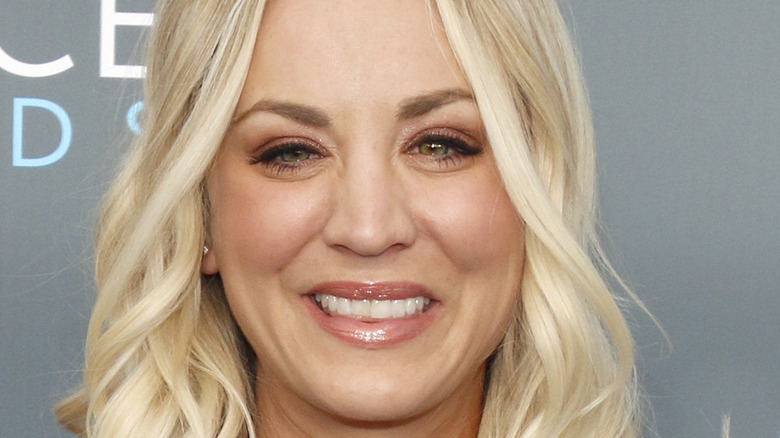 Tinseltown/Shutterstock
Beloved actor John Ritter died of an aortic dissection in 2003 after falling ill on the set of ABC's "8 Simple Rules for Dating My Teenage Daughter." Actor Kaley Cuoco and Ritter starred in the ABC series, playing the roles of daughter and father, Bridget and Paul Hennessy, per IMDb. The series "8 Simple Rules for Dating My Teenage Daughter" ran from 2002 to 2005. According to USA Today, Ritter died on September 11, 2003, a few days before the second season of the popular ABC series began airing.
The ABC docuseries, "Superstar," reported on the life of Ritter. His episode featured interviews with his family, Cuoco, Bryan Cranston, Jimmy Kimmel, Henry Winkler, and many more. USA Today reported that in "Superstar," Cuoco described the time she learned about Ritter's sudden death. "I just heard screaming, and I looked over and I see all these people and everyone is just hysterical," Cuoco said, her voice breaking. "'He's gone. He's gone.' And I was like, 'Who's gone?'"
The relationship between Cuoco and Ritter went beyond their on-screen roles as father and daughter. To learn more about their relationship, keep reading.
Kaley Cuoco says John Ritter treated her like a daughter
John Ritter may have played Kaley Cuoco's father on the ABC series "8 Simple Rules for Dating My Teenage Daughter," but it appears that Cuoco felt like Ritter was a father figure in real life as well. Cuoco praised her on-screen dad in an interview for "Superstar." Cuoco said, "He treated me like his own daughter. He treated all of us kids like that. It was pretty incredible," per USA Today.
Cuoco was a teen when she worked on "8 Simple Rules for Dating My Teenage Daughter" and explained that Ritter had quite the reaction when she wore a spaghetti strap top and shorts to the first table read for the ABC series — and proved that he was definitely a father figure. Cuoco recalled, "In comes John, and I go, 'Hi, I'm playing your daughter.' He goes, 'Hold on,' and he takes his jacket and puts it over me. He goes, 'Never dress like that again.' And right then, he was my dad."
Kaley Cuoco is still emotional about John Ritter's death
Kaley Cuoco is emotional about John Ritter's death to this day. Cuoco reminded her 6.9 million Instagram followers to watch the docuseries about Ritter before its release on August 25. Cuoco posted: "Don't miss this next week.. all about my friend John Ritter." During her interview for "Superstar," Cuoco teared up, according to USA Today, saying, "I really love him so much ... to this day." She also called him the "most generous man, the most fun," and said he was a super unique person.
It seems like the short time Cuoco spent with Ritter has stayed with her. During an interview for Variety's "Actors on Actors" series, Cuoco told Elizabeth Olsen about a conversation with Ritter that she thinks about often. "I remember conversations when I was 15 years old where he said, 'You have to remember when you're on a set, it's like a tree. Number one's here, and any way you act is all trickling down that tree,'" she recalled. "You can be a boss, you can be a great actor, you can get work done, but you can just be nice. People are missing that."