Inside Pauley Perrette's Skincare Line Which Turned Out To Be A Scam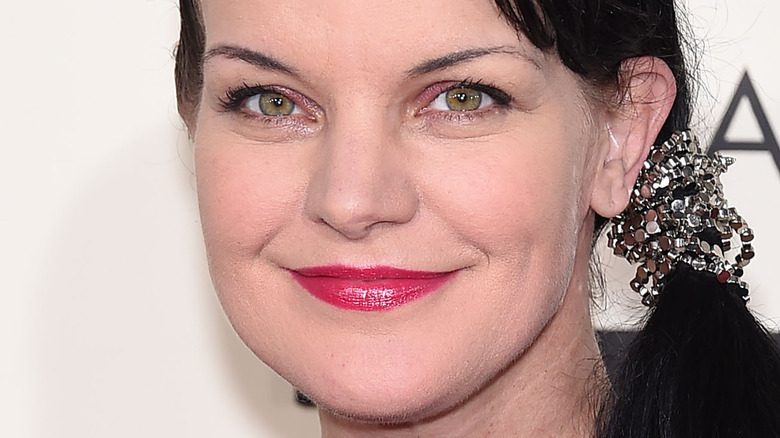 DFree/Shutterstock
Former "NCIS" star Pauley Perrette seems like the ideal candidate to front a skincare line. She played forensic scientist Abby Sciuto for 15 years on CBS' popular crime procedural, but during that entire time period, the peppy, pigtailed lab rat never appeared to age. Perrette's youthful energy also makes her exactly the type of spokesperson that a beauty company would love to have, and apparently someone realized this in 2017.
That year, rumors began to swirl that Perrette was leaving "NCIS" to launch her own skincare line. Fans later learned that the actor's exit had nothing to do with building a beauty empire. According to The Wrap, her relationship with former co-star Mark Harmon soured after his dog bit a crewmember on the set of the show. He brought the dog back to work after the incident, which reportedly upset Perrette. The situation escalated to a point where the actors couldn't even stand to shoot scenes together. "NO I AM NOT COMING BACK! EVER! (Please stop asking?) I am terrified of Harmon and him attacking me," Perrette tweeted in June 2019. "I have nightmares about it."
After she left, Perrette starred on the short-lived sitcom "Broke" before announcing that she was retiring from acting. What she did not do was create her own line of beauty products, but there's a reason some fans thought that she did.
Pauley Perrette warned fans about a skincare scam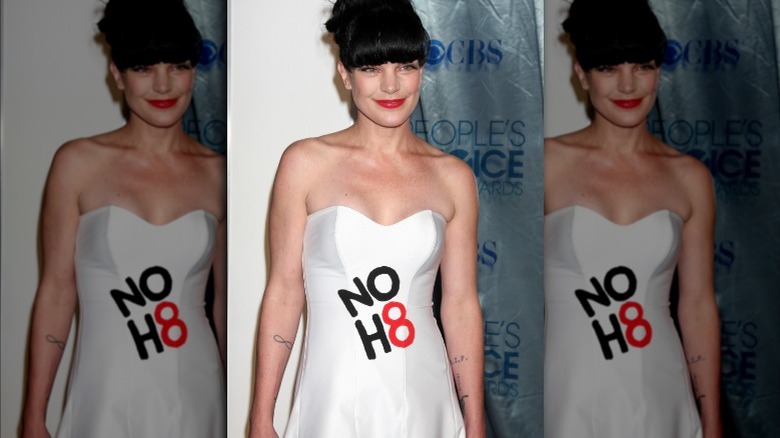 Kathy Hutchins/Shutterstock
In 2017, Pauley Perrette took to Twitter to clear up the rumors that she quit "NCIS" to sell skincare products. "So it is true that I am leaving NCIS," she tweeted. "There have been all kinds of false rumors as to why (NO I DON'T HAVE A SKIN CARE LINE AND NO MY NETWORK AND SHOW ARE NOT MAD AT ME!)." At the time, Perrette's likeness was being used in ads for a beauty brand that she had no association with.
The ads were designed to look like news stories with titles like "Abby Sciuto's Secret $5 Skincare Empire Has CBS & The NCIS Team Furious!" The actor became dedicated to making sure that her fans didn't fall victim to the false advertising and even appeared on an episode of "Inside Edition" to warn them about it. "It's a fake company. It's a scam," she said. She revealed that "hundreds and hundreds" of people had reached out to her about the fake stories, which were popping up on their Facebook pages. She also used Twitter to get out the word about the scam, informing her followers that she doesn't even have a Facebook account.
"Inside Edition" actually ordered one of the advertised products for its investigation. Perrette held it and wisely asked to have it blurred out so that the footage couldn't be used in more ads. "It could be anything in here. Anything," she said.
The beauty products Pauley Perrette actually uses
"Inside Edition" discovered that the skincare scammers were also promising customers free samples, but charging their credit cards the full cost of a monthly subscription. On Twitter, Pauley Perrette revealed that her glowing complexion was not the result of using pricey products. "I do not go in the sun at all. I do not wear makeup unless I'm being paid to," she wrote. "I scrub my face daily with an old rough washcloth & soap and put baby oil or Vaseline on it. That's it." In a behind-the-scenes video for Season 5 of "NCIS," she revealed that she also makes sure to slather on plenty of sunblock.
When Perrette participated in the 10-year challenge on Twitter in 2019, she chose photos from 2008 and 2018 that showed how little she had aged in a decade. She gave her late mother credit for her youthful appearance. "I give 'not aging gene' to her, except cancer got her first. And beers maybe? I love beer," she wrote. 
During a 2012 interview with Gluten Free & More, she spilled one more beauty secret. "As silly as it sounds, I think my good skin has to do with being happy." That happiness doesn't come from eating sweets, as she gave up sugar years ago. But maybe she saved herself from a few wrinkles when she learned that the company that was deceptively using her likeness was slapped with a $179 million fine by the FTC.