This Is How Far Ivanka Trump Actually Got In School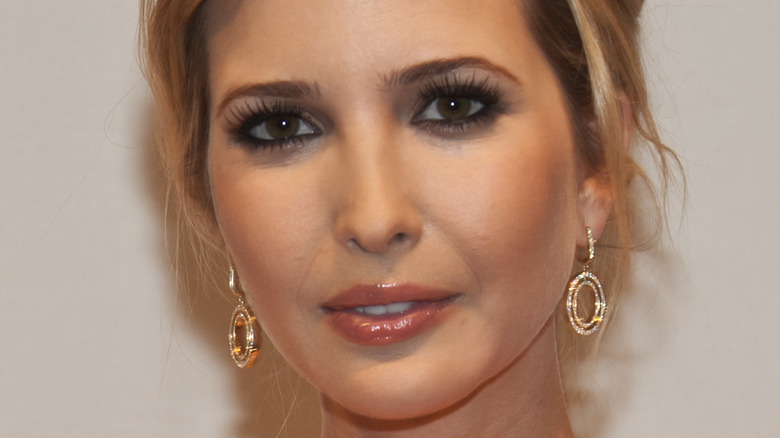 lev radin/Shutterstock
Before Ivanka Trump became a fixture during her father Donald Trump's presidency, she was a celebrity with enough clout to award her yearly invites to the Met Gala and a circle of friends that included Emmy Rossum, Paris Hilton, and even Hugh Jackman. She also had her own clothing and accessory line and was often featured in celebrity magazines, thanks to her numerous red carpet photos.
But long before Ivanka Trump became the household name that she is today, she was raised by two parents, her father Donald and mother Ivana Trump, who made their expectations of her clear from the very start. She told Harper's Bazaar in 2011, "My mom grew up in the Soviet Bloc, and she was a Tiger Mom. We didn't get away with much," adding that they would often discuss current events at the breakfast table before she could even read. Her father, meanwhile, made it no secret he adored Ivanka. While speaking about her future daughter during her first pregnancy, she said, "My dad was joking the other day how he's going to have a new favorite little girl."
With that said, a lot of people can't help but wonder what kind of childhood Ivanka had and just how far she got in school. Keep reading below to find out the answer!
Ivanka Trump followed in her father's footsteps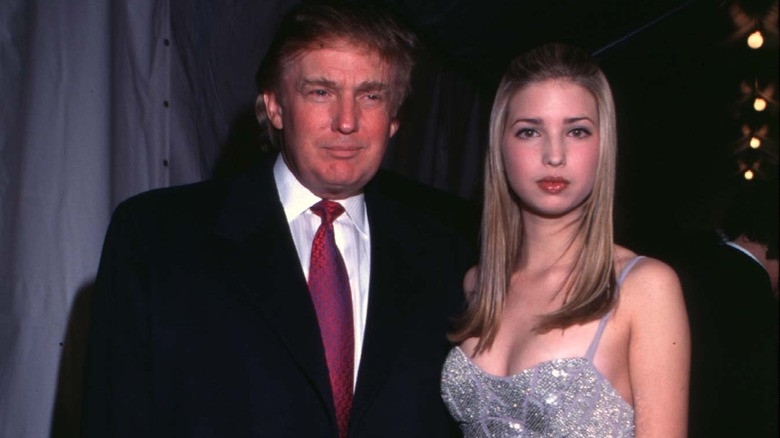 Ron Wolfson/Getty Images
While there's no doubt that Ivanka Trump's life changed during the four years that her father was in the White House, her life before then was something you'd expect from the daughter of one of the richest businessmen in New York City. She attended boarding school as a teenager and went to both the Chapin School in Manhattan and the Choate Rosemary Hall in Wallingford, Connecticut, as detailed in The Things. A former classmate by the name of Lysandra Ohrstrom remembered Ivanka as someone who once "blamed a fart on a classmate," according to Vanity Fair. And author Emily Jane Fox wrote in her book, "Born Trump: Inside America's First Family," that Ivanka once allegedly flashed her breasts at a hot dog seller from the window of her private school, but also called her a "relatively normal teenager." During her school years, she would also skip class for modeling gigs.
Flatulence and startled hot dog vendors aside, Ivanka graduated from Choate in 2000 and attended Georgetown University for two years before making her way to her father's alma mater, the Wharton Business School at the University of Pennsylvania. Ivanka graduated cum laude with a Bachelor's degree in 2004, according to CBS News. 
Yet despite all of her academic success, what one modeling scout said about a teenage Ivanka wasn't exactly positive. Keep reading to learn more.
Ivanka Trump's advantages and disadvantages through life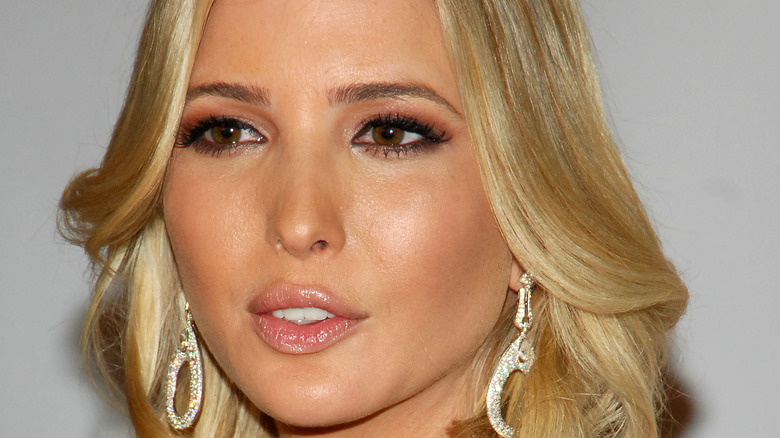 Rob Loud/Getty Images
Even though Ivanka Trump graduated from an Ivy League school, there's some speculation that she might not have gotten all of the opportunities she was handed in her life if it weren't for her famous father, former President Donald Trump. In a Spin interview from 1998, one editor at a major fashion magazine who was kept anonymous said: "If it wasn't for her dad, she would be at best a B-model trying really hard to get work in Miami, and even then she'd have trouble, because contrary to popular belief, there is such a thing as a good model and a bad model. Ivanka seems unable to show any emotion when she's modeling."
But as for Ivanka's classmates at the University of Pennsylvania, many of them had positive things to say about the former first daughter to The Daily Pennsylvanian in 2017. "I think she was always a good student — well prepared, poised, et cetera," one Wharton classmate said to the outlet. Another stated that Ivanka "deserved her 4.0," and a third said she was "exceptionally good in real estate classes."
While there was a time where Ivanka got modeling gigs and invites to events that are considered the "Super Bowl of fashion," that is no longer the case — or maybe she's just too busy for it. One can only wonder if she's still keeping up with all of the current events — which include her father — at the breakfast table.