The Big Controversy About Karlie Redd's Age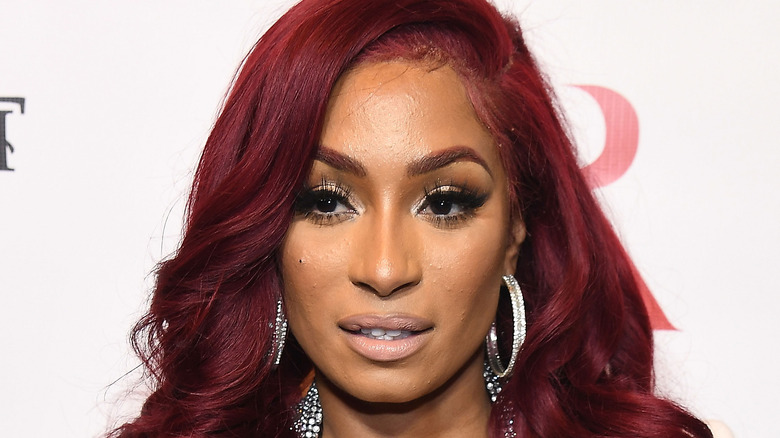 Paras Griffin/Getty Images
Ever since her debut on "Love & Hip Hop: Atlanta" almost a decade ago, Karlie Redd has become a fan favorite, partly due to her showcasing all of her relationship drama. On the reality show, viewers have seen Karlie dating fellow castmates Benzino, Yung Joc, Sean Garrett, and Scrapp DeLeon, as well as LA Reid's son Aaron Reid, Lyfe Jennings, and ex-husband Arkansas Mo.
Now, the latest season of "Love & Hip Hop: Atlanta" sees Karlie dating Lamar Odom, to fans' surprise. However, judging by the reality star's recent social media activity, the two have already called it quits. "I'm single AF !!! I'm not dating anyone," Karlie wrote on Instagram in July (via The Shade Room). After fans started wondering why she and Odom ended things, Karlie seemingly referenced the former NBA star's history of addiction. "It would have never worked because He Needs Rehab Not A Relationship or A Situationship!," she wrote in a now-deleted tweet, via The Neighborhood Talk.
"Anything to stay relevant," Odom responded on Instagram. "Listen me being in recovery is no secret – I've made some amazing strides and I no longer do drugs #FACTS but I do need rehab," he continued. "I need to be rehabilitated from my attraction to TOXIC, BITTER, UNHEALTHY RELATIONSHIPS with women who need therapy more than they need me!" Despite being pretty open about her love life, Karlie has kept one particular aspect of her life a secret: her age. Read more about the controversy below.
Karlie Redd kept her real age a secret for years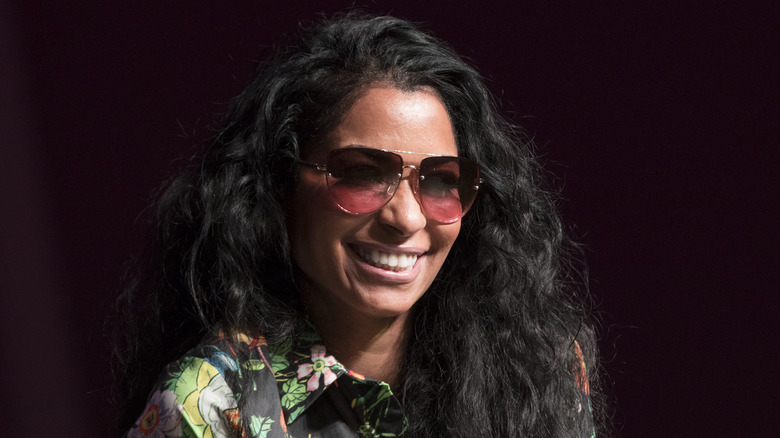 Monica Morgan/Getty Images
As fans of "Love & Hip Hop: Atlanta" will know, Karlie Redd always refused to reveal how old she was. Castmates and viewers alike tried to guess her age, with some speculating that she was in her early 40s when she first appeared on the show. K. Michelle, for example, said Karlie was 40 years old in their 2012 infamous "shaking the table" scene. Later, during the Season 1 reunion special, K. Michelle even accused her of having a grown daughter. 
Fans even spotted Karlie in a scene of the 1997 movie "B*A*P*S," leading many to believe she was at least 18 when the film came out. "WAIT. A. MINUTE. Karlie Redd really was in BAPS. Ok so theoretically, if she was 18 in BAPS she could be 38 now," a fan speculated in 2017. Karlie's age was so buzzworthy that her age kept changing on Google. "Hackers keep changing my age on Google they are working on it," Karlie told a fan who asked if she was really 50 years old (via The Shade Room).
Hackers or not, Karlie never seemed to be bothered by all the drama surrounding her age. "I don't care what anybody says," Karlie told Chicago's 107.5 (per IBT). "As long as I look good and feel good I'm not tripping about what nobody has to say." However, in 2019, the Trinidadian beauty decided to reveal her real age ... though she later regretted it.
Today, Karlie Redd regrets revealing her age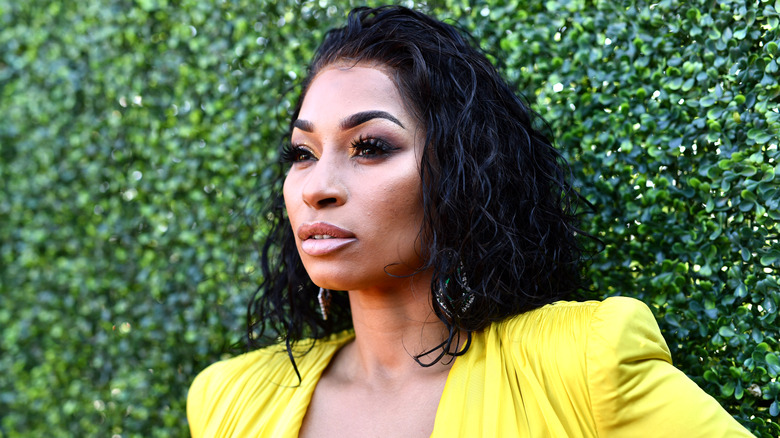 Emma Mcintyre/Getty Images
In 2019, Karlie Redd made an appearance on "The Real," during which co-host Jeannie Mai asked her why she always kept her real age a secret. "I've never been afraid to tell my age," Karlie said. "I just don't know what the obsession is with it. Maybe it's because we look young and beautiful." Then, Mai asked Karlie if it was true that she was 45. "Yes," she replied. Karlie's birthday is April 15, which would make her 47 years old at the time of this writing.
In a February 2021 Madame Noire interview, however, Karlie admitted that she somewhat regrets making her real age public knowledge. "It really did bring checks to the household when nobody knew my age," she explained. "It was an extra check that came in. Honestly! It was one of the highest things on Google, my age. Wanting to know my age was one of the highest trending topics, so I'm kind of mad that I said what my age was. I could have got another check."
Still, the TV personality felt like it was the right thing to do. "It's a lot of our cast members that are even older than me but they don't get hounded about their age," she continued. "A lot of actors are older than me but who cares? Age is just a number." Now that Karlie has revealed her real age, we just wish she would drop her skincare routine.