Magic Johnson Opens Up About His Son EJ's Coming Out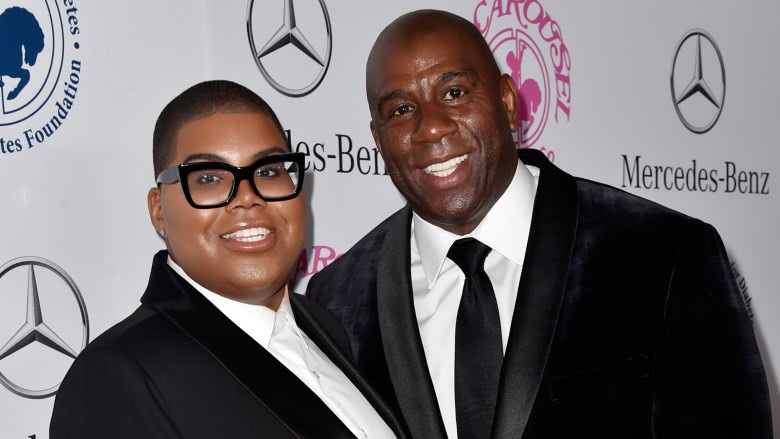 Getty Images
Magic Johnson could not be prouder of his son, who now stars on E!'s reality TV show EJ NYC.
The former NBA legend opened up on The Ellen DeGeneres Show on Wednesday, April 19, 2017 about his son EJ, 24, who publicly came out back in 2013. As The Huffington Post detailed, Johnson shared some important advice for parents who have a child who identifies as LGBTQ —namely, you need to love and support your kids no matter what.
"I think it's all about you not trying to decide what your daughter or son should be or what you want them to become. It's all about loving them no matter who they are, what they decide to do," he said.
The 57-year-old continued, doting out nothing but praise for his son, "When my son came out, I was so happy for him and happy for us as parents. We love him. EJ is amazing."
The HIV/AIDS activist passionately concluded, "So you got to support your child, because there are so many people who try to discriminate against them, so they need you to support them. Because if you don't support them, who is going to support them? And love them?" Well said!
As Nicki Swift previously reported, EJ had the full support of his entire family, including his mother Cookie, 58, brother Andre, 36, and sister Elisa, 22, when he first came out as a teenager. The reality star told Gwissues (via ESPN), "I am very, very, very blessed to have the family that I do."
Entertainment Tonight caught up with EJ and his mother at the GLAAD Media Awards in early April 2017. Cookie admitted, "It took me a long time to understand ... who he was and to get on board," before urging parents, "don't wait so long. This is who they are. Embrace them from the beginning."
EJ added, "I think we had to educate everyone around us, but you know, we took that challenge on, full force, and that's important." He emphasized, "I think that's important for everyone to do."