Inside Kristen Bell And Dax Shepard's Friendship With Monica Padman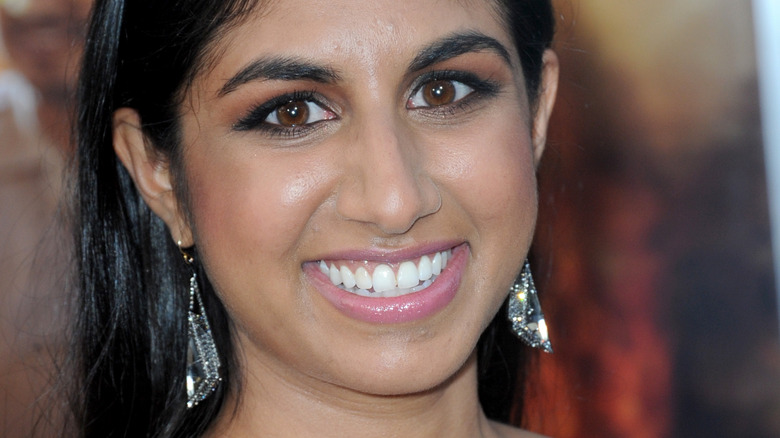 Albert L. Ortega/Getty Images
Many would say that Kristen Bell and Dax Shepard are a beloved Hollywood couple. The two have been together for over a decade, first getting engaged in late 2009. But it wasn't until October 2013 that they got married, as they were waiting for same-sex marriage to get legalized in California. Talk about a celebration of love!
Of course, Bell and Shepard's relationship hasn't been without its challenges, too. "This isn't a special fairytale," Bell told Parade in 2019, with Shepard adding that their relationship is an example of "two people who worked really hard."
Through the eventful and love-filled years of their relationship, Shepard and Bell would also be grateful for their friends, including their mutual pal Monica Padman. She co-hosts the popular "Armchair Expert" podcast with Shepard. As it turns out, their closeness is such that they even joke around Padman being the third wheel in their Shepard and Bell's relationship! It looks like the friendship's really special — something that fans won't want to miss. So, let's take a deeper look inside Bell and Shepard's bond with Padman.
Dax and Monica's relationship is unconventional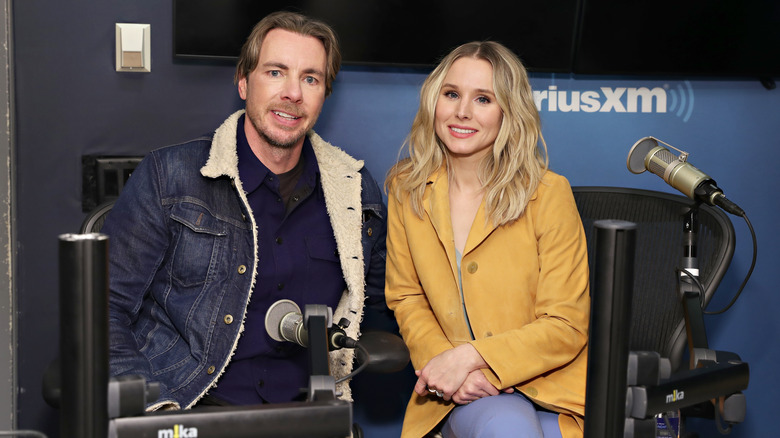 Frazer Harrison/Getty Images
Dax Shepard and Monica Padman got candid about their friendship during a June appearance on "Jimmy Kimmel Live!" Per E! Online, there was a point in the interview when Padman spoke about receiving a gift from her co-host — a calendar with pictures of male body parts marking every month. Having his interest piqued by this hilarious calendar gift idea, Jimmy Kimmel asked Padman about her working relationship with Shepard.
"Absolutely, we're in a three-way marriage," Padman joked to Kimmel. "Well, we were in a three-way marriage." Kimmel then asked if she meant this in a sexual way, to which Padman quipped, "Not yet." Shepard jumped right into the conversation. "Unfortunately not. It's all the responsibilities of two wives without the sex," he added.
Padman and Shepard then went on to talk about how close the trio was in real life. The couple even had Padman stay with them during the start of the COVID-19 pandemic, but then things took a turn.
Kristen and Monica are super close, too
It made sense for Monica Padman to stay with Kristen Bell and Dax Shepard during the initial quarantine period, as she was co-hosting the "Armchair Expert" podcast. And although things between Padman, Shepard, and Bell seemed okay initially, something changed the course of events and made things quite hilarious. 
Padman explained to Jimmy Kimmel during the same appearance that at one point during the pandemic, they thought Bell got COVID-19. "So, she was in her room quarantining on her own. At the same time, Dax broke his hand — couldn't make food, couldn't help with anything," she shared, per E! Online. Shepard chimed in, saying that he had rods coming out of his fingers. "And then I was there like, 'Oh, I have to take care of all of these children while they're [Bell and Shepard] on vacation,'" Padman joked. "Okay...Bye!" Talking about the conclusion of the trio's little romance, Padman told Kimmel, "Like many marriages in quarantine, ours ended in divorce."
Of course, Padman was joking about the whole divorce thing — she's still great friends with the two, and in June, she launched a different podcast with Bell called "Shattered Glass." Bell told Vanity Fair about choosing Padman as a co-host, "I was looking to Monica for guidance about what roads to go down and when to follow a train of thought and how to make the guest feel really comfortable." Sounds like there's a lot of respect between this trio!