Why Sandra Oh Needed Therapy After Grey's Anatomy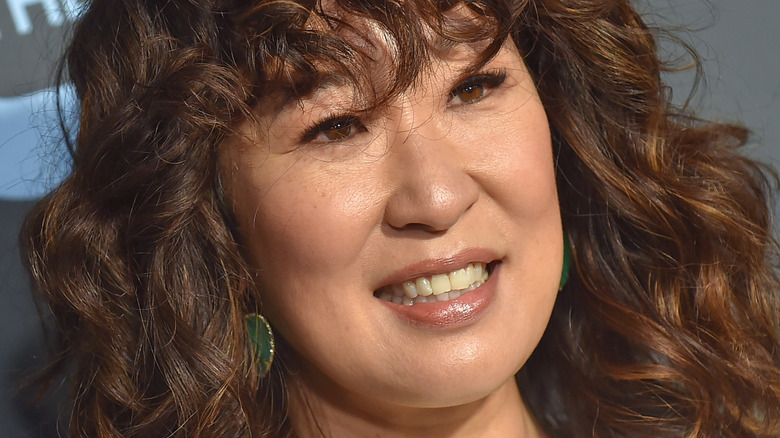 DFree/Shutterstock
There's no doubt that being a doctor is tough, but apparently playing one is also "traumatic." Sandra Oh recently revealed on "Sunday TODAY with Willie Geist" that she needed therapy while starring on "Grey's Anatomy." The 50-year-old Canadian native played the sharp and quick-witted Dr. Cristina Yang for 10 seasons of the medical drama before announcing her departure in 2014, per Vanity Fair. While she was a seasoned actor by the time she was cast — who can forget her iconic portrayal of Vice Principal Gupta in "The Princess Diaries?" — "Grey's" truly put Oh on the map. She received five Emmy nominations for her role on the hit show and won her first Golden Globe. (Oh's second win was for her turn in the critically acclaimed series "Killing Eve" in 2019, per the New York Post.
Aside from "Grey's" and "Killing Eve," Oh has starred in more than 20 films, lent her voice to animated films, and now leads in Netflix's latest limited series, "The Chair." Despite her star power seemingly growing with age (we love to see it for a woman in her 50s), adjusting to fame hasn't always been easy for Oh. The actor told Geist she initially missed her "privacy" and sense of "anonymity" when out and about. 
Sandra Oh credits her therapist for keeping her mental health 'grounded'
Sandra Oh may be breaking a lot of barriers in Hollywood — she's the first Asian woman to win two Golden Globes — but she's always kept it real. Oh opened up on "Sunday TODAY" about the need to prioritize her mental health while working in the stressful entertainment industry. "To be perfectly honest, it was traumatic. The reason why I'm saying that is the circumstances you need to do your work is with a lot of privacy. So when one loses one's anonymity, you have to build skills to still try and be real. I went from not being able to go out, like hiding in restaurants, to then being able to manage attention, manage expectation, while not losing the sense of self."
"Grey's Anatomy" has been a hit since its premiere in 2003 and to this day, is still one of the most popular series in the U.S. Its latest season averaged 15 million viewers per episode, per Quartz. Therefore, it's no surprise Oh initially struggled with overnight stardom. "I'm not joking. It's very, very important," Oh said of mental health. "You just have to work at finding your way to stay grounded. And a lot of times that's by saying no." Despite "Grey's" 18th season seeing the return of fan favorites like Patrick Dempsey and Eric Dane, Oh won't be making her own comeback. Earlier this year, she told the Los Angeles Times that, while she "appreciate[s]" the show, she's "let it go."