What Carrie Fisher's Relationship Was Really Like With Her Father Eddie Fisher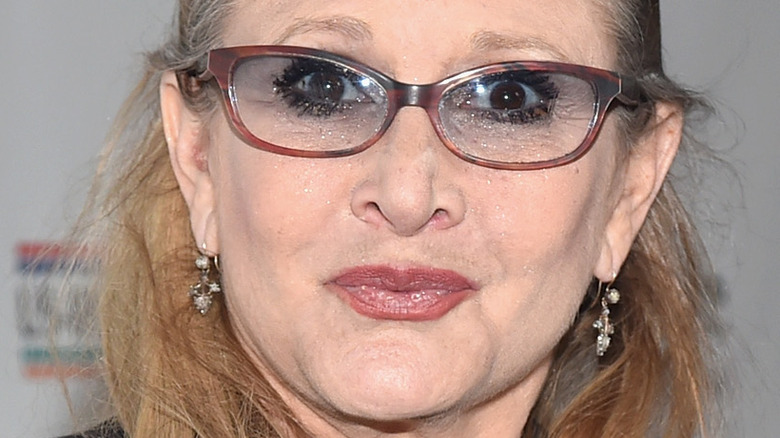 Alberto E. Rodriguez/Getty Images
More than four years have passed since the iconic Carrie Fisher died from sudden cardiac arrest at the age of 60. Best known as Princess Leia from the "Star Wars" series, the actor's death has been mourned around the world in the years since. At the time of her death, Fisher's daughter, Billie Lourd, announced the sad news in a statement, via People. "It is with a very deep sadness that ... Carrie Fisher passed away at 8:55 this morning," the then-24-year-old revealed. "She was loved by the world and she will be missed profoundly. Our entire family thanks you for your thoughts and prayers."
Fisher left behind an impressive legacy, which went beyond her acting career. She penned multiple memoirs, including "The Princess Diarist" and "Postcards From the Edge," and was also an advocate for mental health after suffering from bipolar disorder herself. The "Shampoo" star understandably found her place in the public spotlight, as she was the daughter of pop singer Eddie Fisher and actor Debbie Reynolds — two key players in the entertainment industry. According to Vanity Fair, Fisher had always been candid about her personal struggles and how they related to her family life. One of her most well-known quotes was, "[I am] truly a product of Hollywood in-breeding. When two celebrities mate, someone like me is the result." 
Fisher did not have an easy upbringing — but how did her relationship with her father play into that? And did it change over time? Keep scrolling to find out.
Carrie Fisher had a complicated relationship with Eddie Fisher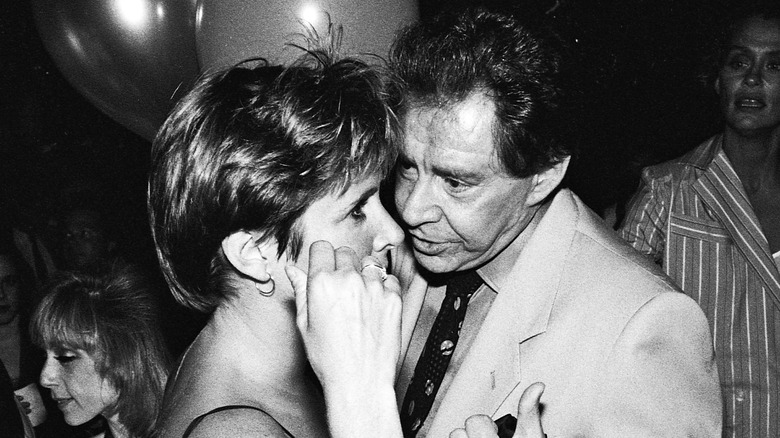 Catherine Mcgann/Getty Images
It is no secret that Carrie Fisher's relationship with her father, Eddie Fisher, was complicated. The actor has detailed the father-daughter relationship in many interviews and in her memoirs. The complications began when the "I'm Walking Behind You" singer left Carrie's mother, Debbie Reynolds, for fellow actor, Elizabeth Taylor, per The Philadelphia Inquirer. Carrie was only two years old at the time. This betrayal changed the way the "Star Wars" star viewed her father and only worsened over time. 
When Eddie penned his memoir, "Been There, Done That," he bashed his ex-wife, which Carrie did not take lightly, via Showbiz CheatSheet. "Debbie Reynolds was indeed the girl next door," Eddie wrote. "But only if you lived next door to a self-centered, totally driven, insecure, untruthful phony." His comments led to Carrie threatening to separate herself from him legally and change her last name to Reynolds.
Despite the ongoing issues with her father, the "Under the Rainbow" actor made her peace with the hurt he caused her and eventually ended up forging a close relationship with him. In her book "Shockaholic," Carrie wrote (via The Philadelphia Inquirer), "I loved my father. The man was beyond fun to hang out with, appreciative, playful and eccentrically sweet." More than working towards developing a better relationship with her father, the California native also ended up befriending the woman for whom he left her mother. Eddie ultimately died in 2010 at age 82 from complications following hip surgery.
Was Carrie Fisher's relationship with Debbie Reynolds also complicated?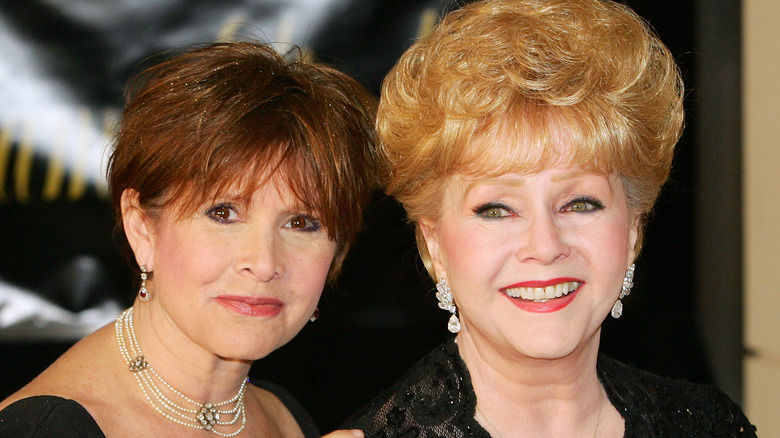 Ethan Miller/Getty Images
Similar to Carrie Fisher's relationship with her father, Eddie Fisher, the actor also shared a complicated relationship with her mother, Debbie Reynolds. Carrie reported resenting her mother's celebrity status while growing up. In an interview with NPR, Fisher said, "Well, I had to share her, and I didn't like that. When we went out, people sort of walked over me to get her." During Carrie's teens and 20s, the two actors were estranged while Carrie worked on figuring out who she was aside from "Debbie Reynolds' daughter," according to Biography. 
"We had the extra, larger-than-life relationship ... but in order to have my own identity, I [had] to forge some kind of character..." Carrie said during an interview with Oprah Winfrey back in 2011 (per Biography). However, this phase passed as Carrieaged and came to view her mother through a different lens. "[S]he's an immensely powerful woman. And I just admire my mother very much ... she's an extraordinary woman, extraordinary ... I mean, she's had an amazing life, and she's someone to admire." 
Reynolds was also happy to report that she and Carrie reconciled. "I would say that Carrie and I have finally found happiness," Reynolds revealed in the same Oprah Winfrey interview from 2011 (per People). "I admire her strength and survival." The mother-daughter duo remained close for the rest of their lives and even died one day apart after living next door to each other for 15 years prior to their deaths, per Biography.