Hailey Bieber's Amount Of Tattoos May Surprise You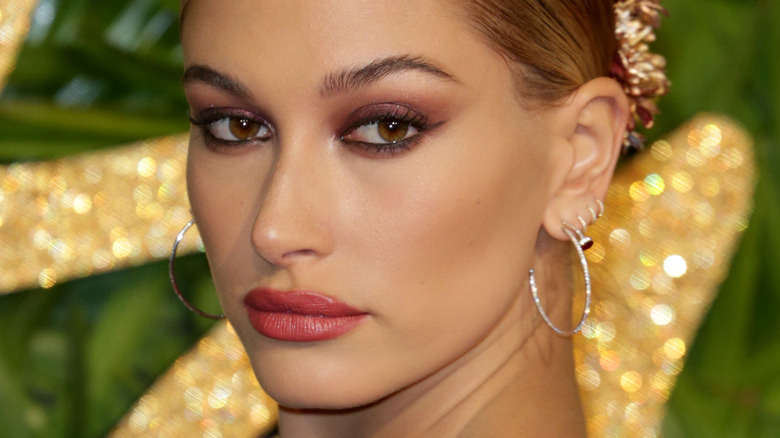 Cubankite/Shutterstock
Tattoos are a crucial element in telling one's personal story. To be willing to ink an image, a quote, or whatever your heart desires permanently on your body demonstrates an undying passion. Take for example, Justin Bieber, who is essentially a walking coloring book with the amount of tattoos leveled on his person. With a body adorned in tattoos, the singer's skin is atramentous as it gets, and he is showing no signs of slowing down when it comes to inking up.
Hailey Bieber, Justin's wife, is also no stranger to the needle. A member of the famed Baldwin family, the socialite made a name for herself through modeling — and although she has made a career off of her stunning beauty, she has also found a way to incorporate her ink in a unique and modern fashion. You may be wondering, though, where exactly Hailey's tattoos are, but the model has been savvy enough to disguise her intricate tattoos in places you may not have even noticed.
With that being said, let's take a look at how many tattoos Hailey Bieber has!
Hailey Bieber has more than 20 tattoos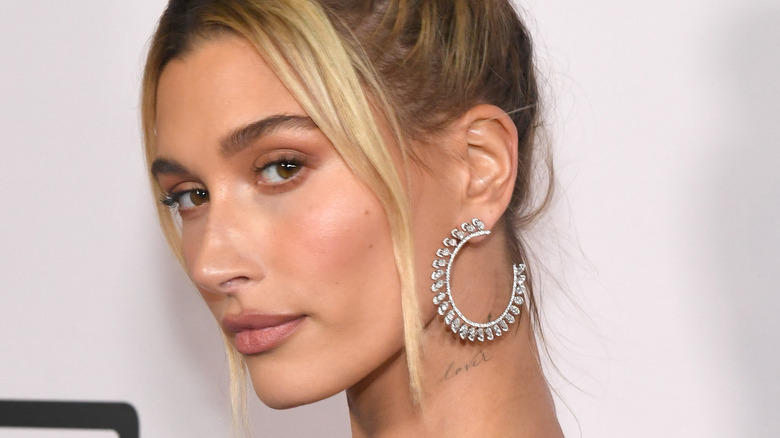 Kevin Mazur/Getty Images
As Hailey Bieber's face and slender frame are her primary moneymakers when it comes to her modeling career, one may not even notice the star's ink scattered across her body. So exactly how many tattoos does Hailey have? A March interview with Elle revealed the model has "20-something" small and finely etched tattoos placed in various discreet locations on her body."
Among her tattoos are a tiny peach on her forearm (a subtle nod to hubby Justin Bieber's track "Peaches"), a gun on her finger (one she now disavows, seeing guns as "violent," per Elle), and a "J" on her left ring finger for some rather obvious reasons (via Elle). The model also has a "1996" tattoo, which references her birth year, and a small cross on her neck. She also has the word "lover" on her neck, which you can faintly see in the image above.
While Hailey boasts a plethora of other tiny inklings, it pales in comparison to Justin, whose ink-covered skin features over 60 designs, according to Page Six! And though Justin's tattoos may come off as scary to the uninitiated, the singer actually boasts a plethora of religious ink. And it's no secret that the "biggest thing" in the power couple's relationship is "our faith," as Hailey confirmed (via Fox News).
Hailey Bieber's tattoos are never really planned
In a 2018 interview with The Cut, Hailey Bieber provided a ton of insight into her minimalistic tattoo approach and revealed that she "never plan[s] it." "I plan it the night before," Hailey further noted, "and I'm like, I think this would look cute, and then I text [tattoo artist JonBoy]: 'I'm coming in.'" When it comes to the timing, Hailey noted that she tries to "space out" when she gets the tattoos.
The model has also expressed interest in tattooing her future children's names once the time comes. "I'm running out of spots to put little ones," Hailey noted, having 19 tattoos at the time. "Eventually when I have kids one day, I want to get my kids' names and then I want to have the spots for that," said Hailey. Perhaps Justin will do the same!
And just as their faith bonds the two lovers, faith also bonds Hailey and her tattoo artist, whom she met at Hillsong Church — a unique church experience Hailey describes to The Cut as "intense and it's loud and it's in your face" and "not for everybody."