The Cobra Kai Co-Stars You Didn't Realize Were Dating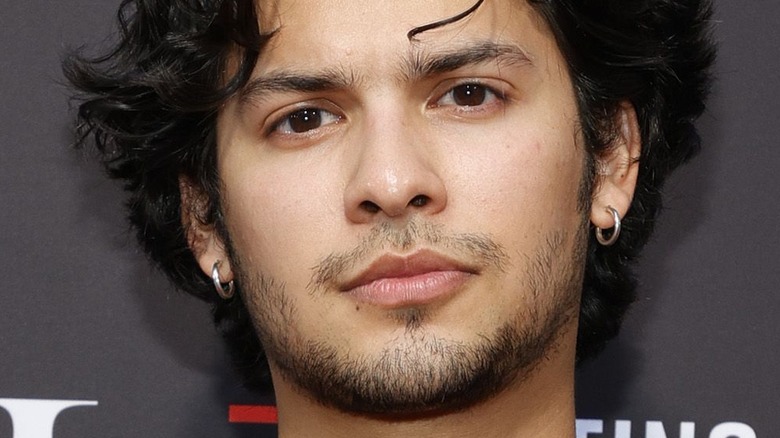 Amy Sussman/Getty Images
Love for "Cobra Kai" may never die (at least we hope that the Netflix show keeps getting renewed), but for some of its on-screen couples, love is hard to hold onto. Forbidden romances are an entertainment trope that we just can't seem to get enough of, from William Shakespeare's star-crossed lovers Romeo and Juliet to James Cameron's doomed boat boot knockers Jack and Rose. "Cobra Kai" ups the ante by adding karate to the angsty mix, which means that fights over boys can become all-out brawls.
Miguel Diaz (Xolo Maridueña) and Samantha "Sam" LaRusso (Mary Mouser) are teens who fall in love, despite coming from much different economic backgrounds and belonging to different social groups. After a messy breakup, they find themselves fighting on opposite sides of dueling karate dojos, but the Cobra Kai champion and the Miyagi-Do student ultimately can't fight their feelings for each other. Unfortunately, the lovebirds leave a real mess in their wake thanks to Miguel's short-lived romance with his dangerously vengeful teammate Tory Nichols (Peyton List), Sam's relationship with Robby Keene (Tanner Buchanan), and an ill-timed kiss.
Maridueña had such great chemistry with both Mouser and List that it probably had many fans wondering whether he was dating one of his co-stars. As it turns out, he did find love on the set of the "Karate Kid" spinoff, but the identity of the actor who stole his heart might surprise you.
Xolo Maridueña's real-life girlfriend played a character with eyes for someone else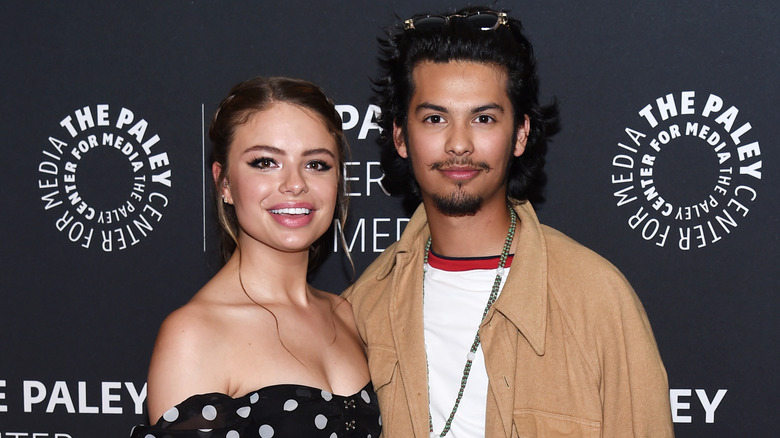 Amanda Edwards/Getty Images
During an interview with Entertainment Weekly, Xolo Maridueña ranked Miguel Diaz's top three "Cobra Kai" love interests. Tory came in third behind Sam, and it makes sense that the latter didn't top his list when you know that Mary Mouser told Maridueña that he was "like a brother" to her right before their first kissing scene (per "The Netflix Afterparty"). He jokingly said that his top pick was Miguel's BFF Eli "Hawk" Moskowitz (Jacob Bertrand). However, in real life, Maridueña made a love connection with the actor who played the girl who broke Hawk's heart.
In August 2020, Hannah Kepple talked to MEA WorldWide about her relationship with Maridueña. On "Cobra Kai," Kepple plays Sam's friend Moon. The eco-conscious peace pusher dumps Hawk and begins dating a girl named Piper (Selah Austria) after his violent behavior gets out of control. Kepple and Maridueña's characters didn't interact much on the show, but they got to know each other quite well behind the scenes. "Season 1, we were actually friends, a little flirty and then we started talking after season 1, and it clicked," Kepple dished. As of August 2021, the couple haven't posted any loved-up photos on their Instagram accounts. However, in April, Maridueña did share a video of himself and Kepple taking ginger shots together on TikTok.
Cobra Kai fans are shipping these two co-stars hard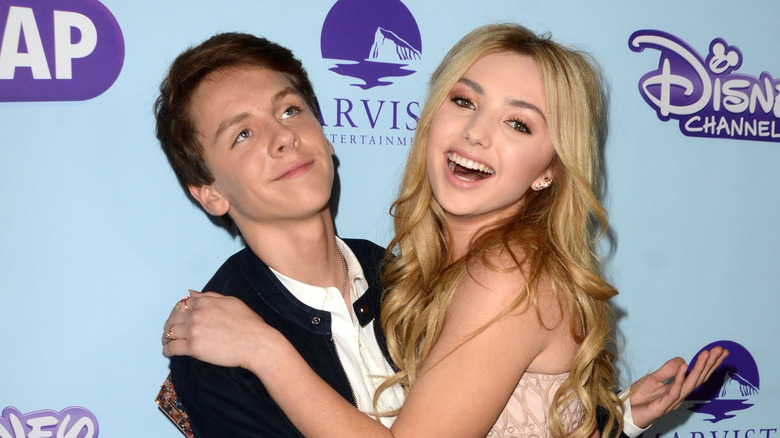 Kathy Hutchins/Shutterstock
Rage machines Hawk and Tory might seem like a deadly combination, but some "Cobra Kai" fans think that the actors who play them would make a pretty adorable couple. As reported by PopCulture, the shippers came out in full force in May when Peyton List took to TikTok to reveal that Hawk is her favorite "Cobra Kai" character. "Just admit you're dating it's fine," read one response to her video. "IF YOU LIKE HIM SO MUCH, THEN DATE HIM," another fan wrote. 
A month earlier, the man behind the mohawk, Jacob Betrand, shared a birthday tribute to List on Instagram. He called List "cute" in the caption — and the floodgates opened. "Love you and Peyton together," commented one admirer. "Shipped you both since The Swap." The co-stars were also given the celeb couple name "PeyCob." Also, in case you're wondering, "The Swap" is a 2016 Disney Channel movie that List and Bertrand both appear in. So, since they go way back, they may simply be close pals.
While many fans love List and Bertrand's bond, it's hard to imagine their "Cobra Kai" characters dating since they are going into Season 4 on different sides of The Valley's karate war. Hannah Klepper said that Moon's decision to break up with Hawk was due to him being a bully, so now that he's trying to change his ways, there's a chance he could win her back instead of trying to pursue someone new.