Here's What Kate Middleton Looks Like Without Makeup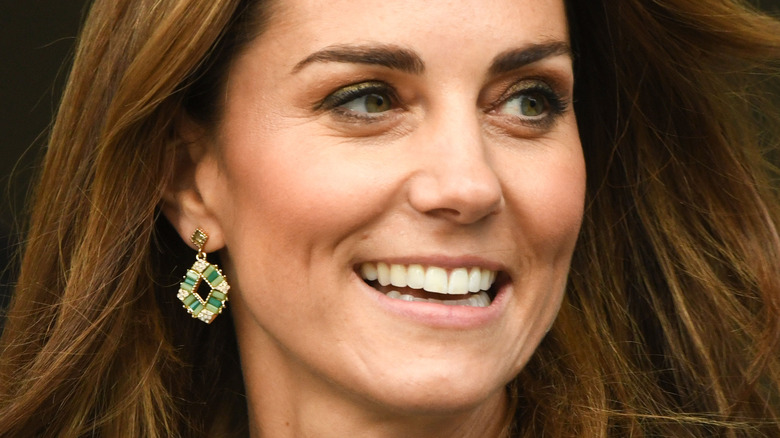 Bart Lenoir/Shutterstock
As the wife of the future king of England, Kate Middleton knows just how important it is to always put your best face forward. In fact, the Duchess of Cambridge always makes sure to look camera-ready each time she steps out for one of her royal engagements or public appearances. As a royal, appearance is everything, and Kate is so consistently good at it that the "The Kate Effect" took hold soon after she announced her engagement in 2010. That's because each time the duchess would wear something in public, that item would fly off the shelves within an hour, per Vanity Fair.
In fact, when Kate wore a royal-blue dress by Issa after she and William publicly announced their engagement, designer Daniella Helayel said that the "Kate Effect" was the best and worst thing to happen to the brand. "It was all very exciting," she told the Daily Mail. "We didn't have a TV at the studio and this was pre-Instagram, but we soon knew Kate was wearing Issa because at four o'clock the phones began ringing and didn't stop. It was bonkers."
With that said, Kate is also an icon when it comes to her beauty and thick, brunette, and perfectly blow-dried hair. But before she became the Duchess of Cambridge, there was a time where Kate didn't mind stepping out in nothing but a belly-baring spaghetti strap shirt and no makeup on. Check it out below!
Kate Middleton's casual but natural look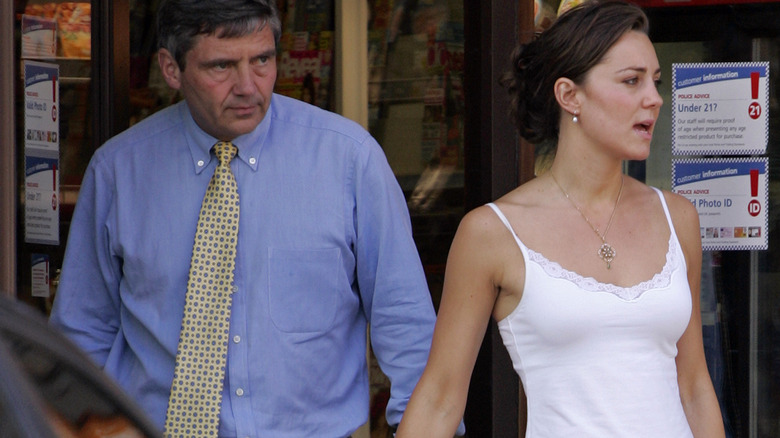 Max Mumby/indigo/Getty Images
Before all of the Alexander McQueen, Mulberry, and Emilia Wickstead dresses in her royal closet, Kate Middleton looked like your typical twentysomething college student who looked incredibly casual during the day and the future king's wife hottie by night. Back in June 2005, Prince George's mama was spotted looking London chic in a white spaghetti strap shirt and jeans while she was out and about with her father, Michael Middleton.
And while Kate certainly looks fresh-faced and glowing, some of her school pals told the Daily Mail that she was often bullied because of her looks. Her friend Gemma Williamson told the Daily Mail, "Apparently she had been bullied very badly and she certainly looked thin and pale. She had very little confidence," while her house tutor Joan Gall said she suffered from eczema because of stress. Housemistress Ann Patching also added in the same interview that even though Kate loved lasagna and loved to bake, she had "always stayed very slim."
With that said though, everything changed for Kate after one particular summer during her school days. Keep reading below.
Kate Middleton's growing confidence over the years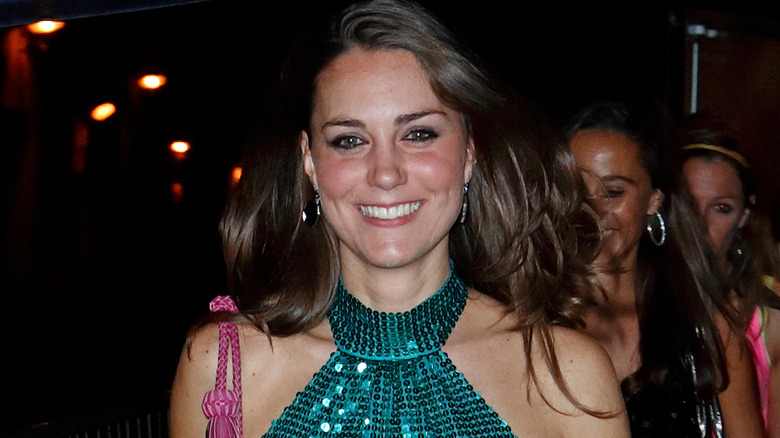 Max Mumby/indigo/Getty Images
Gemma Williamson also told the Daily Mail that everything changed for Kate Middleton after she managed to impress her classmates with her hockey skills and her prowess as a cross-country runner. Williamson said that this newfound confidence made Kate look like "an absolute beauty" adding that "every boy in the school fancied her rotten." If that weren't enough, her former teacher Denise Alford added that Kate "was apparently top of the 'Fit List' which boys would sometimes pin on the walls," which reportedly did wonders for her confidence at the time, too.
The Duchess of Cambridge herself also made an interesting admission about her teen years during her first public interview with Prince William in 2010. When asked if she had a poster of the Duke of Cambridge — who was once considered a teen heartthrob during the late '90s and early '00s — on her bedroom wall, she told Sky News, "No, I had the Levis guy on my wall, not a picture of William, sorry." A Levi's model instead of the hottest prince on the planet? But then again, who needs a photo of a prince when you've got the style and confidence of a real-life princess, right?