Why Prince William And Kate Middleton's Wedding Night Broke Royal Tradition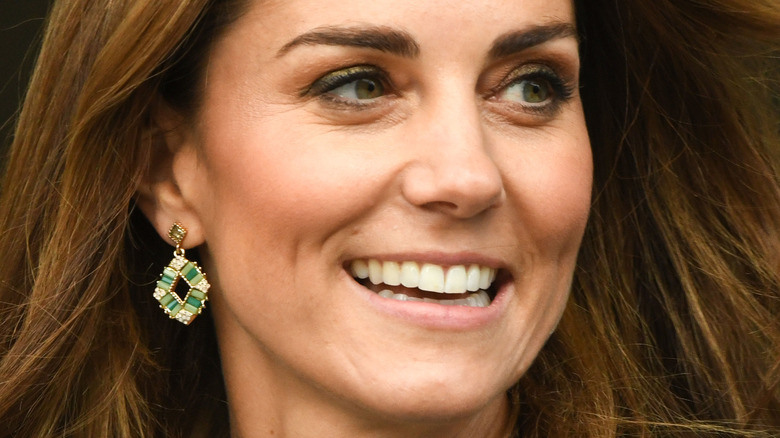 Bart Lenoir/Shutterstock
Kate Middleton and Prince William's 2011 wedding day was filled with royal traditions and nods to the past, but the two also broke tradition a few times, even on their wedding night. Perhaps the most notable tradition that the couple followed was their wedding venue. According to The Knot, holding their wedding at Westminster Abbey followed a long line of royal family ancestors before them, dating back to 1923. The ceremony itself was also "rooted in tradition," according to the outlet, right down to the couple leaving the church in the same carriage that Princess Diana and Prince Charles rode in following their 1981 nuptials. Kate's wedding bouquet also paid tribute to the royal brides before her. In keeping with tradition, the duchess had a sprig of myrtle included in her bouquet, according to Southern Living. Known as the "flower of love and marriage," Kate's bouquet carried on a tradition that stems back to the 1800s. 
Of course, William and Kate were sure to break tradition where it was appropriate, and were able to make their wedding day special in a few ways. For starters, Hello! magazine points out that Kate didn't want to wear her hair up, which is traditional for a royal bride. Instead, she opted for a half-up, half down style. In another break from tradition, Kate had her sister, Pippa Middleton, serving as her maid of honor, a role that "does not usually exist in royal weddings," according to Hello! 
Read on to learn about the other ways William and Kate broke from tradition.
Prince William and Kate Middleton spent their wedding night at Buckingham Palace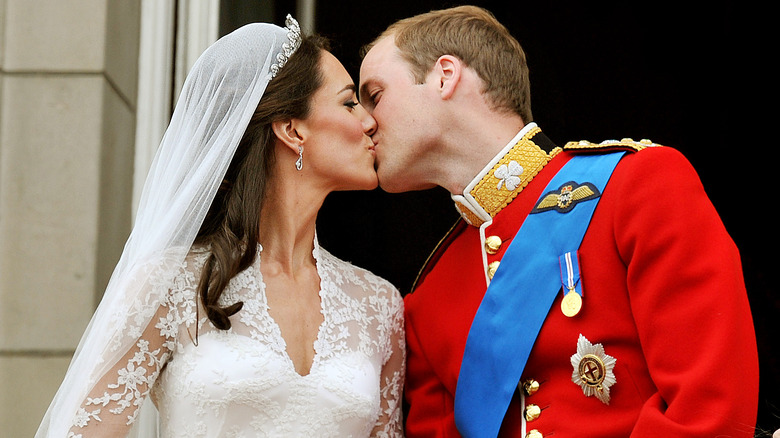 Wpa Pool/Getty Images
Prince William had his younger brother, Prince Harry, serve as his best man, which isn't usually how things are done in a royal wedding, according to Hello! magazine. The outlet points out that the groom usually has "supporters," or a group of his close guy friends, to be with him on one of the biggest days of his life. However, it was important for William to have his brother by his side, a tradition that was first started in Scotland, according to French's Point.
Believe it or not, William and Kate Middleton's kisses on the balcony of Buckingham Palace were also not traditional. Mirroring his parents, Prince Charles and Princess Diana, William kissed his bride on the balcony in front of thousands of onlookers. According to Express, the couple locked lips twice "to please the crowd."
Interestingly, William and Kate broke from tradition in the hours after their wedding celebration as well. According to Express, royal couples have been known to leave for their honeymoon straight away, but William and Kate spent their wedding night at Buckingham Palace instead. The Duke and Duchess of Cambridge opted to delay their honeymoon because William had to work. The Express reports that William returned to his job as a search-and-rescue pilot after the royal wedding. He and Kate didn't embark on their honeymoon until 10 days later!
Prince William and Kate Middleton honeymooned in the Seychelles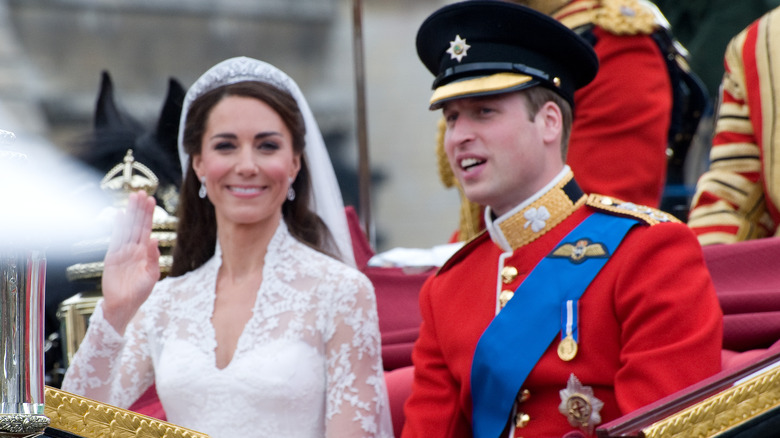 Featureflash Photo Agency/Shutterstock
Prince William and Kate Middleton jetted off to the Seychelles Islands more than a week after they had exchanged vows. According to Hello! magazine, the Duke and Duchess of Cambridge stayed on the North Island in an exclusive, beachside resort that cost approximately $7,000 per night. The location has been visited by other newlyweds before them, including George and Amal Clooney, according to Hello! To make things even more romantic, William reportedly didn't tell Kate where they were headed until they were already on their way, according to Showbiz Cheatsheet.
The Seychelles Islands are absolutely stunning. The location is filled with lush landscapes, greenery, waterfalls, and some of the most beautiful beaches in the world. "North Island provides an eco-friendly island experience where a philosophy of 'barefoot luxury' aims to provide the very best in seclusion, location and accommodation," reads the Seychelles travel website. The resort, which consists of 11 villas, is complete with "individual plunge pools, a health spa, and breathtaking views of stunning beaches and verdant hillsides."